Wits celebrates its nationally rated researchers
- Wits University
The Wits Research Office has recognised scholars at the University whom the National Research Foundation has (re)rated and those awarded nationally and at Wits.
Dr Robin Drennan, Director: Research Development at Wits was the master of ceremonies at an event held at the Wits Art Museum in Braamfontein on Wednesday, 17 April 2019. Professor Zeblon Vilakazi, Deputy Vice-Chancellor: Research and Postgraduate Affairs delivered the welcome address. View photographs of the event here.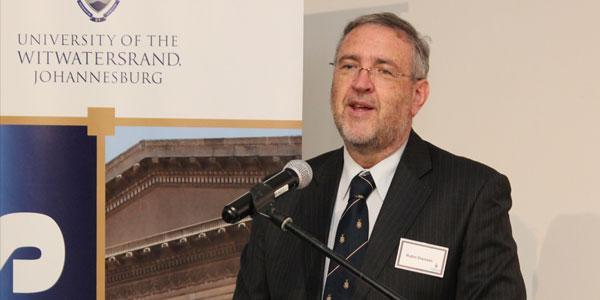 "You are celebrating the occasion where we celebrate the unapologetic excellence in front of us … Any society that strives to better itself has to have an unlimited commitment to excellence. Mediocrity must be detested … We are failing our own people and society if we reward mediocrity," said Vilakazi.
He congratulated Wits academics for increasing the number of research units, up by 400 since 2017. Originally placed fifth amongst the "Big Five" (Universities of Pretoria, KZN, Cape Town, and Stellenbosch), Wits' contribution to research units now places the institution third after the Universities of Pretoria and KwaZulu-Natal ("which are larger in scale than this institution"), said Vilakazi.
Each publication unit recognised by the Department of Higher Education and Training brings an income of R105. Wits University redistributes this revenue to advance its research agenda, said Vilakazi, and thanked the academics for generating this income.
He concluded, "South African should not be caught playing the 4IR game [Fourth Industrial Revolution] in the defensive half and Wits is therefore driving an agenda for the Global South in partnership with industry, government and the academy".
National and local research excellence
The University paid tribute to Thokozani Majozi, Professor in the School of Chemical and Metallurgical Engineering at Wits and the DST/NRF SARChI Chair in Sustainable Process Engineering, who received the President's Award of the Order of Mapungubwe (Bronze) for his outstanding contribution to science, on 25 April. Majozi's research is concerned with the development of a novel mathematical technique for near-zero-effluent batch chemical facilities, which enables the reuse of wastewater.
Patrick Arbuthnot, director of the Wits/SAMRC Antiviral Gene Therapy Research Unit was lauded as the recipient of the 2019 Vice Chancellor's Research Award. Arbuthnot's research has focused on gene therapy for treating liver cancer and hepatitis B virus (HBV) infection.
The University acknowledged Prof. Aijaz Ahmad in the Department of Clinical Microbiology and Infectious Diseases; Dr Pieter de Maayer in the School of Molecular and Cell Biology; and Dr Pradeep Kumar in the Department of Pharmacy and Pharmacology all of whom received Friedell Sellschop Early Career Academic awards.
The Research Office also recognised the most highly cited Wits researchers worldwide and in faculties, the top supervisors in the five faculties at Wits, recipients of the 2019 NRF's Thuthuka grants for emerging researchers, and awardees for research innovation and excellence.
Click on the link to download the List of names of Wits academics recognised in 2019.
Academic media engagement for increased impact
Caroline Southey, editor of The Conversation Africa highlighted how scholars can increase the impact of their research by communicating it through the media. The Conversation is an independent source of news and views from the academic and research community. A team of professional editors works with academics to share their research across media and with the public. All articles are free to republish.
"Increasingly people are asking: What's true? What's disinformation? How do I know if I'm fed lies or not? It's clear to us that The Conversation can play a role. It's a tiny role but it's a very, very important one," said Southey. She explained that The Conversation Africa (TCA) publishes five articles a day, which are written by academics who have to declare their interests, who have to be attached to a higher education institution, and need to be writing in their area of expertise.
Ninety-two percent of articles published by TCA are republished by at least one other media outlet. Southey appealed to the academics present who had not written for TCA, to do so. She invited academics to see TCA as an "enabler" – the bridge between scholars' academic output and the policymakers who need to know their work, as well as the wider public.
"There's one cast-iron guarantee you'll have, which is that you won't be misquoted. And the reason for that is, the way that we work, is that you get the final sign-off. Although there's a very tough editing process that we go through, nothing ever gets published under your name until you've literally given final approval – a physical act – that means you never lose control."
New NRF-rated As, Bs, Cs and Ps
The University acknowledged Professor Andrew Forbes of the Structured Light Laboratory in the School of Physics who received a new NRF A-rating in 2018. Wits researchers who were A-rated in 2019 include Professor of Philosophy, Lucy Allais and Professor Maureen Coetzee, research director of the Wits Research Institute for Malaria.
Haemophilia expert, Professor Johnny Mahlangu, earned a new B-rating, which indicates that he is an internationally acclaimed researcher. Mahlangu is head of the School of Pathology at Wits and head of the Haematology Diagnostic Section in the Department of Molecular Medicine and Haematology at the University. In 2018, Mahlangu was the lead author in research set to revolutionise the treatment of haemophilia, a genetic blood disorder.
Eleven Wits scholars received new C-ratings for the period 2019-2024, confirming that they are established researchers: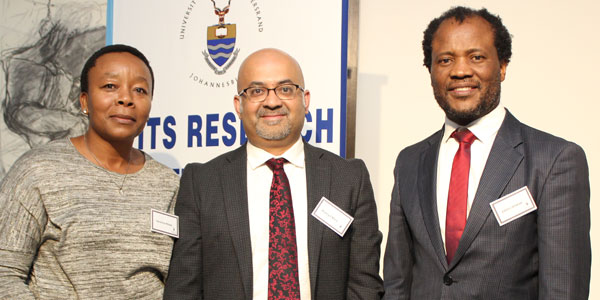 Wits acknowledged the P-rating awarded in 2018 to postdoctoral fellow, Dr Gareth Hempson in the School of Animal, Plant and Environmental Sciences. Hempson is one of only 16 researchers in the country to be awarded the Prestige ratings, which recognises emerging (usually under 35-years-old) scholars who are likely to become future international leaders in their respective fields.
"P-ratings really are like hen's teeth," said Drennan. "Gareth is a postdoc with us and submitted his rating while he was not with us [at Wits]."
Hempson's research focuses on Lowveld ecosystems and aims to understand how different groups of animals respond to drought.
The University congratulated 11 Wits scholars for their NRF Y-ratings, which indicate that they are promising young researchers: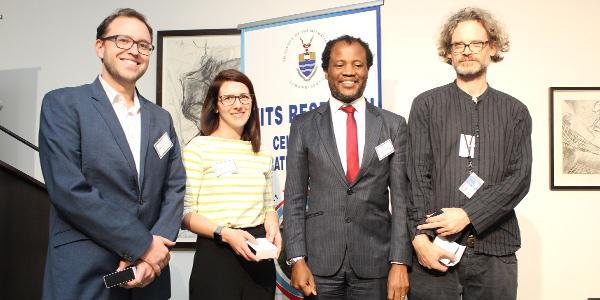 Most Highly Cited in Faculties
The Research Office acknowledged the most highly cited researchers in each of the five faculties at Wits. Professor of Control Theory, Bao-Zhu Guo in the School of Computer Science and Applied Mathematics and Distinguished Professor of Biocatalysis Engineering, Roger Sheldon in the School of Chemistry are the most highly cited researchers in the Faculty of Science in 2019 (and the most highly cited globally from Wits University).
In the Faculty of Commerce, Law and Management, Professor of Finance, Paul Alagidede at the Wits Business School; Professor Chimwemwe Chipeta in the School of Economic and Business Sciences; and Professor Warren Maroun in the School of Accountancy are the most highly cited in the Faculty in 2019.
Mitchell Cox in the High Energy Physics Group and Professor Craig Sheridan in the School of Chemical and Metallurgical Engineering were the most highly cited in the Faculty of Engineering and the Built Environment.
In the Faculty of Health Sciences, Profs. Alex C. Ezeh in Public Health and Max Petzold were the most highly cited.
In the Faculty of Humanities, and Profs. Gillian Hart in the Humanities Graduate Centre and Loren Landau in the African Centre for Migration and Society were the most highly cited.
Postgraduate Supervision Stars
Professor Robert Muponde, Director: Postgraduate Affairs congratulated academics recognised for their outstanding contribution to postgraduate supervision in each faculty for 2019. They are Dr Kambidima Wotela in the Faculty of Commerce, Law and Management; Prof. Ling Cheng in the Faculty of Engineering and the Built Environment; and Dr Judah P Makonye and Prof. Katijah Khoza-Shangase in the Faculty of Humanities; and Prof. Shabir Madhi in the Faculty of Health Sciences.

Advancing innovation – translational research
Ela Romanowska, Director: Technology Transfer at Wits Enterprise presented the 2019 Innovators Awards, awarded to Wits scholars in five categories:
Sixteen Wits scientists received awards in Category 1: For obtaining a granted patent in an examining country (for a particular patent family). These included patents for technology produced by the Wits Advanced Drug Delivery Platform such as 'vagitab' and ultrafast wafer drug delivery tech.
Five academics – Ionel Botef, Ling Cheng, Mitchell Cox, Mandeep Kaur and Claudia Polese – were awarded in Category 2: For being awarded a Wits-Technology Innovation Agency (TIA) seed fund project during 2018. Projects included breast cancer therapeutics, and shock peeling and aluminium mouldings in engineering. Projects for 3D printed prosthetics, quantum imaging, age-related drugs, nanocrystals, and bio-refinery, amongst others, await funding.
Thirteen academics were congratulated for Category 3: Wits-Technology Innovation Award seed fund application being recommended for funding.
For their work in the field of tuberculosis detection, Category 5: Recipient of financial benefits from commercialisation were awarded to Prof. Bavesh Kana and Prof. Lesley Scott

.

Viness Pillay and Yahya Choonara of the Wits Advanced Drug Delivery Platform received the Department of Science and Technology-National Intellectual Property Management Office Top Intellectual Property Creator awards valued at R605 000.