HIV & Haematology Molecular Diagnostics Unit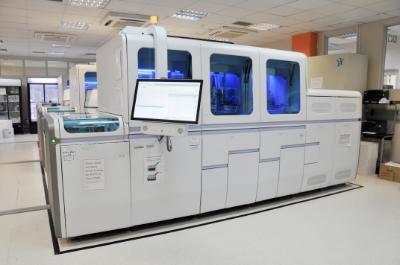 Pathologist-in-charge: Dr. Sergio Carmona
The laboratory continues to grow in the three areas of routine and research activities. It currently provides HIV diagnostic and monitoring through early infant diagnosis PCR and viral load quantification (HIV PCR Lab), HIV genotyping for drug resistance diagnosis (HIVDR lab) and molecular support for a set of haematological disorders (Haematology PCR Lab). The activities labs include:
Haematology PCR
HIV Genotyping
HIV Viral Load
Research
The following research projects are underway:
New assays: In order to meet the needs of the public sector, this laboratory validated a new cost-effective one-step in-house assay. At the same time these assays will also be validated on dried blood spots (DBS), which is a more convenient sample matrix for remote clinics. The Haematology PCR unit is engaged in researching novel molecular assays for haematological malignancies.
Bioinformatics: The laboratory is part of the SATuRN network, which has been set up in South Africa to perform surveillance testing on HIV-1 drug resistance in the public sector. The laboratory will perform resistance testing for this network as well as be involved in data analysis of the resistance data, in collaboration with Dr. Tulio de Oliviera. The laboratory is collaborating with Professor Simon Travers from the South African National Bioinformatics Institute (SANBI), University of Western Cape for the development of a fast, accurate bioinformatics programme for the analysis of 454 Ultra-deep sequencing data for research purposes. The laboratory is collaborating with TherapyEdge and using their Deepchek programme for data analysis for diagnostic purposes.
Global Fund: Professor Stevens has, in collaboration with Right-to-Care (NGO), received a grant from the Global Fund in 2011. The HIV genotyping laboratory is involved in two components of this project, namely conducting a cross-sectional HIVDR drug surveillance study in South Africa and expanding the HIVDR testing capacity in South Africa. Through this mechanism two laboratories have been upgraded and 3 new laboratories are being capacitated to manage the diagnosis of HIV, TB and other antimicrobial resistance testing into the future.