Research and Analytical Services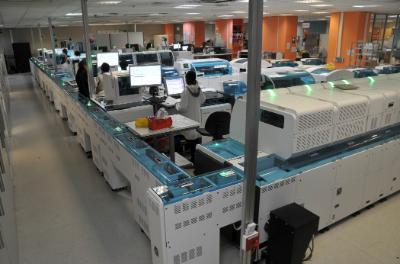 The Department of Molecular Medicine and Haematology consists of specialised units which address basic science, clinical and diagnostic questions while leveraging molecular technologies. As a department within the NHLS, we play a critical and committed role in delivering quality diagnostic services to patients in South Africa both in the public (87% of the population) and private sector by serving regional and primary health care facilities provincially and nationally.
The department contains a number of diagnostic units spread between Charlotte Maxeke Johannesburg Academic Hospital, Chris Hani Baragwanath Hospital and Helen Joseph hospital, some of which are the referral or lead units in their particular specialized fields of pathology.
The department also prides itself on being a research-intensive environment, conducting research into diseases and disorders prevalent in South Africa, sub-Saharan Africa, and globally. The repertoire of research projects spans basic science, diagnostics, medicine, biotechnology, bioinformatics and operational research.
The department is thus the flagship department for haematology nationally boasting the largest registrar training programme, producing the highest publication and relevant research output and leading in research and development (R&D) of new diagnostic techniques and their national implementation.