Research and innovation drivers honoured
- Wits University
Wits Enterprise takes top honours at the annual DST/SARIMA Excellence Awards.
Wits Enterprise, a private company owned by Wits University that focuses on the marketing and commercialisation of the University's intellectual capital, walked away with two of the top prizes at the annual Department of Science and Technology (DST)/Southern African Research and Innovation Management Association (SARIMA) Excellence Awards for 2017.
Ela Romanowska, Director of Innovation Support based in Wits Enterprise, was named the top tech transfer specialist and innovation manager in southern Africa and awarded the Distinguished Contribution to Innovation Management Award 2017. The award is based on contribution within an organisation, and to the broader community, over many years.
In the "Research Support Unit" category, the Wits Enterprise Research and Consulting Support Unit (RS) took home the Organisation Excellence in Research Management 2017 Award, for the best research support team in southern Africa.
SARIMA is a membership organisation representing research and innovation managers in the Southern African Development Community (SADC) to promote research and innovation management. It is driven by volunteers, and together with key partners such as the DST, it provides a platform for the promotion and facilitation of best practice in research and innovation management, and professionalisation of these disciplines, in southern Africa and beyond.
SARIMA's annual Excellence Awards recognises the contributions made by individuals and organisations in these disciplines.
Distinguished Contribution to Innovation Management Award 2017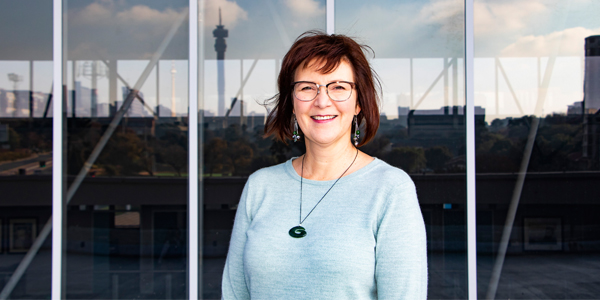 "I feel very honoured, however it is difficult to accept an individual award as my efforts draw on different teams and a range of stakeholders, who are critical to success," says Romanowska.
Her award citation included:
She spearheaded the initiative to build a partnership with the National Intellectual Property Management Office (NIPMO) and the DST for the inaugural National Survey on Intellectual Property and Technology Transfer at Publicly Funded Institutions

;

that was launched by the Minister of Science and Technology in 2017. The survey took four years and Romanowska cites the "commitment from, and strong relationships with, the DST and NIPMO team members" for its success.
Her role in the creation of SmartSpot Quality (Pty) Ltd, a spin-out company based on technology developed and incubated in the Department of Molecular Medicine and Haematology in the Wits Faculty of Health Sciences. SmartSpot is based on research by two key Wits researchers, Professors Lesley Scott and Bavesh Kana, who developed technology that easily and cost effectively verify the accuracy of testing for tuberculosis (TB). "I was privileged to work with these experts in their fields to assist in raising funds, and help operationalise the company, where the number of products delivered in 2017 was more than all shipments in previous years," Romanowska says.
Romanowska, an electronic engineer, registered technology transfer professional, and current President of SARIMA, adds that these contributions were only possible because she worked with people who were very supportive, including her immediate team: Anne Gabathuse, Makhosi Cebekhulu, Christel Wolmarans, Tumi Ngqondo and Rob Caveney, as well as Wits Enterprise CEO, Duncan Raftesath, and others in Wits Enterprise as well as Wits. She adds that they "stepped into the breach" left by her activities in the broader tech transfer community.
Organisation Excellence in Research Management 2017 Award
Awarded one of the top SARIMA awards, Dr Pamisha Pillay, Director of the Wits Enterprise Research and Consulting Support Unit (RS) says it is a huge honour for her team to be recognised as the best in southern Africa for 2017.
"The award recognises the interventions and initiatives in research management undertaken by our team at Wits that has resulted in significant impact in building, encouraging and championing research and innovation," Pillay says proudly. Her team members include: Sbusiso Gwala, Barbara Herweg, Reward Matanhire, Pamisha Pillay, Macdonald Wanenge, Neo Molefe, Tendani Nevondo and Bontle Moleme.
"The role of the RS Unit is to act as the commercial face of Wits University and to generate third stream income for Wits through externally funded contract research and consulting work. It is a self-funded entity that sustains itself through fees earned from managing research and consulting services for Wits, while balancing funder requirements with institutional policies, and ensuring delivery against agreed milestones within budget. Our fees are cost neutral to the projects, as they are recovered from the Wits' standard overhead charge," she adds.
The Unit's functions and activities include supporting proposal development, budgeting, contract negotiation, administering funding, financial and technical reporting, and incorporates delivery of a research management service with the philosophy of societal and research values, utilisation and promotion of research management tools and best practice principles, as well as internationalisation; and in so doing maximise Wits' research impact.
The Unit actively drives cross-disciplinary interactions and research collaborations between academics across Faculties, Schools and Institutions. Some of its successes in 2017 include:
It achieved a 50% growth in revenue, securing over R64 million in externally funded research and consulting contracts for Wits.
It engaged with and supported proposals from over 20 new Wits researchers. More than 50% of these were successful and led to securing over R10 million worth of external funding. In addition, it secured projects with 25 new external funders.
It secured more than R10 million of the external revenue through the leveraging of channel agreements that Wits Enterprise and/or the University negotiated with entities such as the Department of Public Enterprises, City of Johannesburg, and Eskom.
It was actively involved in the management of four Horizon 2020 (European Union funded) projects, and ten Technology and Human Resources for Industry Programme (THRIP) projects.