Ewan Sutherland
Research Associate, LINK Centre
sutherla@gmail.com
http://ssrn.com/author=927092
https://orcid.org/0000-0001-5220-9605
https://twitter.com/sutherla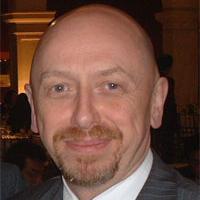 Ewan Sutherland is an independent telecommunications policy analyst who has undertaken a vast array of assignments in Asia, Southern Africa and Europe -- for governments, World Bank infoDev, the International Telecommunication Union (ITU), and the Organisation for Economic Co-operation and Development (OECD). He was Executive Director of the International Telecommunications Users Group (INTUG), based in Brussels, between 1999 and 2005.
Sutherland spent 15 years as a full-time academic, latterly as a Dean at the University of Wales. He has taught at the Universities of Wolverhampton, Westminster, Stirling and Wales and has served as a visiting faculty member at Georgetown University in Washington, DC, and the Graduate School of Telecommunication and Information Technology (GSTIT) in Addis Ababa. At present, in addition to serving as a LINK Research Associate, he is a Visiting Professor at the Research Centre in Information, Law and Society (CRIDS), University of Namur, Belgium.
He publishes on a wide range of telecommunications topics.