Dr. Chris Armstrong
Research Associate, LINK Centre
chris.armstrong@wits.ac.za
https://orcid.org/0000-0002-3478-2579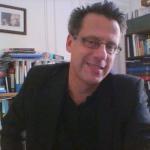 Dr. Chris Armstrong—PhD (Wits), Master of Journalism (Carleton), BA (Queen's)—serves as a LINK Research Associate and as a Senior Research Associate at the University of Ottawa Centre for Law, Technology and Society (CLTS). His research interests range across broadcasting policy, media studies, access to knowledge (A2K), knowledge governance, open innovation, and the maker movement.
Armstrong established the LINK Centre's Certificate in Broadcasting Policy and Regulatory Trends in 2006, and participated in its re-launch in 2017 as the Certificate in Broadcasting and Digital Media Policy-Regulatory Trends. He served as a Researcher in 2005-06 for the LINK Centre's Commons-Sense Project: Towards and African Digital Information Commons, and as Research Manager from 2007 to 2011 of the eight-country African Copyright and Access to Knowledge (ACA2K) network. He then participated in the expansion of ACA2K, in 2011, into the Open African Innovation Research (Open AIR) network, and currently participates in Open AIR's South African and Canadian teams.
Armstrong was an editor of the books Access to Knowledge in Africa: The Role of Copyright (UCT Press, 2010) and Innovation and Intellectual Property: Collaborative Dynamics in Africa (UCT Press, 2014). He serves as Publishing Editor of the LINK Centre journal, The African Journal of Information and Communication (AJIC). Before joining LINK, he worked for five years as a community radio trainer, producer and project officer with two South African NGOs: the Centre for Democratic Communications (CDC) and the National Community Radio Forum (NCRF). Before that he worked as a print and radio journalist in Canada, Japan and South Africa.