One gold medal and Academy membership for 15
- Wits University
Academy of Science of South Africa (ASSAf) awards Gold Medal to world-renowned HIV expert and inaugurates 15 Wits scholars as new members.
Wits Professor Glenda Gray was awarded the Academy of Science of South Africa (ASSAf) Science-for-Society Gold Medal for outstanding achievement at the ASSAf annual awards ceremony held on 9 November.
In addition, 15 scholars from all five faculties at Wits University were inaugurated as new members.
ASSAf annually honours the country's most outstanding scholars by electing them as members of the Academy. This singular honour recognises scholastic achievement across the spectrum of academic disciplines. Members constitute the core asset of the Academy and give of their time and expertise voluntarily in the service of society.
Gold for Gray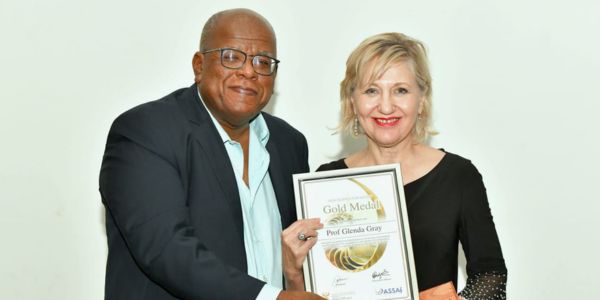 The ASSAf Science-for-Society Gold Medal recognises the scholastic and scientific contributions of Professor Glenda Gray , to HIV research, prevention, treatment and vaccines, as well as her fundamental role in vaccines during the Covid-19 pandemic.
Gray is a National Research Foundation A1-rated scientist and world-renowned for her research in HIV. She is currently President of the South African Medical Research Council (SAMRC) – the first woman to hold this position – and she remains a Research Professor in the School of Clinical Medicine at Wits University. She is also a Wits alumna, having studied medicine and paediatrics here.
Her clinical research career began in the field of preventing mother- to-child transmission of HIV, focusing on breastfeeding transmission and post-exposure prophylaxis. She co-founded the renowned Perinatal HIV Research Unit (PHRU) at Chris Hani Baragwanath Hospital, today a world-renowned research unit focused on HIV prevention and treatment.
For the past two decades, Gray has focused on HIV vaccine development, leading major phase 2b/3 trials of candidate vaccines in sub-Saharan Africa, as well as contributing to the clinical development of South Africa's own HIV vaccines.
Gray has influenced the marked change in the HIV vaccine field from a US/Euro-centric based scientific programme, to having almost all candidate vaccines designed for the Southern African epidemic and all the critical immunogenicity trials and efficacy trials conducted in this region.
During Covid-19, Gray set the SAMRC research strategy for Covid-19, enabling South Africa to emerge as a global scientific leader on Covid-19 vaccines.
The new ASSAf members from the five faculties at Wits University are listed below:
In the Faculty of Commerce, Law and Management:
In the Faculty of Engineering and the Built Environment:
In the Faculty of Health Sciences:
In the Faculty of Humanities:
In the Faculty of Science:
* Visiting Professor Elizabeth Walton's name was mistakenly omitted in the original count, the addition of which now brings the total Wits ASSAf membership to 16. We regret the oversight.