Structuring your Wits BCom
The building block of a Wits BCom Degree
A BCom is a three year degree programme that is made up of a required number of courses or modules at increasing academic levels across 1st, 2nd and 3rd year.
First year courses build foundational knowledge across areas such as Economics, Accounting, Commercial Law, Information Systems and introductory mathematics and business statistics.
Courses contribute a number of credits towards a required total, and most degrees require a combination of different points at different academic (NQF) levels. These might differ slightly between degree programmes.
Some courses are a full year course, while others are offered and completed within a semester (half an academic year) or block (a quarter of an academic year). The points for courses change for different NQF levels as more time and in-depth engagement are required.
For example, 1st year full courses are worth 36 points and semester courses 18 points, while in second year a semester course is worth 24 points and a full year course 48 points. Third year courses are worth 72 points for a full year course, 36 points for a semester module and 18 points for a block module. In some degree programmes the required points might vary.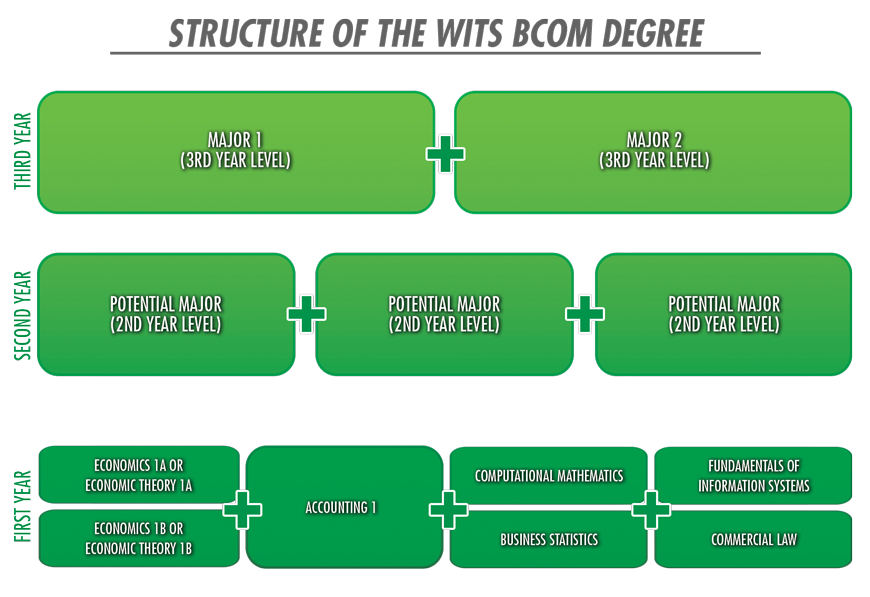 What do we mean by a Major in a degree?
A Major is defined by taking a set of courses up to 3rd year level all related to a single discipline. The Wits BCom is a double major degree - this means that you need to take 2 full majors as part of your degree. One of the majors must be a commerce major - the second can optionally come from another faculty - often either Science or the Humanities. Many students take two commerce majors.
In order to qualify as a major, a total of 72 points at 3rd year level and 48 points at 2nd year level in the same discipline must be taken. In some cases a major has compulsory courses in that discipline in 1st year. For example Economics, Information Systems, Accounting and Law are all 3 year major disciplines, while Finance, Marketing and Management only have 2nd and 3rd year courses making up their major. Very often 2 year majors have a first year course as a pre-requisite - a course that must be passed before another course may be taken. A sub-major is a course taken up to 2nd year level.
Building your BCom degree
The Wits BCom consists of a set of compulsory first year courses that virtually all BCom students undertake. These courses form the foundation of a degree preparing students for careers in the commercial and related sectors of any economy. These courses are either full year courses that are taken across both semesters of the academic year, or may be semester long. In some cases you need to pass one course before you may proceed to another.
In your second year, you choose courses or modules leading to 3 potential majors. These are either 3 full year courses or semester or block equivalents. By choosing 3 potential majors you can start to explore areas of interest in more depth, but still allow yourself time to make final choices later on. Remember that a BCom degree must have a least one commerce major.
Have a look at the various disciplines for more details on what each discipline involves, what types of careers are available to graduates in those fields and what combinations are valued or open up specific types of careers. With a fast changing world, new and exciting careers are opening up and being created all the time. Your unique interests and skills and knowledge will ensure that you are able to forge a unique career path in an exciting new future.
One of the great benefits of a Wits BCom degree is that you don't have to commit to your major choices in your first year of study. The Wits BCom (Gen) allows you to register without choosing your majors upfront. There are several BCom degrees that have slightly different requirements and can be chosen when you register. It is however generally very easy to move between these degrees if you change your mind later. Your Faculty Office can guide and advise you, both at registration or during the year.