Wits celebrates research excellence
- Wits University
It was an upbeat post-pandemic return to campus when Wits academics gathered to celebrate research excellence.
For the first time in almost two years, Wits researchers and scientists convened at the scenic Wits Club on Braamfontein Campus West on 22 February 2022.
The research celebration was hosted by the Deputy Vice-Chancellor: Research and Innovation, Professor Lynn Morris and Dr Robin Drennan, Director: Research and Innovation in the Wits Research Office.
The event was to acknowledge and celebrate Witsies' research awards from the University and external research entities, and to reignite the enthusiasm and cross-disciplinary enthusiasm that in-person engagement stimulates.
The event commemorated research successes spanning the pandemic period from 2020 to early 2022.
In the opening address, Wits Vice-Chancellor and Principal Professor Zeblon Vilakazi said that as Wits celebrates its centenary in 2022, "the best is yet to come!" He paid sombre tribute to "some of the best of the best", whom Wits had lost during the pandemic. He encouraged Wits researchers to "not be afraid to speak truth to power – never waiver and never compromise."
Professor Andrew Forbes in the School of Physics, who was the recipient of the 2022 Wits Vice-Chancellor's Research Award for Sustained Research, delivered the keynote address. He commented on the fact that academics' CVs reflect their successes, "But where are our failures?"
Forbes suggested that reflecting on his "CV of failures" was when real learning and growth occurred – this from the 2022 Sang Soo Lee Award winner and recipient of the Gold Medal from the South African Institute of Physics in 2020.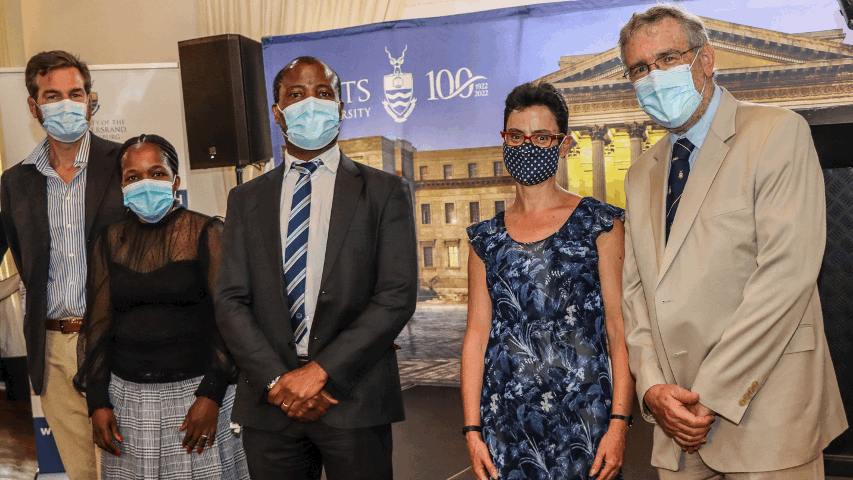 Innovating for good
Professors Yahya Choonara, Pradeep Kumar and the late Viness Pillay of the Wits Advanced Drug Delivery Platform (WADDP) in the School of Pharmacy and Pharmacology received the Vice-Chancellor's Award for Innovation.
WADDP scientists developed and commercialised the WaferMat, an ultrafast wafer drug dosage form which allows for the delivery of active pharmaceutical ingredients without the need for water, chewing or swallowing.
This is beneficial in situations where drugs are unpalatable or difficult to swallow – for example, in children or the elderly – which leads to poor compliance with drug-taking and thus aggravates healthcare challenges.
Social impact on policy and practice
Dr Brahm Fleisch in the Wits School of Education won the Social Impact award. He is a professor in the Division of Educational Leadership and Policy Studies in the Wits School of Education.
Fleisch conducts experimental research on improving early grade learning outcomes in South Africa. Over the past decade, the research programme led by researchers at Wits University and the Department of Basic Education has produced compelling evidence on how to improve early grade learning outcomes at scale in South Africa.
The evidence emerging from this research programme has cited by the President and incorporated into national policy. At its core, this research is a change model that combines language and mathematics lessons plans, the provision of quality reading and other learner materials for all learners, and ongoing professional development for teachers that includes onsite instructional coaching.
Advancing excellence in the academy
Wits established the Distinguished Professors Programme in 2013 to attract high-calibre academics to faculty. The University has appointed a total of 27 Distinguished Professors to date, including over the 2020-2022 period:
In the Faculty of Commerce, Law and Management, Professors Dorrit 'Dori' Posel and Gary van Vuuren in Economics and Finance.
In the Faculty of Engineering and the Built Environment, Professors David Dorrell and David Limebeer in the School of Electrical and Information Engineering.
In the Faculty of Health Sciences:
In the Faculty of Humanities:
In the Faculty of Science:
Encouraging excellent emerging researchers
In 1956, Professor J.P. E 'Friedel' Sellschop (1930-2002), a world leader in the field of nuclear physics, was the founding director of the Nuclear Physics Research Unit at Wits. The unit became the Schonland Research Institute for Nuclear Sciences and was part of the Physics Department until 1963 and then became a separate research entity funded by the University.
In 1998, the institute was restructured and became an umbrella of autonomous research entities. Wits donated the Institute to the National Research Foundation in 2004 and it is now operated by the iThemba LABS.
Sellschop's positions at Wits included Dean of the Faculty of Science and later Deputy Vice-Chancellor of Research from 1984 to 1996, after which he retired.
Now in the 21st century, Wits University bestows the Friedel Sellschop Awards annually to recognise and encourage young researchers. The awards are underwritten by a research grant made available by the University Research and Innovation Committee to qualifying researchers.
These awards are open to members of staff in all faculties who either hold a permanent University-funded position or a joint appointment with the National Health Laboratory Service or Gauteng Province. The researchers should not be older than 40 years at the time of first application.
Sellschop awardees in 2022 include:
They join the following researchers, who were recipients in 2021:
The Sellschop awardees in 2020 were:
A lifetime of excellence
Morris acknowledged the award made by the Academy of Science for South Africa (ASSAf) of its Gold Medal jointly to Shabir Madhi, Dean of the Faculty of Health Sciences and Professor of Vaccinology, and Barry Schoub, alumnus and Emeritus Professor in Virology at Wits, which took place on 20 October 2021. The award honours outstanding achievement in scientific thinking to the benefit of society.
Separately, Morris mentioned that Madhi was named as a Fellow of the Oppenheimer Memorial Trust in 2019.
National Research Foundation rates Wits' established and emerging researchers
Morris encouraged academics to pursue National Research Foundation (NRF) ratings as a worthwhile benchmarking exercise.
She noted that of the 88 NRF-rating applications submitted by Wits researchers in 2021, results for 66 had so far been received and that more C-ratings than ever before had been awarded. NRF C-ratings refer to established researchers. The following ratings were available at the time of publishing while newly A-rated Wits academics would be announced separately in May 2022.
Consistently world-class
Morris congratulated Wits researchers whom the National Research Foundation (NRF) had again awarded an A-rating in 2021.
They included Professors Christopher Henshilwood, Roger Smith, Bruce Rubidge, and (the late) Bob Scholes.
An NRF A-rating is awarded to "researchers who are unequivocally recognised by their peers as leading international scholars in their field for the high quality and impact of their recent research outputs."
New B-ratings for internationally acclaimed researchers
An NRF B-rating denotes an internationally acclaimed researcher. Wits academics newly B-rated in 2021 were Professor Chandima Gomes, Dr Marta Nunes, and Professor Laetitia Rispel.
Chandima Gomes is a Distinguished Professor of High Voltage Engineering in the School of Electrical and Information Engineering and Director of the Centre of Excellence in High Voltage Engineering at Wits. His research interests and expertise include lightning protection, grounding and bonding, and electromagnetic compatibility, occupational safety, atmospheric physics and research methodology.
Marta Nunes is Reader and Associate Professor in the Vaccines and Infectious Diseases Analytics (Wits VIDA) Research Unit at Wits. Her research focus is the interaction of different presumed pathogens on respiratory disease in children and the different manifestations in health and disease to these infections.
Laetitia Rispel is a Professor of Public Health at Wits and she holds the NRF Chair on Health Workforce for Equity, and Quality. Her research interests are in human resources for health (also known as the health workforce) and the performance of the health care system.
Newly B-rated in 2020 were Dr Basu Pallab and Dr Abhishek Pandey in Physics, and Professor Michiel Postema in Electrical and Information Engineering.
Pallab is a Senior Lecturer in the School of Physics at Wits. He is a high energy physicist, specifically a string theorist, with an interest in data analytics, machine learning and quantitative finance. His field of research includes quantum field theory, holography, condensed matter, gravity and string theory.
Pandey is a Senior Lecturer in the School of Physics. His research interest is mainly on the growth and synthesis of novel functional materials, correlated electron systems, quantum materials, and low-dimensional magnetic systems and in-depth exploration of their properties.
Postema is a Distinguished Professor of Biomedical Engineering at Wits. He works with medical microparticles under sonication and in high-speed photography. His ULTRASOUND group aims to manipulate microscopic materials – blood cells, tattoo ink, antibubbles – with ultrasound, to inform diagnostic or therapeutic applications.
New C-ratings for established researchers
The NRF awards C-ratings to established researchers with a sustained recent record of productivity in the field who are recognised by their peers as having produced a body of quality work, the core of which has coherence and attests to ongoing engagement with the field, and who have demonstrated the ability to conceptualise problems and apply research methods to investigating them.
The following Wits researchers were C-rated in 2022:
In the Faculty of Engineering and the Built Environment:
In the Faculty of Commerce, Law and Management:
In the Faculty of Health Sciences:
In the Faculty of Humanities:
In the Faculty of Science:
In 2021, successfully C-rated Wits researchers included:
In the Faculty of Engineering and the Built Environment:
In the Faculty of Commerce, Law and Management:
In the Faculty of Health Sciences:
In the Faculty of Humanities:
In the Faculty of Science:
Successfully C-rated Wits researchers in 2020 were:
In the Faculty of Engineering and the Built Environment:
In the Faculty of Health Sciences:
In the Faculty of Humanities:
In the Faculty of Science:
New Y-ratings for young researchers
The NRF awards Y-rating to young researchers (40 years or younger), who have held the doctorate or equivalent qualification for less than five years at the time of application, and who are recognised as having the potential to establish themselves as researchers within a five-year period after evaluation, based on their performance and productivity of quality research outputs during their doctoral studies and/or early post-doctoral careers.
Wits researchers newly Y-rated in 2022 include:
In the Faculty of Engineering and the Built Environment:
In the Faculty of Commerce, Law and Management:
In the Faculty of Health Sciences:
In the Faculty of Humanities:
In the Faculty of Science:
NRF Y-rated Wits researchers in 2021 included:
In the Faculty of Commerce, Law and Management:
In the Faculty of Health Sciences:
In the Faculty of Science:
Wits Y-rated researchers in 2020 were:
In the Faculty of Engineering and the Built Environment:
In the Faculty of Health Sciences:
In the Faculty of Humanities:
In the Faculty of Science:
Early Career Researchers
The NRF awards Thuthuka grants to early career researchers and Morris acknowledged the total of 72 emerging investigators recognised by the NRF through Thuthuka grants in 2020, 2021 and 2022 respectively:
The following Witsies are Thuthuka grantees in 2022:
In the Faculty of Engineering and the Built Environment:
Nikki Basson, Mechanical, Industrial & Aeronautical Engineering
Mohlalakoma Ngwako, Electrical & Information Engineering
Thabelo Ramantswana, Construction Economics & Management
In the Faculty of Commerce, Law and Management:
KP Raphesu, Behavioural Science and Labour Relations
In the Faculty of Health Sciences:
Akaashni Bhika, Anatomical Sciences
Angela Botes, Molecular and Cell Biology
Ekene Nweke, Surgery
Lindie Lamola, Human Genetics
Maemu Gededzha, Immunology
MD Marimani, Anatomical Pathology
Oladiran Olateju, Anatomical Sciences
Reubina Wadee, Anatomical Pathology
Rupal Jivan, Molecular and Cell Biology
Sharol Ngwenya, Anatomical Pathology
Stduze Duze, Clinical Microbiology
Tiisetso Lephoto, Molecular and Cell Biology
Vanessa Meyer, Molecular and Cell Biology
Sule Gunter, Physiology
Vernice Peterson, Physiology
Zelna Booth, Pharmacy
In the Faculty of Humanities:
In the Faculty of Science:
Izak Kotze, Chemistry
Kalenga Mubiayi, Chemistry
Memory Zimuwandeyi, Chemistry
Siziwe Gqoba, Chemistry
Wits Thuthuka grantees in 2021 included:
In the Faculty of Commerce, Law and Management:
Solam Mkhabela, Architecture & Planning
In the Faculty of Health Sciences:
Ane Orchard, Pharmacy
Corlia Brandt, Physiotherapy
Juliet Nyasulu, Community Paediatrics
Kganetso Sekome, Physiotherapy
Kirsty Van Stormbroek, Occupational Therapy
Lebogang Mokotedi, Physiology
Lingeswara Pillay, Maxillo-Facial & Oral Surgery
Merling Phaswana, Exercise Science & Sports Medicine
Nany Tumba, Pathology
Poornima Ramburrun, Pharmacy
Rubina Shaikh, Pharmacy
Sandy Lord, Physiotherapy
Siyabonga Khoza, Chemical Pathology
In the Faculty of Humanities:
B Camminga, African Centre for Migration & Society
Graeme Gotz, Gauteng City-Region Observatory
In the Faculty of Science:
Andrew Paskaramoorthy, Computer Science & Applied Mathematics
Cebisa Linganiso, Chemistry
Hanlie Engelbrecht, Animal, Plant and Environmental Sciences
Heidi Richards, Chemistry
Jerome Reynard, Geography, Archaeology and Environmental Studies
Sadhna Mathura, Chemistry
Sivu Situngu, Animal, Plant and Environmental Sciences
Songeziwe Ntsimango, Chemistry
Wits Thuthuka grantees in 2020 were:
In the Faculty of Engineering and the Built Environment:
Glen Nwaila, Mining Engineering
Hugh Hunt, Electrical & Information Engineering
Mitchell Cox, Electrical & Information Engineering
In the Faculty of Health Sciences:
Anne George, Health Science Education
Elise Schapkaitz, Molecular Medicine and Haematology
Janine van der Linde, Occupational Therapy
Lebogang Maseko, Occupational Therapy
Mamakiri Mulaudzi, Perinatal HIV Research Unit
Mulalo Molaudzi, Oral Biological Sciences
Nadia Carstens, Human Genetics
Nikki Gentle, Molecular & Cell Biology
Ronel Roos, Physiotherapy
Stephanie De Rapper, Pharmacy
Thandiswa Ngcungcu, Human Genetics
In the Faculty of Humanities:
Catherine Duncan, Arts
Grant Andrews, Languages
Lindelwa Dalamba, Music
Mary Carman, Philosophy
Nomfundo Moroe, Speech Pathology & Audiology
In the Faculty of Science:
Kim Madikiza, Animal, Plant and Environmental Sciences
Mamatjie Risenga, Animal, Plant and Environmental Sciences
Ritesh Ajoodha, Computer Science and Applied Mathematics
Shalini Dukhan, Animal, Plant & Environmental Sciences