Race, Class and the Post-Apartheid Democratic State
When:
getMessage().'-->'; ?> Wednesday, 03 July 2019 - Wednesday, 03 July 2019
Where:
Bert Wessels Auditorium, WBS
Parktown Management Campus
Start time:
18:00
Enquiries:
RSVP:
Revisiting Harold Wolpe in the Ramaphosa Era
The Wits School of Governance, Southern Centre for Inequality Studies and UKZN Press invite you to a book launch event in honour of Harold Wolpe, a leading socialist intellectual within the South African liberation movement.
The edited volume critically re-engages with Wolpe's theories and ideas, applying it to the politics, economics and the social policies of the current democratic era. It provides an analysis of the progress in the transformation of South Africa from an apartheid colonial past characterised by deep racial and class inequality. The volume points to conceptual signposts for the future to both help better understand and further transform the unequal political economy of post-apartheid South Africa and considers the role of engaged scholars within this endeavour.
Contributors in attendance at the book launch event: Prof Gavin Williams (Oxford University); Prof Vishnu Padayachee (Wits University); Prof Eddie Webster (Wits University); Prof Robert Van Niekerk (Wits University, co-editor). The discussion will be moderated by Dr Basani Baloyi (Oxfam, South Africa).
Copies of the edited volume, 'Race, Class and the Post-Apartheid Democratic State' (2019, UKZN Press) will be available at a reduced cost.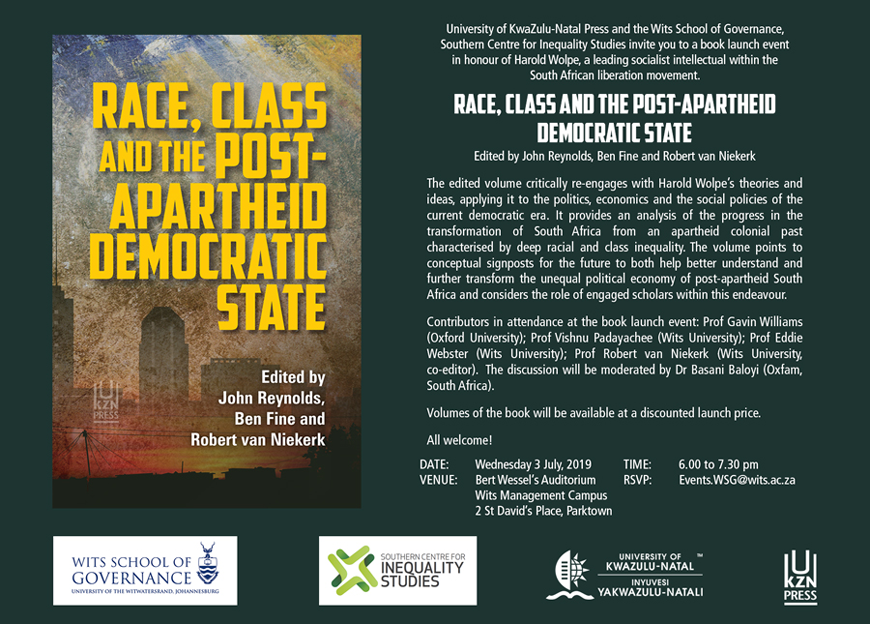 Add event to calendar