An evening with the future
-
Alumni networking event
The more we think about revolutionary advancements in technology, the more we think about what it means to be human. It's exciting to think about what technology can do, but it also raises concerns around ethics, trust, privacy and even spirituality.
Technology touches almost every aspect of our lives and we need to consider the implications for humanity. Should machines cut us out of certain operations and think for themselves? Should we connect our minds and bodies to the internet? The questions pile up as the implications for business, medicine, government and daily life emerge.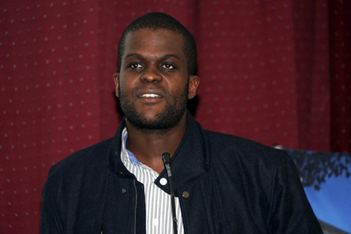 Almost 200 Wits alumni across the generations arrived at the Wits Business School's Donald Gordon Auditorium on 10 May to hear a distinguished panel of Witsies discuss "The Future of the Connected Human".
(To see photos of the event, click here. To see an edited video, click here. The event also featured on the SABC's Network programme.)
Guests were welcomed by master of ceremonies Vukosi Marivate (BSc Eng 2007, MSc Eng 2009), who is a senior data scientist at the CSIR and a Wits Convocation Exco member.
Arthur Goldstuck (BA 1984), head of World Wide Worx, a technology market research company, skilfully facilitated the discussion. Setting the scene, he pointed to the explosive proliferation of technology start-up companies and mentioned some of the concepts, products and trends he had seen at recent international exhibitions. Built-in voice commands; smart clothing; brain-to-vehicle signals; text by thinking; flying cars; the end of passwords… It's all here or coming soon. He also shared insights from research into the technology that South African companies are already using or planning to use.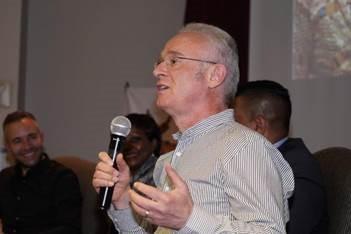 The panellists
Panellist Dr Benjamin Rosman (BSc 2007, BSc Hons 2008, BSc Hons 2009) senior lecturer in the Wits School of Computer Science and Applied Mathematics and Principal Researcher at the CSIR, spoke about his work in robotics and machine learning. This includes working out how to transfer knowledge from humans to robots, among robots themselves, and even from robots back to humans (think of being able to learn skills that have been lost). The goal is for robots to learn, from their experience, how to make decisions. This in turn can teach humans more about decision-making.
Adam Pantanowitz (BSc Eng 2007, BSc Eng 2008), lecturer in the Wits School of Electrical and Information Engineering, is working a groundbreaking project: connecting human brain activity directly to the internet.
Vimbai Muzofa (MCom 2015), Head: Interbank & RTGS (Africa Regions) at Standard Bank Group, is interested in human behaviour in the sphere of financial activity. In her work she looks at issues of trust when it comes to money; speed and efficiency in financial services; and mining data to understand what clients want.
Sunil Geness (MM 2006), Director, Government Relations and Corporate Social Responsibility, SAP Africa and President of the Information Technology Association of South Africa, talked about the revenue potential of artificial intelligence (AI) and how it will touch people's lives in many ways. He urged the audience to watch Do You Trust This Computer?, a movie that "explores the promises and perils of our new era".
The discussion
Are robots just a toy, a gimmick? Though the fun aspect of robots is good for getting children excited about science, technology, engineering and maths, Rosman said, what people want in many contexts is to be able to make better predictions and decisions. The promise of robotics is that systems could make better decisions than humans can.
When you connect your mind to the internet and share your biological signals, are you opening the way for dangerous invasions of privacy? It's uncharted territory, said Pantanowitz. Humans seem to have a natural urge towards networking, but there are ethical concerns to consider. In response to a question from the audience about interfering with consciousness, he added that the aim of science is discovery and understanding.
What about big business: will companies treat information ethically when they have access to powerful technological tools? Muzofa said that in order to survive, financial services companies have to take on technology and use it to mine data – but they are highly regulated. In response to a question, she said banks have to be inclusive and collaborate with the people they are there to serve.
We have to make sure that the digital economy creates jobs instead of just replacing humans, said Geness.
Rosman said that there is a lot of potential for AI to be used in education. Answering a question about embedding morality in robots, he agreed it was important to make AI safe and to avoid giving robots "bad" instructions.
The first Deep Learning Indaba took place at Wits in 2017, attracting several eminent international experts who are also Wits alumni. The outcomes were reported here. The next Indaba takes place in Stellenbosch in September this year. Its mission is to strengthen African machine learning.