Energetic engineering at EIE Open Day 2017
- Wits University
The 'Brainternet', robotic arm, mosquito repeller, adaptive digital hearing aid, leaf recognition software – our future engineers show their stuff.
The School of Electrical and Information Engineering held its first Open Day in three years this week, showcasing 44 exciting laboratory projects completed by fourth year students did this year.
As part of the curriculum, these electrical and information engineering students paired up to use all the engineering skills and knowledge they had gained as undergraduates to design and build their projects.
This fourth year project by Irfaan Mohamed & Nabeel Seedat, titled: Grip control of robotic prosthetic hand using haptic feedback, drew quite a crowd. Here Irfaan (standing) demonstrate how the hand and sensors work by using Deepam Ambelal (sitting) as their testing subject.
Robotic hand in action --> project by Irfaan Mohamed/Nabeel Seedat, 4th yr Electrical and Information Engineering students. #EIEOpenDay pic.twitter.com/M5LXbFgdAQ

— Wits_News (@Wits_News) October 25, 2017
"Staff members set the projects and vaguely specify what is required; and then the students have to plan the entire project, show what technology they are going to use, assign different tasks between them, and build the final project," says the new Head of School, Associate Professor Estelle Trengove.
"Most of the projects have at least a bit of innovation in them and some of them are even prototypes that can be developed further," she adds. Industry representatives and the School's funding partners also attend the Open Day to see these innovations that could spark a new generation of technologies in future.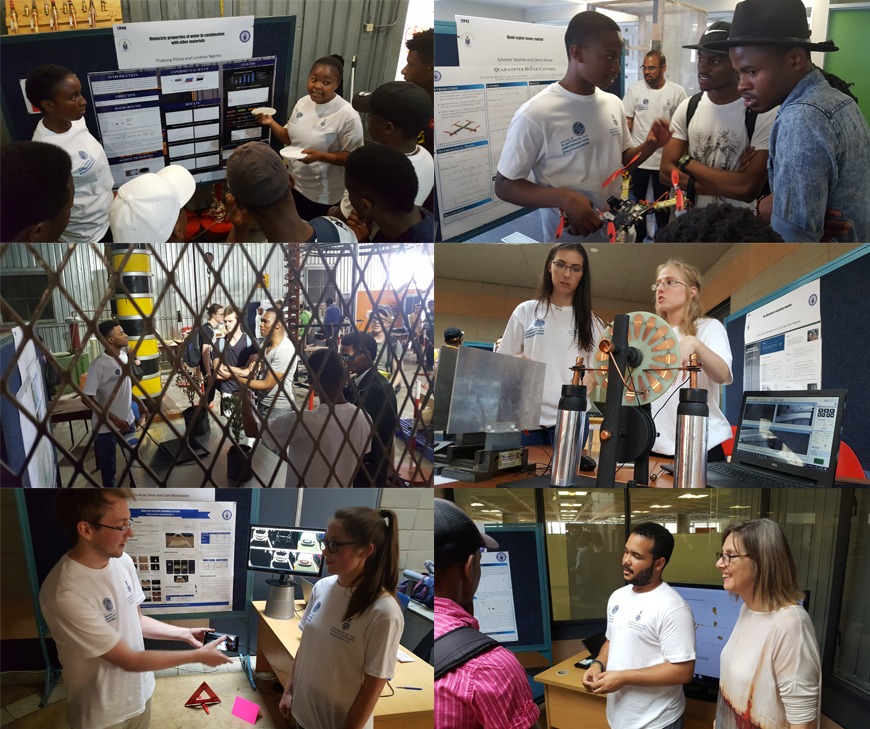 Being appointed as the new Head of School earlier this year, Trengove has also set her sights on rethinking the curriculum in order to fit future engineers with the necessary holistic skills for a rapidly changing world.
The School's curriculum is benchmarked against the Engineering Council of South Africa (ECSA) outcomes, and its accreditation was recently successfully reviewed during the ECSA's five-year-visit.
Says Trengove, "We will continue to meet and exceed the ECSA's benchmark in the future. We do also need to introduce innovation and entrepreneurship into the curriculum that could mean some programme changes in future. It is very important for our students to have innovation and entrepreneurship skills in order to create a new generation of scientists and engineers that meet the needs of modern society."