Staff awards celebrate the best of Wits
- Wits University
The annual Staff Awards reflect the Wits values that drive the ethos and excellence across our remarkable institution.
The Vice-Chancellors Awards held on Friday, 8 October 2021, were a vibrant affair and a reaffirmation of the University's commitment to high standards in all areas of its activities. The event took place during the Council Dinner, which is held after the year-end strategic meeting of the Council – the highest decision-making body comprising leaders who volunteer to oversee the governance of the university.
Wits Vice-Chancellor and Principal Professor Zeblon Vilakazi lauded the winners.
"I want to thank all those who work hard to keep Wits a premier University in Africa. Our reputation is built on 99 years of excellence, innovation and leadership."
Vilakazi reminded guests that Wits' moonshot moment, a term he coined to describe his vision at the beginning of his term as the head of Wits, requires excellence.
"The moonshot is not about landing man on the moon; it's about doing things right. It requires that we exceed expectations – reward excellence and shun mediocrity. May Wits continue to move forward and upwards."
The annual awards recognise excellence in a variety of categories including research, innovation, transformation, teaching and learning, social impact, and service excellence. Category winners are selected after rigorous deliberation by the various adjudicating committees, and undergo interviews in some instances. Winners receive generous cash prizes and grants to advance their areas of interests.
(Image slideshow)
Wits University is a research-intensive university and has three awards to recognise outstanding achievements in research. Winners in these categories were Professors Andrew Forbes, Brahm Fleisch, Viness Pillay, Yahya Choonara and Pradeep Kumar.
Research Awards
Forbes, a physicist who investigates the quantum properties of light, won the Vice-Chancellor's Research Award, the highest accolade in research at Wits. This award acknowledges the achievements of an exceptional Wits scholar who has demonstrated high levels of research excellence over a sustained period of time. Forbes has over time contributed to the University's strategic research objective to produce high quality research with impact.
The good humoured Forbes said his team "plays with lights. We want to harness light for a brighter future. We want to change the economy of the country through phytonics." Watch a video explaining his work.
The Vice-Chancellor's Social Impact Research Award went to Fleisch in the Wits School of Education. Fleisch has invested two decades of scholarly research into improving the South African education system, beginning in 2010 with the design and implementation of the Gauteng Primary Literacy and Mathematics Strategy. His research impact has been recognised by, amongst others, the World Bank and in the President's State of the Nation Address in 2019.
This prestigious Vice-Chancellor's Innovation Award recognises, encourages and celebrates commitment to innovation – with an emphasis on developing and commercialising products or services based on research outputs. The award is made to a team that has developed an innovation to the point that there are tangible prospects of socio-economic impact.
Choonara, Kumar and (posthumously) Pillay claimed this research category for their grand innovation WaferMat™: Wafer Matrix Technology for Ultra-Fast Drug Release.
The WaferMat™ has been long in the making and is an innovation that enables drug delivery through an ultrafast wafer that delivers an active pharmaceutical ingredient (API) through various biological membranes. For example, using the WaferMat™ for oral drug dosing in patients can take place without the need for water, chewing or swallowing. This method is beneficial to children, the elderly and other specific patient groups in situations where drugs are unpalatable or difficult to swallow leading to poor compliance with a necessary drug regimen. The WaferMat™ is also beneficial when the API needs to have fast action with predictable and consistent absorption via the mouth as a result of sub-optimal drug efficacy (bioavailability) when given through any other route of administration or a different dosage form. They have successfully secured a partner who has international positioning to commercialise the product with applications currently focused on helping patients in areas that include cancer pain, sleep and wound care. Read more.
The above awards are accompanied by R275 000 to advance research.
The Vice-Chancellor's Teaching Award: Individual
The VC's Teaching Awards were presented by Professor Ruksana Osman, Senior Deputy Vice-Chancellor: Academic. This category recognises excellence in teaching and the promotion of learning. The ultimate goal of the award is to stimulate teaching and teaching-related scholarship and/or creative activities.
Rodney Genga, an Associate Professor and Director of the Faculty Academic Development Unit (ADU) in the Faculty of Engineering and the Built Environment won the Individual VC's Teaching Award. Genga leads the development of interventions to improve the Faculty's pass rates and manages the first-yearprogramme attended by all first years regardless of intended specialisation. As Director, Genga transformed the ADU so that it provides data-informed support to undergraduate and postgraduate students, as well as academic support for staff in the Faculty. These interventions range from concept tutorials, school camps, student financial support programmes, and in-house psychological support services.
As co-founder of the African Inclusive Microscopy network (AfInMic) at Wits, Genga has also facilitated the training of more than 1600 postgraduate students, researchers and applied scientists from over 18 African countries in the last three years. The award comes with R80 000.
The Vice-Chancellor's Teaching Award: Team
A small team comprising Danie De Klerk, Dr Greig Krull, Fiona Macalister and Tshepiso Maleswena in the Teaching and Learning Centre in the Faculty of Commerce, Law and Management was credited with helping the Faculty during the transition to Emergency Remote Teaching and Learning (ERTL) in 2020. It helped that, prior to 2020, the team was already working on a strategy for the Faculty's online offerings and were thus able to provide the intellectual leadership and support necessary to successfully transition to ERTL. The team earned themselves R100 000.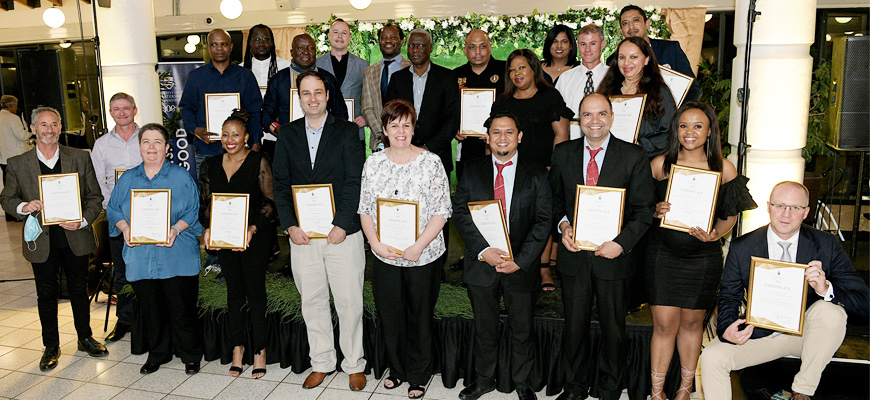 The Vice-Chancellor's Academic Citizenship Awards
Two individual awards were aware made to extraordinary individuals; Professor Musa Manzi in the School of Geosciences and Professor Jerome Loveland in the Department of Paediatric Surgery in the School of Clinical Medicine.
Professor Lynn Morris, Deputy Vice-Chancellor: Research and Innovation lauded these academics for extending themselves to the wider national and international community of scholars. Each has been awarded R80 000 for his efforts.
Loveland said he was honoured beyond belief to have won for doing what he loves.
"The amazing thing about being a peadiatric surgeon is that you everyday you have a massive impact on the patients that you treat and their families."
Manzi who has said outreach was important to him. "It's good to do science but its good to take science back to the community. To do something that will have impact on society, for example there are issues with sink holes, geo-hazards, water shortages in poor community so as Geoscientists it's good to get back to the and use our scientific skills to try and protect communities and try to find natural resources such as water. It's good to develop new technologies but if you can't take it back to the community, for us, it has no value."
Vice-Chancellor's PAS Awards: Individual across categories
Professional and Administrative staff members, known as PAS, are the backbone of university operations and contribute significantly to the success of research, teaching and learning programmes.
Professor Ian Jandrell presented the VC's PAS Award for Service Excellence to five individuals - Tau Mmanchidi, Jignasa Diar, Luci Carosin, Marike Bosman and a team from the School of Accountancy. The awards honour staff members who have served the Wits community exceptionally, demonstrating consistent high quality work, reliability, initiativeand are service-oriented.
Mmanchidi, a Technician in the School of Electrical and Information Engineering was winner in the Grade 10 -13 category of the Awards. A highly dedicated individual, Mmanchidi ensured that the School's electronics workshop remained open and functional during the lockdown in addition to his own duties of managing the School's computer laboratory to ensure it was functional, operational and available to fourth year students who were on campus in June last year. He played an instrumental role in keeping operations afloat in 2020. Without any reluctance, he took on the responsibilities of three of his colleagues who could not return to campus and those of his line manager who was off sick. For his selfless service to the University and going beyond the call of duty last year, he was also honoured as a Wits Hero.
The winner in the Grades 7-9 category was Diar, a Senior Graphic Designer in Alumni Relations. Diar, who has served the University for more than four years, is a consummate professional with impeccable work ethic. Although her main responsibilities are producing creative, innovative art work and design for Alumni Relations, she is not confined by her job description is always willing to assist with other functions such as liaison and engagements with Wits Alumni. An award-winning designer, Diar's outstanding work has won numerous awards in the industry and recognised as the best across South African universities. Her designs for the Wits Review magazine have received first prize Gold for the Skills Category of the Marketing, Advancement and Communications in Education (MACE) Excellence Awards.
A joint award in the Grades 5-6 category was awarded to Carosin, Senior Manager: Business Applications and Solution in Wits ICT and Bosman, Faculty Registrar in the Faculty of Commerce, Law and Management (CLM).
Marike, who is responsible for managing the CLM offices on the Braamfontein West Campus and Parktown Management campus has contributed significantly to the Faculty ensuring enrolment targets were met in 2020 and played a pivotal role in the review of administrative processes in the Faculty of CLM while managing the rapid growth of undergraduate and postgraduate student numbers. Committed to service excellence and the vision of the University, Marike has extended her role by supporting CLM executives to make strategic decisions on timetabling, return-to-campus schedules and assessment formats. She serves on various University committees such as the Academic Planning and Development Committee and is meticulous in her preparation of materials to key committees internal to the Faculty such as the Graduate Studies Committee, Faculty Board and Board of Examiners. Her diligence, commitment, and above-and-beyond work ethic ensured that the Faculty did not miss the deadline for publication of results at the end of 2020.
The rapid transition to emergency remote teaching and learning last year required technical expertise, reliability, patience and commitment from staff. Carosin displayed these traits to ensure the successful transition in a short period. She worked tirelessly to ensure that the old learning management system (LMS), Sakai was kept running to accommodate the transition. Early this year, she played an important role when the University moved to the new LMS, ulwazi. She was responsible for the technical implementation of ulwazi ensuring the students and staff were trained before the commencement of classes including liaising with external companies to fix technical glitches on the system. Carosin was instrumental in ensuring the migration of thousands of Wits courses from Sakai to ulwazi. Her hands-on approach with the transition to the new teaching mode makes her an exemplary manager and always availed herself to find solutions to technical challenges. She has played a significant contribution to the success of Wits online and teaching mode. For her exceptional role, she was also nominated as a Wits Hero.
Vice-Chancellor's PAS Award: Team
The School of Accountancy's team, made up of Kelly Durjan (Team Leader); Zhan-Pere Weinmann; Khotsofalo Mokoma; Nomkhosi Thabethe; Ebrahim Akoo; Jumarah Musetha; Shonisani Tshishonga; and Riedwaan Bowes walked away with the Team Award.
The team has specifically improved the IT skills during the lockdown in order to smoothly transition amicably to the demands of online teaching and interactions with students, and subsequently adapted and excelled in these processes. Our SOA team has the task of managing an extremely high number of students ranging between 450 and 1000 distributed across several different courses we offer. The SOA Team has shown extreme versatility and commitment to ensuring that the transition from contact teaching to online learning using the technologies available went with ease.