'Our moonshot moment'
- Professor Zeblon Vilakazi
Professor Zeblon Vilakazi, Vice-Chancellor and Principal, shares three core areas that Wits will maintain as the University transitions into its next century.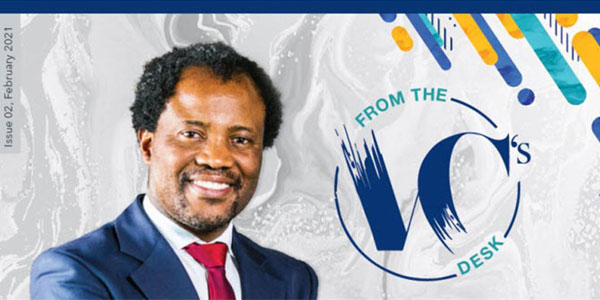 We are living through one of the most disruptive periods in history, amidst the worst global health crisis in over a century. We are rapidly adapting to change in our personal, professional and social spaces, and building our resilience to protect our common futures. This is in no way an easy feat, but one that we can overcome if we garner our collective courage and strength to seek hope in despair, knowledge in failure, innovation in disorder, and our common humanity through advancing the public good.
The coronavirus pandemic has stopped the world in its tracks, but it also provides us with an opportunity to hit the reset button for South Africa and beyond. It presents Wits with a fortuitous moment to reimagine the future of our university and to envision our moonshot that could dramatically change society for good. Our leadership has just transitioned, and our roadmap (Vision 2022) is reaching the end of its journey. We now have the gelegenheit to charter a course that can catapult us into a new world of discovery and innovation, knowledge creation and generation, teaching and learning, for the good of our students, staff and our broader community. Wits should be a lodestar of what a flourishing and responsible society should be - the proverbial "shining city on a hill".
As I begin my term as Vice-Chancellor and Principal, I would like to share my vision to take Wits to the next level. I have started calling this vision Wits' 'moonshot' as we take a giant leap for the future of this institution.
This is also a watershed moment for our University as we approach our centennial year, which offers us another opportunity to build on the successes of our past, to value our current work, and to shape tomorrow. Over the next few weeks I will be interacting with you, both virtually and in person, to harvest your ideas and thoughts about the future of this august institution.
There are three core areas that we will maintain as Wits transitions into its next century: developing excellent graduates who leave their mark on society; conducting world-class research and fostering innovation; and using our location in the economic heartland of Africa to lead from the Global South.
Developing excellent graduates
Wits is known for developing originators, innovators and critical thinkers who are driven by their curiosity for new knowledge. They are active social citizens who can hold their own anywhere, anytime. The current technological accelerators have had a huge impact on how we live, work, and interact and we now have to think about the future skills and knowledge systems that are needed to manage these changes. We must be at the forefront of developing graduates who will find solutions to the pressing problems of the 21st Century, some of which are still unknown. This will require us to further promote integration across disciplines and entrench continuous learning.
The pandemic has disrupted how we teach and learn. We must view this as an opportunity to harness digital transformation to be at the cutting-edge of excellence in teaching and learning but also address how we overcome the digital divides of our society.
It is not only our academic programme that produces world-class graduates but also the environment which Wits provides. An approach that is grounded in diversity equips every member of our community to be genuine citizens of the world, each of whom understands the importance of contributing to society. Our graduates must be equipped with both the hard knowledge and soft skills required to make them globally-competitive.
Conducting world-class research and fostering innovation
Wits is home to some of the best scholars in the world, who lead globally respected research entities. We are recognised as one of the leading research-intensive universities on the continent, and we have the chance, using our distinct expertise, location, and context, to lead from the perspective of the Global South. It is to our universities and experts that society turns in challenging moments. We are using new technologies to leapfrog through aeons of time, and harnessing our local and global connections to conduct research that ultimately remains ahead of the innovation curve.
Leveraging our unique locus
For almost 100 years, Wits has played a vital role in shaping our city and nation by addressing current challenges and innovating for our future. We must leverage this past and our location to develop Wits as one of the leading research and innovation hubs in the Global South. We need to nurture the next generation of scholars and develop a talent pipeline par excellence. We must channel our knowledge and scholarship into innovative technologies, use it to influence policy, and above all ensure that it advances the public good.
Universities often flourish in flux and the time is now ripe for Wits to catapult into a new realm. It is time for us to reinforce our position as the premier university on the continent and play a leading role in the global academy. We can achieve this through building strategic partnerships across the public and private sectors and civil society, and reaching out beyond our borders, so that we align with entities who have a passion for excellence.
Onwards and upwards
No vision, plan or strategy can be effective without the support of members of the Wits community, and I am looking forward to engaging with you over the next few weeks to learn more about how this great institution can draw on your ideas, expertise and experience as we enter a new era. This will be the start of many engagements with the Wits community as we start developing our strategic plan that will entrench Wits' position post-2022.
We also need to get the basics right: we must foster collegiality and respect for each other and the environment; we must maintain a clean and safe campus; and we must ensure the delivery of academic, research and service excellence at all times.
We are at the precipice of change and now more than ever, we need to inspire and be inspired, we need to be the beacon of light for society. None of this will be possible without you – our staff and students, who are the soul of our University.
Please share your ideas with me via vc@wits.ac.za – this is the new official address of the Vice-Chancellor's Office.
I look forward to working with all of you on this moonshot to the cutting-edge of excellence.
Professor Zeblon Vilakazi
Vice-Chancellor and Principal
University of the Witwatersrand