Welcome home, Witsies! Something for every generation at Homecoming Weekend
- Wits University
Wits University is as much a part of Johannesburg as is gold mining, and we are opening our gates to all to celebrate with us.

Welcome message from Professor Zeblon Vilakazi, Wits Vice-Chancellor and Principal:
Welcome to Wits! Our University is a national treasure that occupies a special place in the hearts and minds of both Witsies who have walked these halls and friends of Wits all over the world. For 100 years the institution and its staff, students, and alumni have played an integral role in the development of the University, the City of Johannesburg, and our country, and have made a global impact 'for good'. We are grateful to our alumni who have generously supported our vision to secure Wits' place as one of the world's great universities. They have contributed to mapping a bright future for this remarkable institution and to strengthening our impact. We also want to show you – the Joburg public – who we are, what we can achieve together, and the immense impact Wits has had in changing and shaping society for the better.

"Join us on campus this weekend when we open our gates and invite all Wits communities and the public to our Homecoming Weekend festivities."
Explore the different events and plan your weekend or visit the Wits Homecoming Website for more information.
Ke Nako! – It's time to celebrate!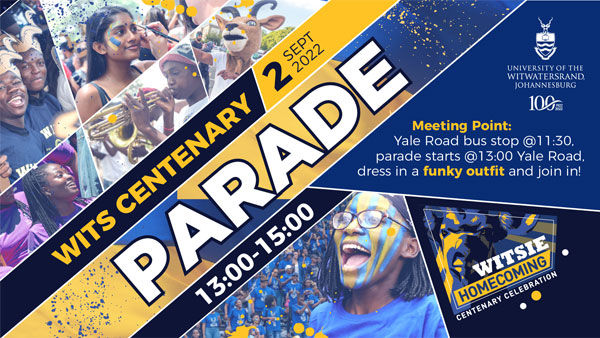 The Wits Homecoming Weekend kicks off on Friday, 2 September at 1pm with a Wits Centenary Parade through Braamfontein. Reminiscent of the RAG floats and festive fundraiser of yore, the 2022 Remember and Give parade brings Witsies to the streets and Braamfontein neighbours to their sidewalks to rekindle the music, marching bands, mascots, and multitudes that make Wits and Braam city cousins.
Visible Resonance Light Show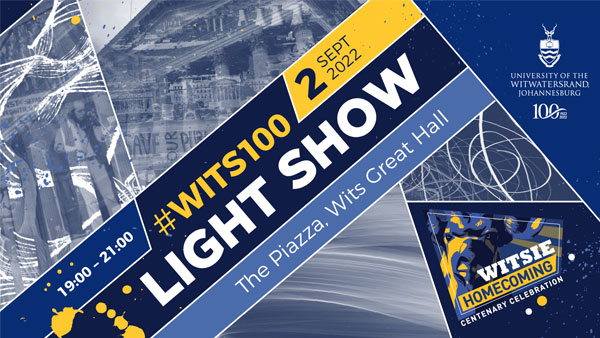 The #Wits100 Visible Resonance Light Show on Friday 2 September, 19:00 to 21:00, at the Great Hall Piazza, is an interactive multimedia extravaganza to reflect, create, improvise and envisage Wits' stories, both known and imagined, through images and light projected and tagged ephemerally on the façade of the Great Hall.
Artist and alumnus Marcus Neustetter conceptualised and facilitates this show with the Trinity Session and OMAi, in collaboration with participating artists, B&S Sound, Harmonics, the Wits Department of Theatre and Performance, the Wits Choir, and you!
The #Wits100 Visible Resonance Light Show combines art and performance with tech and science. It's an artistic, high-tech, interactive, and improvised experience for everyone.
The Free People's Concert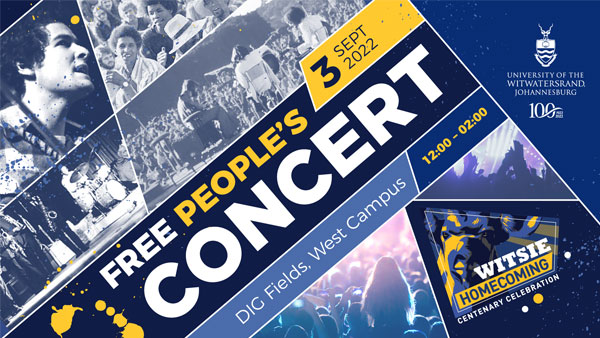 Click here for concert information
Buy your R100 per person tickets on webtickets
The year was 1948. Apartheid was law in South Africa. But even before then Wits University had defied segregation in the academy and on the streets. Decades later, in 1971, Wits again raised its voice in dissent and hosted the first Free People's Concert as the iconic Great Hall stood sentinel.
Perhaps you were there, at that Free People's Concert, when first-year Anthropology student Johnny Clegg and Sipho Mchunu belted out now-legendary tracks as Juluka. It was free, with donations going to the Teach Every African Child NGO. [In this interview with the Wits Review alumni magazine, Clegg reflected on his times at Wits and the fight for a free South Africa.]
Generation X will remember the 1980s and the teargas, trauma, and State of Emergency that plagued campus and country. But that decade was also the birth of Mango Groove, founded in 1984 by Witsie John Leyden and fronted by Claire Johnston, a Wits alumna. Now, in the 21st Century, the music continues at Wits University.
At the 2022 Free People's Concert on Saturday 3 September, from 12:00 to late, Wits University presents a tribute to Johnny Clegg by his son Jesse Clegg, with Sipho Mchunu and the Johnny Clegg Band. They feature in a diverse and excellent line-up along with Mango Groove.
Tickets to the Free People's Concert cost just R100 with all proceeds going to the Wits Food Bank, which supports food-insecure students.
Millennials and Generation Z can revel in the sounds of the award-winning Samthing Soweto; Hip Hop rapper Big Zulu; Khuzani and his maskandi sound; Afro-electro house artist Holly Rey; amapiano music duo MFR Souls; Mzansi Afro-pop sensation Mduduzi Ncube; singer-songwriter Lwah Ndlunkulu; the Wits Mass Choir and student bands.
Art, origins and insects
Wits' galleries and museums are open and free to the public during Homecoming Weekend from 2-4 September 2022.
Kick back and relax at the arts and crafts market, food stalls and festivities all day Saturday at Hall 29 on West Campus.
Wits Art Museum (WAM) houses the largest collection of African art and celebrates 10 years in 2022. The centenary exhibition is a visual homage to the work and life of activist and social documentary photographer, Gisèle Wulfsohn. WAM is located on the corner of Jorissen and Bertha Streets in Braamfontein and is open from 10:00 to 16:00 on Homecoming Weekend.

The Origins Centre is dedicated to exploring and celebrating the history of modern humankind. It contains evidence of ancient stone tools, artefacts of symbolic and spiritual significance, and examples of the region's visually striking rock art. Explore your origins at the Origins Centre on West Campus from 09:00 to 17:00 on Homecoming Weekend.
Yebo Gogga Yebo amaBlomo is an interactive science exhibition and this year is aptly themed Coming of Age. If the kids (or you) fancy racing cockroaches, sampling mopane worm pizzas, and experiencing fauna and flora, this exhibition is crawling with biological delights. Find the creepy-crawlies at the Oppenheimer Life Sciences Building, East Campus, from 08:30 to 16:00 all weekend.
Sporting greats
All roads lead to the Wits Parkrun on Saturday 3 September at 08:00, where alumnus Bruce Fordyce will be clocking his five kilometres. Then it's a quick jog over to the Wits Legends vs Pirates Legends football match at the Wits Football Stadium at 11:00. For more sport, health and relaxation events, click here.
Wits gives you the Edge. For Good
After the parade on Friday, alumni are invited to a Homecoming Welcome in the Concourse of Solomon Mahlangu House at 18:00, followed by the Visible Resonance Light Show on the Piazza at 19:00.
On Saturday, alumni can witness the unveiling of a Scholarship Board in the foyer of the Great Hall at 16:00.
Finally, you can keep your Wits memories intact with the stunning coffee-table centenary book, Wits University at 100: From excavation to innovation on sale from Wits University Press.
Find all the #Wits100 Homecoming Weekend details at www.wits.ac.za/homecoming/