Wits celebrates its rated researchers
- Wits University
The Wits Research Office has recognised scholars at the University whom the National Research Foundation (NRF) has rated or re-rated.
At a ceremony held at the Wits Art Museum in Braamfontein on Thursday 11 April, the University also acknowledged Wits' most highly cited researchers worldwide and in faculties, the University's top supervisors in faculties, and special awards for research innovation and excellence. View photographs from the event here.
Thuthuka grant recipients were recognised as emerging young researchers, as were Friedel Sellschop Early Career Academic awardees.
National Research Foundation-rated researchers at Wits
Following the ratings in 2017/18 by the National Research Foundation (NRF), the number of rated academics at Wits University now stands at 423.
NRF A-rated researchers are those scholars recognised by their peers internationally as global leaders in their field. Wits now boasts 28 A-rated researchers.
Additionally, the NRF awarded 39 Wits researchers with B, C, or Y ratings as follows:
Three Wits researchers received B-ratings, denoting they are internationally acclaimed
24 Wits researchers received C-ratings, indicating they are established researchers
12 Wits researchers received Y-ratings as promising young researchers.
Here is the complete list of names of NRF-rated Wits researchers awarded at the ceremony
The Innovation Excellence Award acknowledges a researcher whose work has impact in that it changes a field of research and becomes a commercial innovation. Professor Luke Chimuka in the School of Chemistry received this award for a method he developed to produce an extract from the Moringa plant through pressurised hot water extraction. The result was the production of sophisticated food and supplement products for consumers, now sold as yoghurt in Wits canteens.
Microbiologist Professor Lynn Morris and Paleoanthropologist, Professor Lee Berger were recognised for being the most highly cited scholars in the world. Highly Cited Researchers is an annual list compiled by Clarivate Analytics that recognises leading researchers in the sciences and social sciences globally.
The most highly cited researchers per faculty were: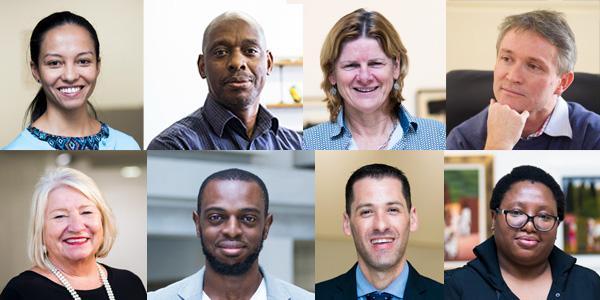 Professor Neil Covill, Director: Postgraduate Affairs pointed out that Wits has some 12 000 postgraduates students, all of whom require supervision. Coville recognised the top postgraduate supervisors in faculty:
Research Professor of Virology, Professor Caroline Tiemessen received the 2018 Vice-Chancellor's Research Award.
Speaking at the ceremony, Professor Tawana Kupe, Acting Vice-Chancellor, said:
"Research at Wits is alive and well. In the last eight years, our annual output has doubled. The average annual growth is 10% since 2009 and in 2016 – a stellar year – our growth was 18%. And just in case you felt it was a numbers game only, this growth has been achieved without a drop in quality. Indeed, quality is rising too. According to the Web of Science, Wits' research is, on average, 30% better than the world average. Furthermore, we have consistently had two or more scholars in the top 1% of global scholars by citations. All of this is only possible because of the talented people that contribute to Wits."