Towards gender parity in academic leadership
- Refilwe Mabula
Eight female fellows of the Female Academic Leadership (FALF) Programme at Wits share their experiences of breaking the glass ceiling.
An initiative of Dr Judy Dlamini, a leading businesswoman and Wits' first female Chancellor, the FALF programme aims to ensure that more black women occupy leadership positions in academia.
A staunch advocate of female leadership, Dlamini believes in developing women to assume leadership roles in society. "Empowering women starts with a quality education," says Dlamini in the Wits Review. "Women must be able to achieve their full potential and assume leadership positions in the future."
But it has not been easy and challenges remain. For example, outut of 26 higher education institutions in SA, only six have female Vice-Chancellors.
Taking up space
One of the youngest fellows, 28 year-old Mohlalakoma Therecia Ngwako, a Control Systems Engineer and an Associate Lecturer in the School of Electrical and Information Engineering, says that as a young woman working in a male-dominated field, she at times experiences imposter syndrome, and doubts her abilities. She says that given her age and gender, she over-stretches herself to prove her competency.
"I have found myself working extremely hard, sometimes to my own detriment, to prove myself – not only to myself but also to other people, including the students that I lecture," she says.
Dr Veronica Ntsiea, Head of the Department of Physiotherapy at Wits, echoes Ngwako's sentiments. She also encountered gender stereotyping when she began serving on various committees and structures. "I had to deal with feelings of being patronised and having to always prove that I had the knowledge, and that my ideas also deserve consideration." But the experience has made Ntsiea more confident and assertive so that her opinions are heard as an academic, and are not based on her gender.
Lungile Khambule, the youngest lecturer in the Department of Chemical Pathology, struggles to divide her time between her career and maternal duties since giving birth to her first child.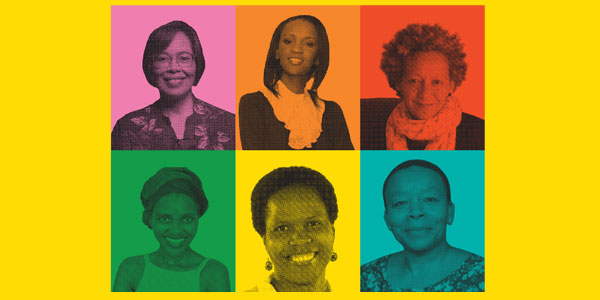 FALF Fellows (top l-r) Ann George, Dineo Mapanya, Jillian Gardner, and (bottom l-r) Mohlalakoma Ngwako, Thama Duba and Veronica Ntsia
Subverting the status quo
Women constantly have to 'fit in' to what was traditionally known as a male-dominated sector. Lungie Maseko, a Lecturer in the School of Construction Economics and Management, wants to change this archaic narrative by contributing to the gender and racial transformation of academic leadership in her field.
"Again and again, women are made to feel uncomfortable and are made to accept that this is a male-dominated industry – so they conform, even when they do not agree. The South African construction industry continues with all forms of gender discrimination, sexism and patriarchy, and this has somehow spilled over within the academic sphere of construction," says Maseko, who is vocal about challenging and changing the status quo.
"As a woman, I am willing to rise up and say I will not 'fit in' to this male-dominated organisational culture." She says that she and her female colleagues "will start our own culture".
Dr Jillian Gardner, a Senior Lecturer in the Steve Biko Centre for Bioethics, says that she pursued a PhD in Philosophy to show that women can succeed in the field, because "the idea of reasoning and means-end rationality and thinking is usually associated with men".
"I need to show that we can sit around this table (the philosophy field) because this is one of those disciplines where you don't see many women," says Gardner.
Gender transformation should be part of correcting historical ills, says Dr Thama Duba, a Lecturer in the School of Computer Science and Applied Mathematics. Duba says that such redress will ensure that gender disparities are addressed to achieve equity, while tackling gender discrimination.
Forging a path for future female leaders
Despite the challenges that she has experienced, Ntsiea says that she is encouraged by Dlamini, Professor Mamokgethi Phakeng (Vice-Chancellor and Principal, University of Cape Town), Professor Puleng LenkaBula (Vice-Chancellor and Principal, UNISA) and others "who continue to make the path much easier for female academics to be recognised as intellectuals and not just appointees for transformation purposes".
Mentorship plays an important role in nurturing future leaders. Dr Dineo Mpanya, a nuclear physician and Lecturer in Internal Medicine, says that to develop the pipeline for aspiring academics and emerging researchers, female academics need to create networks with each other and empower young scholars.
Similarly, Dr Ann George, a Lecturer in the Centre for Health Science Education in the Faculty of Health Sciences says that she wants to inspire the next generation of female leaders so that they can realise their potential.
"I seek to model female achievement. It is vital to have role models that exemplify the possibilities for others like me. I have been fortunate to have been exposed to several role models across the University, some of whom have taken the time to guide me on my career path," she says.
George, who joined the Faculty in 2016 as part of the Diversifying the Academy Programme, says that role-modelling has made an invaluable contribution to her advancement in academia, which is why she believes in the vision and mission of the FALF programme. "Being exposed to successful female academic role models reinforces the potential for the fellows to realise their goals."
Similarly, Khambule aspires to "motivate and mentor young academics to be the best that they can be", and particularly those in her field.
Refilwe Mabula is Senior Communications Officer for Wits University.
This article first appeared in Curiosity, a research magazine produced by Wits Communications and the Research Office.
Read more in the 13th issue, themed: #Gender. We feature research across disciplines that relates to gender, feminism, masculinity, sex, sexual identity and sexual health