Without Making
Opening Thursday 23 February 2017
Antoinette Sears: An Exhibition of sculptural pieces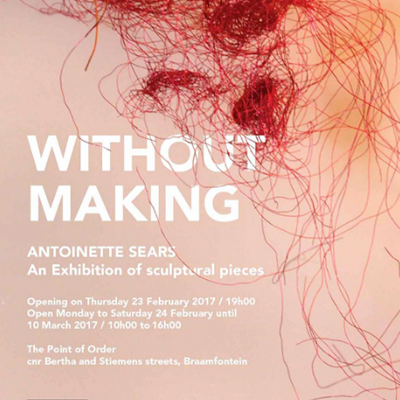 Artists Residency – Suddenly A Dissident
Artist Admire Kamudzengerere and Wallen Mapondera in residence at The Point of Order from 11 July to 5 August 2016
Exhibition opening: Weds 27th July 6pm
Pre-exhibition open studio: Tues 19th July 11am-2pm
Walkabout with artists: Sat 30th July 11-12am
Performance Lecture: Thurs 4th August 5.30-6.30pm
Late night opening: 4th August 6.30pm-9pm #FirstThursdays
The exhibition "SUDDENLY A DISSIDENT" is inspired by a poem written in 1986 by the 'anarchic' Zimbabwean novelist, poet and social rebel Dambudzo Marechera, "There's a dissident in the election soup". Concerned with broader themes of power, authority and resistance, and the recurring frustrations of humanity, artists WALLEN MAPONDERA and ADMIRE KAMUDZENGERERE re-examine Marechera's prophetic poetry through a contemporary lens. The exhibition is part of their 3-month Johannesburg residency with GUNS & RAIN.
They keep in view the creation and fragmentation of a Zimbabwean diaspora as a result of ongoing political and economic crisis, at the same time as reflecting on the local and global rise of "dissidence": multiple and multi-layered forms of protest against ethnic, racial, gendered, economic and other forms of inequality. If opposing something is what makes person a dissident, depending on what or whom one is opposing, we all are likely to be dissidents in one way or another. Through this body of work Kamudengerere and Mapondera also dissect, examine, question and respond to relationships between literature and visual media.
**DISSIDENT**
ˈdɪsɪd(ə)nt/
noun: a person who opposes official policy, especially that of an authoritarian state.
THE TERM DISSIDENT has multiple histories. It was used in the Soviet Union after Stalin's death until communism fell, to describe citizens who criticized the party. In turn those who opposed the Community Party began to self-identify as dissidents – as non-conformists who believed their actions to be for social good. The term dissident also has particular meaning in Zimbabwe's history, used to describe opponents of the newly formed Zimbabwean state in Matabeleland in the 1980s, during a period of severe military repression and atrocity.
ABOUT THE ARTISTS
ADMIRE KAMUDZENGERERE trained at Gallery Delta and the National Gallery School in Harare, where he teaches. In 2012, he was awarded a 2-year residency at the Rijksacademie in Amsterdam, one of 15 artists selected from over 2000 applicants. His art explores identity, politics and society, frequently revealing an unequal world in which the powerful ride roughshod over the weak.
WALLEN MAPONDERA also lives and works in Harare, and has exhibited in multiple countries, winning awards along the way. Wallen's paintings explore the use and abuse of animals. In so doing, he asks broader questions about power relations and hierarchies, challenging us to think about our actions towards nature, and towards each other.
About Dambudzo Marechera
Described as one of Africa's most innovative literary minds, Marechera\s explosive collection of linked short stories, House of Hunger, received the coveted Guardian fiction prize in 1979. Marechera was born in colonial Rhodesia in 1952. He attended the University of Zimbabwe and later Oxford. He was expelled from both institutions for "unsociable" behaviour. Marechera died homeless in Harare, aged 35. His poetry was published posthumously under the title Cemetery of Mind (1992). [source: Charne Lavery, Mail & Guardian, 2015].
THANK YOU'S
We would like to thank all the backers of our crowdfunding campaign, who made this residency possible. We would also like to thank the sponsors of the exhibition, Becomo Art Centre, with National Lotteries Commission and National Arts Council. Last but not least, we are grateful to Wits School of Arts and The Point of Order for hosting this exhibition.
Everything Under the Sun
The Point of Order presents Everything Under the Sun a solo exhibition of recent work by Vincent Baloyi.
Known better as a sculptor and printmaker, Baloyi will present a series of paintings created between 2015 and 2016. Working from his home courtyard as his studio, Baloyi's body of paintings have developed on natural sunlight and bear colours symptomatic of weather conditions of over the past two years or so.
His colour palette makes evident environmental uncertainties whilst simultaneously escaping being affected by power outages that become more intensified in winters. The sun thus becomes a recurring motif and metaphor in this body of work; it relates to Baloyi's childhood memories as it does to the context in which the work was created.
Baloyi's courtyard functions both as an open-air studio and a meeting place, where his friends and fellow artists gather over a drink, jazz music listening sessions and impromptu critique sessions. These conversations and sounds sneak into the work, creating an array of colours, characters and creatures.
Vincent Baloyi was born in 1954 in Newclare, Johannesburg. He first attended school in Soweto where his family moved in 1961. He studied art at the Fred Clarke Higher Primary School in Soweto. In 1972 he met Eric Mbatha and began studying under him at the YWCA in Dube, Soweto. In 1974 Baloyi embarked on the two-year course at Rorke's Drift. On completion of the course the following year, Baloyi joined the National Arts Society and the SAAA and began working full-time as an artist. In 1981 he began teaching art at the Open School until 1986, and then at FUBA until 1987. In 1986 he joined FUNDA as a Guest Artist. He is currently working as the technical assistant at the Fine Art department at the Wits School of Arts.
WSOA Journal Launch
The Wits School of Arts invites you to the Launch of […] a new online peer reviewed journal that focuses on creative practice. LAUNCH Friday, 18th March 2016, 6pm ROUND TABLE Saturday, 19th of March at 11am – 2pm VENUE The Point of Order Project Space Noswal Hall Corner Stiemans and Bertha Street Braamfontein The journal is a contribution by WSOA to the ongoing and urgent debates around knowledge production and specifically engages with projects that open up discussions and provide possibilities of alternative forms of knowledge production and research.
Editors
Christopher Letcher > Pervaiz Khan > Jenni-Lee Crewe > Talya Lubinsky > Zen Marie
Contributors
ANDILE KHUMALO > BETTINA MALCOMESS > CAMERON HARRIS DOMINIQUE MALAQUAIS > DUBMORPHOLOGY > ELEONORE HELLIO JYOTI MISTRY > KADIATOU DIALLO MADE YOU LOOK> MIEKE BAL > MICHELLE WILLIAMS GAMAKER MWENYA B. KABWE > STACY HARDY > SPARCK
[…] is an experiment with form. It is a project that prioritizes sonic, visual, oral, performative, visceral, embodied, spatial and temporal forms of practice that are critical and invested with the questioning of how knowledge is produced and what the relevance of this knowledge is. […] is the title of the journal / online platform.
In part, […] denotes a grammatical convention used to signal omitted elements from a text. As a title, […] is unpronounceable, resists being easily saved as a file or turned into a URL. All of these features have given the editorial board and the design team a few collective headaches.
But it is precisely for these deviant features that […] (with no prefix or suffix) works as an appropriate title for the project.
[…] can be productively thought as a placeholder for that which is missing, omitted, forgotten or to come.
Visit the journal at: www.ellipses.org.za/
Share
Tweet