Fine Arts
The Department of Fine Arts is vibrantly interdisciplinary, combining technical training in artistic production with high levels of conceptual and creative thinking.
The Fine Arts department takes its location in Johannesburg seriously. As as a result there is an exciting series of site specific components to the course as well as a dynamic exhibitions programme that consistently looks beyond the boom gates of the academy. This combined with the rigorous studio based programme as well as academic excellence, gives students a range of options to explore and critically play with.
As we believe that Fine Arts education extends beyond the academy, we encourage our students to participate in this wider art arena. This coupled with the combination of conceptually and technically challenging studio practice and rigorous academic curricula, equips our graduates with the skills to excel in many different fields.
What are we doing in Fine Arts?
The Fine Arts department is committed to shaping an open, collectively productive environment for artistic research, study and work, which recognises that developing a creative voice and language is a process- a constant search requiring learning and unlearning, testing, failing and succeeding.
Watch
Prof Sharlene Khan - Penn State Writing Fellowship
Prof Sharlene Khan will be on a writing fellowship at Penn State University's Women, Gender and Sexuality Studies and African Studies Department from 1 August - 20 December 2023. Prof Khan will be working on two book projects. Khan will be writing up an Art on our Mind book, that chronicles the interviews, alongside her critical essays on these artists' works.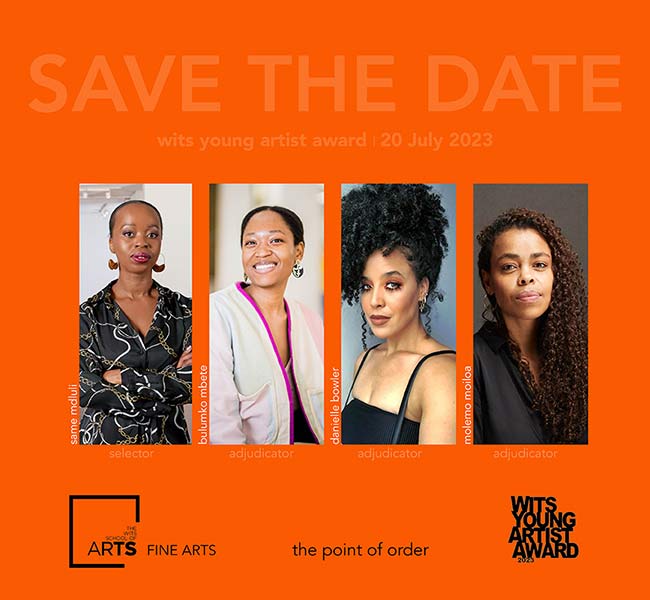 2023 Wits Young Artist Award (WYAA) Winners
The Wits Young Artist Award (WYAA) is supported by The Point of Order and the Wits School of Arts as a platform for both acknowledging and giving exposure to new (earliest 2022) and critical work by senior students of the Wits Fine Art Department. The 2023 WYAA chief selector was Dr Same Mdluli, the director of the Standard Bank Art Gallery.
Read more
Share
Tweet