Alumni in the news July 2018
-
Be inspired by the Witsies in the July round-up of appointments, achievements, awards and ideas
The Alumni Relations Office erected a banner on the concourse of Solomon Mahlangu House as part of the Mandela 100 celebrations.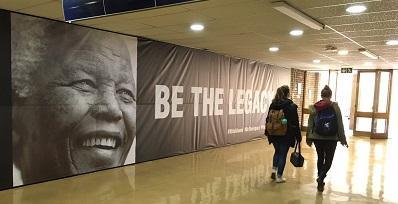 The second cohort of Wits academics and professional staff have completed the Postgraduate Diploma in Higher Education, designed to enhance the quality of teaching and learning in the University. Read more.
Wits honoured HerdBuoys founder Peter Vundla with an honorary doctorate in July. Listen to his address here.
Retired Constitutional Court Justice Zak Yacoob also received an honorary doctorate.
The World Academy of Sciences has elected Wits professors and alumni Bob Scholes (BSc 1978, BSc Hons 1979, PhD 1988) and Shabir Madhi (MBBCh 1990, MMed 1999, PhD 2004) as Fellows and awarded its Medical Sciences prize to alumna Professor Lynn Morris (BSc 1982, BSc Hons 1983). Read more.
Dr Deborah Dunsire (MBBCh 1985) is to take over as President and CEO of Lundbeck Global, an international pharmaceutical company which specialises in treatment for neurological and psychological diseases such as depression and Alzheimer's.
Artist William Kentridge (BA 1977, DLitt honoris causa 2004) held a limited run of his The Head and the Load performance art in the Turbine Hall of London's Tate Modern art gallery. It tells the story of the African porters and carriers who served in British, French and German forces during the First World War. Watch the full performance here.
Biological anthropologist Professor Maryna Steyn (PhD 1994), Head of the School of Anatomical Sciences and Director of the Human Variation and Identification Research Unit at Wits, delivered the Faculty of Health Sciences' bi-annual Prestigious Research Lecture series recently. She and specialist pathologist Dr Candice Hansmeyer (MBBCh 2005, MMed 2017) spoke about the forensic aspects of identifying the deceased.
As head of the School of Therapeutic Sciences at Wits, Professor Judith Bruce (Dip Nurs Ed 1981, MSc Nurs 1992, PhD 2003) hosts the annual Albertina Sisulu Memorial Lecture, which contextualises the values that students in the School must live out in their chosen profession.
Public health academic Professor Sharon Fonn (MBBCh 1982, DOH 1985, PhD 1989) has written an "explainer" for The Conversation about South Africa's private health care market.
Dr Salome Maswime (MMed 2014, PhD 2017) is a specialist who's committed to maternal and foetal medicine. She has been awarded a Discovery Foundation MGH Fellowship to further her knowledge in the USA. Learn more about her in this video.
Dr Lindokuhle Mnyandu (BA 2008, BA Hons 2009) has published a book, Johannesburg: The Path of the Wicked, which examines how architecture and nationalism affected notions of national identity in South Africa.
Ben Myres (BA P&VA 2016) and Cukia "Sugar" Kimani (BSc 2014, BA Hons 2016) told The Citizen about taking their varsity video game project to the global market. Watch the trailer here.
Aeronautical engineer Matthew Whalley (MSc Eng 2016) gave a talk about starting his own drone manufacturing company.
Aeronautical Engineering students Jules Ntumba, Tso Mello and Fiona Ndlovu recently won a competition for innovation in travel. They intend to start their own company.
Civil engineer Innocentia Mahlangu (BSc Eng 2011, MSc Eng 2018) was named as one of the Mail & Guardian's Young South Africans to Watch. Read more.
Dr Gillian Godsell (BA 1973) has started a podcast, Tweeting Gogo, about Johannesburg stories and people.
Voice movement therapist Gina Holloway Mulder (BADA 1999, PGDA 2003) was interviewed by Amanzimtoti Fever about her work.
Kabelo Malatsie curated Sabelo Mlangeni's exhibition uMlindelo Wamakholwa, on at the Wits Art Museum.
Rosie Motene (BADA 1998) has written a memoir, Reclaiming the Soil: A black girl's struggle to find her African self. Watch the EWN interview or read more about her upbringing in a Jewish family.
Health Sciences graduands were addressed by Dr Thifheli Luvhengo at their graduation ceremony in July. Dr Luvhengo is a lecturer and Clinical Head of the Department of Surgery at Charlotte Maxeke Johannesburg Academic Hospital.
Third-year student Neo Ramagaga wrote an award-winning essay about medical students' role in advocating for patients. Read it in the SA Journal of Bioethics & Law.
Professor Hlonipha Mokoena addressed graduands in Humanities.
Three Wits School of Governance students, Dr Peter Misigalo Wandwasi (PhD 2018), Dr Dimpho Motsamai (BA 2007, BA Hons 2008, MA 2009, PhD 2018), and Dr Qhubani Moyo (MM 2011, PhD 2018), recently graduated with their PhDs. Read the abstracts here.
Wits is making progress with solar power installations on campus. This video gives an aerial view.