No freedom without dignity and equality
- Wits University
Justice Zak Yacoob reissues the call to uphold the Constitution and for universities to play a bigger role on this mission.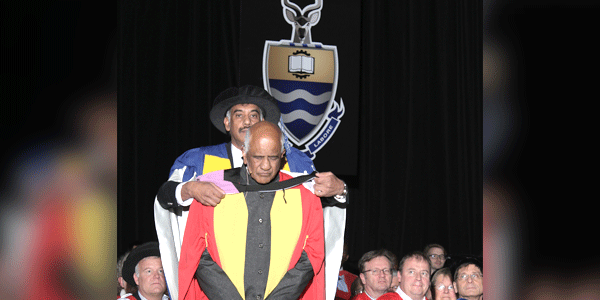 Former Constitutional Court judge Justice Yacoob delivered an address at Wits in which he once again reminded South Africans that the Constitution is an ongoing project and requires a social revolution.
"Our Constitution has ushered in a new phase in the struggle. The Constitution is, if you like, a launching pad for this new phase of struggle to create and deepen our value-based democracy," he said.
Yacoob was a guest speaker at Wits where he was awarded an honorary doctorate for his outstanding contribution to law, democracy and social justice in the country.
Touching on a range of issues related to the country's founding values, Yacoob emphasised the importance of teaching the Constitution in schools and universities.
The reading of preamble of the Constitution together with the first 39 clauses is a must for all and not just a "preserve of lawyers and law students", he said.
Delving deeper into the impositions of the Constitution on the citizens of the country, Yacoob said freedom alone is not sufficient, and that the right to freedom has its own limitations.
"It is worthy of note that the values put together in one sub-clause are those of dignity, equality and freedom, NOT freedoms alone.
In my view, the notion of freedom in our Constitution is qualified by human dignity and equality."
In other words, to permit freedom at the expense of human dignity or equality would be inconsistent with the values of our Constitution." Read speech by Justice Zak Yacoob.
Yacoob - a fine legal mind and civic activist
Justice Zak Yacoob was born on 3 March 1948. At 16 months old he lost his sight due to meningitis.
He is one of South Africa's finest legal minds, one of its foremost advocates for progressive transformation of our society based on the rule of law and on advancing the socio-economic rights and the quintessential embodiment of an activist lawyer. His legal career culminated in his celebrated role as a Justice of the Constitutional Court for 15 years. During his tenure there, he played a key role in advancing socio-economic rights through, among others the Grootboom judgement, and he was renowned as one of the sharpest minds on the bench. His constitutional and civic involvement, however, stretches much further back. In addition to his remarkable service at the Constitutional Court, he has a long history as a legal campaigner and activist, working with civil society organisations in KwaZulu-Natal. He was instrumental in the transition to democracy having fought against the apartheid regime. He played an important role in developing our Constitution, and served as a commissioner on the Independent Electoral Commission. Justice Yacoob is an astute and progressive legal mind whose formidable contribution to South African jurisprudence has broadened and deepened South Africa's world-class Constitutional dispensation. Throughout his life and work he has done much to advance the cause of the blind, both through his exemplary career and through his involvement in the South African National Council for the Blind.
He attended Durban's Arthur Blaxall School for the Blind from 1956 to 1966, and from 1967 to 1969 he read for a BA at the University College Durban (now the University of KwaZulu-Natal Westville). He majored in English and private law. In 1972 he completed an LLB degree at the then University of Durban-Westville – this was the start of an illustrious career in the law.
Justice Yacoob served his pupillage in Durban in 1973 and was admitted as an advocate on 12 March of that year. He practiced as a junior counsel from July 1973 to May 1991. In the early stages of his practice, Justice Yacoob together with Justice Skweyiya were denied chambers in the "white" advocates' chambers in Durban because of the apartheid segregation laws. Despite this senseless and unjust impediment Justice Yacoob pursued a vigorous practice. Much of his work during this time focussed on social justice and the struggle against apartheid. While at the Durban bar, he represented and advised many people prosecuted for contravening security laws, emergency measures and other oppressive legislation; represented victims of unfair evictions and people who were required to pay unfair tariffs. He represented the "Durban Six" in negotiations with the British government when they occupied the British Consulate in 1984 in protest against apartheid. He was also part of the team that defended officials and members of the United Democratic Front and its affiliates in the Delmas Treason Trial. Over this time, he also ran a successful and diverse commercial and general legal practice, serving as a member of the Society of Advocates of Natal for several years. He was appointed as a senior counsel in May 1991.
Justice Yacoob played an indispensable role during the transition to democracy that started in 1990.
He was part of the constitutional drafting process, serving as a member of the panel of independent experts of the Constitutional Assembly and the technical committee on the Bill of Rights. He also served on several other committees working on the new Constitution including finance, land security, administrative justice and the right to information.
In January 1994 he was appointed and served as a commissioner on the Independent Electoral Commission that conducted the first democratic election. The IEC was run by many eminent South Africans, including Justice Johann Kriegler (chairperson) and Justice Dikgang Moseneke (deputy chairperson).
Justice Yacoob joined the Constitutional Court of South Africa in February 1998. As a Constitutional Court justice, he has sat on many of South Africa's seminal cases. He is particularly well known for the seminal Grootboom judgment he wrote, which enforced the state's obligation to provide reasonable access to adequate housing, and in general to respect socio-economic rights. In an address at the inauguration of the Constitutional Court in 2004, Justice Yacoob said the judgment's "exploration of the concept of reasonableness…will perhaps turn out to be a pillar upon which our future socioeconomic rights jurisprudence will rest". His prediction was proven correct as the Constitutional Court relied on his incisive reasoning in many subsequent socioeconomic claims.
During his 15 years of service on the Constitutional Court, Justice Yacoob maintained a
prolific schedule. He worked through bulky appeal records with striking thoroughness. He cited page numbers, paragraphs and passages of the record better than any member of the bench. Justice Yacoob wrote as many if not more judgments than most of his colleagues. He concurred in judgments of other colleagues as vigorously as he dissented from them. His instructive and imaginative body of his judgments remains a seminal contribution towards our burgeoning jurisprudence.
Chief Justice Mogoeng Mogoeng described Justice Yacoob as one of South Africa's treasured blessings, as he defied all odds, stereotypes and prejudices to complete his studies and develop into one of the world's finest legal brains. He said Justice Yacoob was an inspiration and a role model to any South African child living in abject poverty, or those with physical challenges, to believe they had a place at the top of their careers.
In addition to his legal career, Justice Yacoob has been involved in a range of political activities. He was an executive member of the Durban Housing Action Committee and the Durban Committee of Ten. He was a member of the executive of the Natal Indian Congress from 1981 to 1991 - in which capacity he organised and took part in protests, produced and distributed publicity material, and organised and addressed many antiapartheid mass meetings. He was also a member of a committee that rallied against the South African Indian Council. He belonged to the Democratic Lawyers Association from 1979 to 1984, was a member of the UDF's Natal executive, was heavily involved in campaigning against the tricameral parliament from 1983 to 1985 and was a member of the underground structures of the ANC.
Justice Yacoob has been strongly active in the Natal Indian Blind and Deaf Society, and the South African National Council for the Blind. He has also served on many school committees, parent-teacher bodies, ratepayers' associations and civic organisations. He was the chairperson of the South African National Council for the Blind and was a member of its national management committee and its national executive committee from 2001 to 2009. He was a member of the council of the University of Durban Westville from 1989 to 1993 and from 1995 to1997. He was the chancellor of the University from May 2001 until December 2003.
Justice Yacoob is married to Anu, his university sweetheart. The have two adult children and have lived in Durban for most of their lives.
The University of Witwatersrand is proud to honour one of South Africa's greatest sons – an icon of our anti-apartheid struggle, one of our finest legal minds and a civic activist. In his lifetime of service to the poor and marginalised of this country Justice Yacoob has come to embody the values and ethos that all South Africans should strive for and it is therefore befitting that the University of the Witwatersrand, Johannesburg awards an honorary doctorate degree to Justice Zakeria Mohammed Yacoob.