Students entrepreneurship on the rise
- Wits University
More and more students are exploring entrepreneurship and joining campus initiatives that support various stages to business success.
The 2023 launch of the Student Entrepreneurship Education and Development (SEED) programme saw a record number of students attending the launch event which sought to introduce Witsies to SEED and the benefits of the programme.
Now in it's third year, the programme has served as a springboard for many student-led businesses. Aside for funding, the programme tackles some of the key challenges experienced by entrepreneurs leading some to fail without ever realising their goals or creating employment.
"The programme aims to equip students with entrepreneurial knowledge, resources, and skillset to start and run successful business ventures. Students who form part of SEED are provided with a supportive environment that enables them to gain access to an entrepreneurial ecosystem, mentorship and develop a resilient mindset," says Tshegofatso Mogaladi, Deputy Dean of Student Affairs.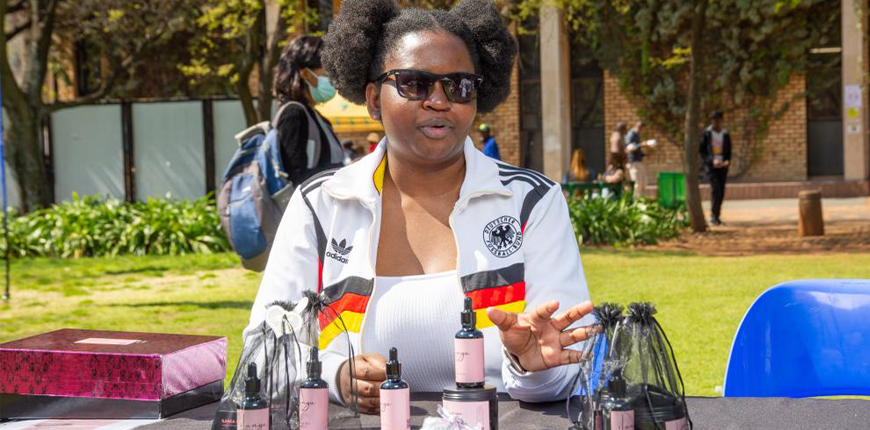 Nomusa Khambule, a final year Biomedical Sciences student and founder of a haircare business Ilanga Coils, was among those at the launch and shared her experience.
Khambule joined SEED in 2022 and has had the opportunity to participate and learn from other students from across the country through platforms such as the Entrepreneurship Development in Higher Education (EDHE) programme, and took part in the Fourth Annual National Entrepreneurship Gauteng Intervarsity Regional Rounds (2022).
Supported by SEED, Khambule travelled to Kigali, Rwanda for the Carnegie Mellon University-Africa Entrepreneurship forum (2022) themed Connecting Africa's entrepreneurship ecosystem.
This was attended by entrepreneurs, government institutions, academia, investors, students and business support service providers.
For more details on upcoming masterclasses, webinars, intervarsity challenges, market days
or to book a consultations, contact: StudentEntrepreneurship.DLU@wits.ac.za and (011) 717 9234.
SEED is driven by the Development and Leadership Unit, a division of Student Affairs.
Related articles
Wits' entrepreneurs succeed at the EDHE Intervarsity Gauteng Regional Rounds
Young business minds took centre stage at the Student Entrepreneurship Week
Wits Entrepreneurship Clinic will enable youth to become the future job creators
Budding entrepreneur cracks student market
Soccer boots made for township diski