Budding entrepreneur cracks student market
- Wits University
Passion, strategy and excellence creates a flourishing business for law student.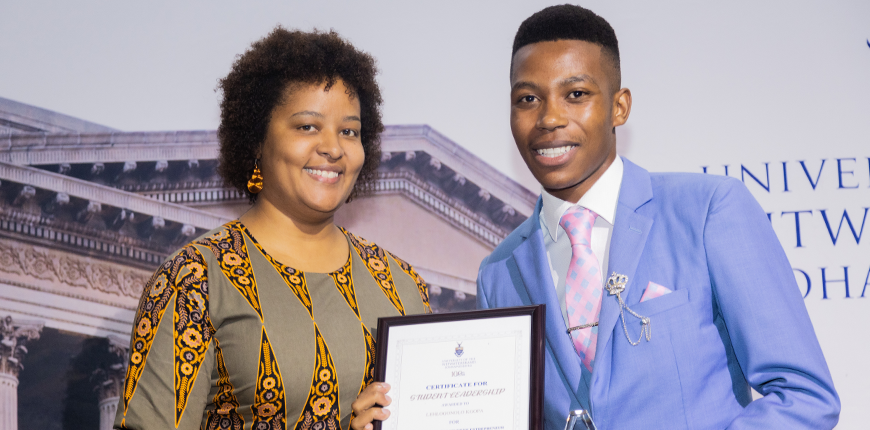 Lehlohonolo Kgopa (Hlalele), realised a market gap and responded to this by launching Eggsclusive which caters to students at Wits and nearby institutions. In this article he shares how his background has shaped his outlook, the origins of the business and cracking a few eggs along the way.
For his initiative, the final year student was awarded the Most Outstanding Student Entrepreneur at the annual Student Leadership Awards in 2022.
Telling his story in his words:
I was born in a small township called Villiers, in the Free State and I am the oldest of three sons born to Daniel and Queen Hlalele. My family relocated to Gauteng and I attended at Park Senior Primary in Joburg South, where I went on to excel my academics and extra murals eventually attaining various awards.
Growing up I was very short and slightly built, so naturally I had to put in twice as much effort as everyone else to be heard and seen. I learnt valuable life lessons from my parents - mom worked as a waitress and dad as a driver, and yet still managed to pay for school fees and make ends meet. Key amongst these lessons was the importance of passion, strategy and excellence.
In high school these stayed with me as I continued to grow and became a debate champion, captaining my school for years to wins at competitions. It was at the end of 2019 where I got an opportunity to do vacation work at the National Empowerment Fund which is South Africa's largest business fund. It is there that I learnt the dynamics of business and met both new generation and classic businessmen and women, inspiring my business views and approaches.
I started my law degree at Wits university in 2020, which took off on a dismal note as I struggled academically in certain modules in light of the new experience as well as the pandemic, and fell below my usual standard of excellence. I however, summoned the resilience within me and realigned myself with my vision in the following years, raising the bar and reaching new levels in my academics and even making it on to the Dean's list as well as receiving membership into the Golden Key International Society.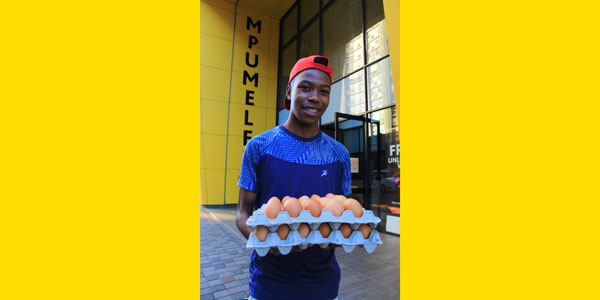 Eggsclusive is unique because it caters to a market that is often overlooked by big supermarkets and suppliers. Eggsclusive by its service, pricing and operations answers student questions directly
Eggsclusive was born at the beginning of my third year in law school. The business was a result of a previous year experience I had where I would sell eggs for my roommate at residence who wasn't very good with talking to people. Being a writer and poet, I have quite the skill when it comes to words hence I managed to out sell every time we had a box available, it was after that the idea of turning this hustle into a business was sparked. In January 2022 Eggsclusive was then registered formally and certified.
Eggsclusive is unique because it caters to a market that is often overlooked by big supermarkets and suppliers. Eggsclusive by its service, pricing and operations answers student questions directly. Because its founders and staff are of the same age group, we are constantly receiving feedback and sharpening ourselves. The business is an evolution of a traditional business model, selling eggs is nothing new. To have a niche store for eggs, which not only delivers to your doorstep and in some of the residencies cuts out the need visits shops and possibly even breaking a few eggs is one of the advantages. The ability to customises the price to fit the budget of students, as well as incorporate technology to engage with customers on a personal level, is by far superior to anything else in this industry.
Flexibility, creativity and execution, I have come to learn are what drives a business to success. Eggsclusive has encountered countless hurdles since its establishment. Business is a never-ending series of questions that need to be answered, it is only through constant learning and engaging new methods that one gets to survive. In my advice to other young people, I would say that one must never be comfortable with the norm, business all around the globe is evolving rapidly, we must therefore always be curious of how and where creativity, flexibility and execution can be improved in order to become better. Law school taught me that there is always a loophole in every case or law, what separates a good lawyer from a bad one is how well they can find these loopholes. I apply the same principle in business, there is always a gap in any and every industry so what separates successful entrepreneurs from the rest, I believe depends on how well they identify these gaps.
Contact:
Insta: @Hloni_the_wordsmith
Insta: @eggsclusive_pty
Facebook: Eggsclusive
Website: www.eggsclusive.co.za
Are you a student entrepreneur? Read about the Wits Entrepreneurship Clinic.