Soccer boots made for township diski
- Wits University
Young entrepreneur in the spotlight during Global Entrepreneurship Week running from 18 – 24 November 2019.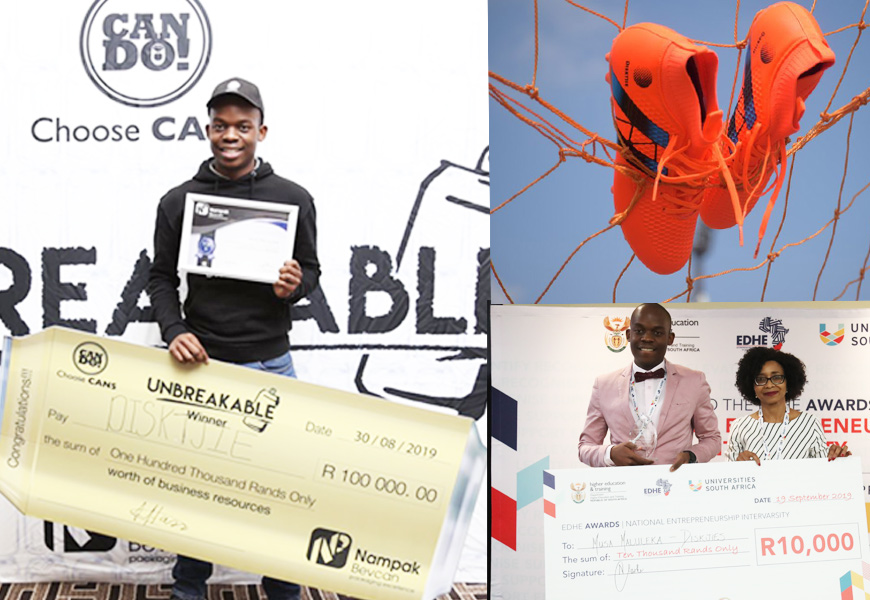 Dusty fields and gravel grounds punctuated by youngsters kicking ball are common sights in South Africa's townships. For many people this is just about the game; but for 19-year-old Musa Maluleka, the dusty fields are where his business idea was born.
Maluleka, who has developed Disktjie, a South African soccer boot brand with innovative features, has won several awards for his unique business. This year he received the Change Maker of the Year: Innovation and Entrepreneurship at the annual Wits Student Leadership Awards, won the General Business Category (Category 4) of the first national Entrepreneurship Intervarsity Competition along with R10 000 and season 3 of the Unbreakable Entrepreneur competition walking away with R100 000 to invest on his business.
The second year BComm student, beams with pride as he talks about his childhood. "All of this started when I was in Grade 1. After complaining to what appeared to be deaf ears of my mom about my small daily allowance, I asked her to keep it for me instead." His mother then encouraged him to take a packed lunch to school instead of splurging his daily allowance. "Neither my mother nor I were aware of it at the time, but all of this subtly instilled discipline in me over the years."
Throughout his primary and high school years, his mother was consistent in saving his pocket money for him. By the time Maluleka enrolled for his first year at university, the money had built up to R60 000, enough to invest and start a business. He quickly adds that the money he received from his scholarship and on the stock market also fuelled the desire to start his own business, as did being a top achiever at school, which, he says, exposed him to many opportunities.
"I know that I am not an ordinary boy," says Maluleka who played for Wits' second team in his first year and has scaled down to playing inter-residence soccer representing Wits Junction where he resides.
A boot for African conditions
Back to Maluleka's soccer boot business. The name Disktjie is a combination of the word diski -- which is what soccer is called in the townships across South Africa, and the Afrikaans verkleinwoord suffix -tjie. "I came up with this name because, growing up, I realised that football knows no race, even though in South Africa we like to distinguish between black and white. With the name, I aim to show that even in our diversity, we share many similarities." He goes on to say that "once we are on the field, all of us are the same."
His soccer boot brand is the first of its kind on the African continent, made to withstand all kinds of conditions. Maluleka spent a significant amount of time thoroughly researching on what it would take to manufacture his durable boot, and most importantly, where the manufacturing would take place. The conceptualising process started with him finding competent designers.
After he got the first batch manufactured, he donated some samples to a few players in the township to try them out. He admits that it took some persuasion and convincing to get the first few pairs sampled. Eventually, the players reported being happy with the product.
"It is durable and has better balance suited for the gravel soccer pitches," he explains.
Disktjie has received orders from as far as Congo, fuelling Maluleka's bigger dream of becoming the name behind a prominent worldwide sports merchandise. "I want Disktjie to be more than just a pair of boots. My hopes are to expand the range. Although we now also have a soccer ball, my dream is much bigger than this. When I find problems in the African context, I want to solve them."
Balancing school and business
Maluleka is currently enrolled for a BCom in Accounting and says that his studies have helped him to better manage and build his business. He shares his secret: "I sacrifice a lot of things, and I don't do the things that I like doing. I have had to think a lot about what is priority and not so much about what brings me pleasure". He feels confident that his study programme is preparing him for the future and is expanding his horizons. "Building a business requires a certain level of expertise and I am getting exactly that at Wits. There are dynamics that I would not have understood if I wasn't studying accounting." These include marketing and finance, which Maluleka believes are the two most important business functions every entrepreneur needs to know, both as a start-up enterprise and for long-term sustainability.
He adds that he is also learning how to take his business to scale and to sustain it into the future. Disktjie has thus allowed him to put into practise what he is learning. He sees the brand also allowing him to make mistakes and learn from them, a luxury not available to all entrepreneurs.
In order to raise awareness of entrepreneurship as a career, Wits University announced the launch of Student Entrepreneurship Week (SEW) in 2017. This took place within the auspices of the Entrepreneurship Development in Higher Education (EDHE) Programme, an initiative of the Department of Higher Education and Training (DHET) being implemented in partnership with Universities South Africa at all 26 public universities. EDHE aims to increase the focus on entrepreneurial education at universities so as to develop entrepreneurial students, academics and universities and encourage students to start their own businesses and create employment as opposed to aspiring only to be employed upon graduation.
Maluleka acknowledges Wits efforts to build a culture of entrepreneurship in the institution. But he believes that students should play their part for Wits to succeed in this regard. "No one has ever achieved anything singlehandedly; there's got to be a concerted effort by all stakeholders involved." He closes off by encouraging other student entrepreneurs to enter the Entrepreneurship Intervarsity. "It was all worth the effort," Maluleka concludes.
The original article first appeared on the Universities South Africa's website.