Young business minds took centre stage at the Student Entrepreneurship Week
- Wits University
The 2022 Student Entrepreneurship Week got off to a vibrant start as students gathered to learn, conceptualise and share their ideas on good business practice.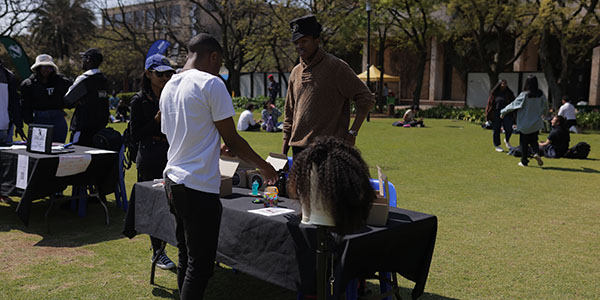 The Student Entrepreneurship Week kicked off with bright minds and eager young entrepreneurs ready to show off their ideas at Wits University. The programme is part of the Wits Development and Leadership Unit and the Young African Entrepreneurs Institute.
The entrepreneurial and innovative actions of dynamic champions for entrepreneurship at institutions made these campaigns instrumental in raising awareness of entrepreneurship as a career and emphasising the benefits of having the best of both worlds as a student and an entrepreneur.
This year, students were given the daunting task of presenting their ideas on alternatives to combat the ongoing energy crisis in South Africa. They were also treated to presentations and talks from various business owners and their journey to success.
"It is precisely your time at university that you must use to the max to network, to build friendships and build relationships," said Jerome September, the Dean of Students at Wits.
"This entrepreneurship week is to give you an opportunity for you to be, to learn, to challenge yourself and us around your aspirations," said September.
Students were addressed by Vice-Chancellor and Principal, Professor Zeblon Vilakazi, who encouraged them to be obsessed with problems and to find suitable and successful solutions.
Vilakazi praised the business minds of Theo Baloyi, the CEO and founder of Bathu sneakers, as well as Wits alumnus Adrian Gore, founder and CEO of Discovery Group.
"It's inspiring for me to see young people like yourselves, full of ambition and fun, ready to take our continent and our country forward," said Vilakazi.
However, the wise words of Dr Anna Mokgokong, founder and chairperson of Community Investment Holdings, set the tone for a week of entrepreneurial greatness. The former medical student has received international acclaim for her entrepreneurial ability with widespread experience in healthcare, academia and commerce.
She told her story of her rise to success from when she started trading sandwiches for cash in primary school to when she opened a store in the Ga-Rankuwa complex. After completing her medical studies she opened a medical centrum in Hebron, where she serviced nine villages as the first female doctor and doctor for the community.
"Entrepreneurship is mostly a national, personal and economic catalyst and cornerstone within the economic system," said Mokgokong, adding that it is the key to solving several of South Africa's challenges.
The week ended off with a market on the Library Lawns, allowing students to showcase their businesses on campus. There was a range of different products and services on display from herbal teas and skin care creams to tutoring services for students.
In the spirit of the Wits Centenary, the university is hosting the 4th Annual National Entrepreneurship Gauteng Regionals for Intervarsity 2022 in partnership with the Entrepreneurship Development in Higher Education (EDHE). Deputy Vice-Chancellor for Research and Innovation Professor Lynn Morris and Tshimologong CEO Lesley Donna Williams welcomed participants in the EDHE regional student entrepreneurship competition to Tshimologong. The Gauteng regionals are between Wits, TUT, UNISA, UP, UJ and Sefako Makgatho University.