Bruckner University Big Band
When:
Wednesday, 21 February 2018 - Wednesday, 21 February 2018
Where:
Braamfontein Campus East
8th Floor, University Corner Cnr Station / Jorissen Streets
Start time:
19:30
Enquiries:

011 717 1381 / bridget.vanoerle@wits.ac.za / Peter.Cartwright@wits.ac.za

Cost:
Tickets are R50:00 Bookings at Webtickets or at the door
Let the magic of the Bruckner University Big Band take you on a toe-tapping musical journey through the beautiful melodies and rhythms of this fabulous music.
The new Bruckner University Big Band features young enthusiastic jazz students from Linz, Austria, as they pay homage to the glorious big band sounds from the 1930's, 1940, 1950s and beyond.
Inspired by jazz legends such as Duke Elligton, Ella Fitzgerald and composers like Richard Rogers and Irving Berlin, they enjoy performing the music of this era in freshly-minted arrangements.
Parking in the WAM Basement - lift to 8th floor
For more information visit www.wits.ac.za/witstheatre / and on facebook Wits Theatre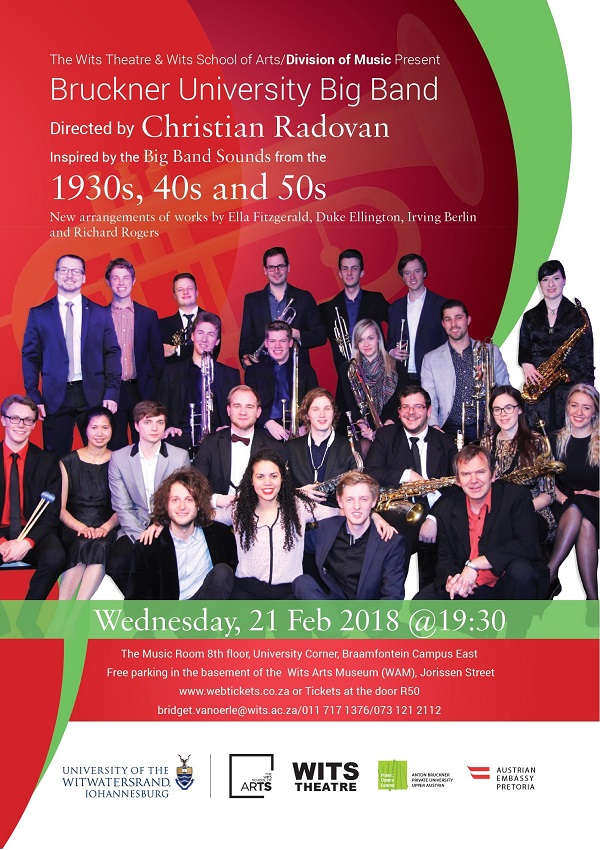 Bruckner University Big Band Line Up:
Christian Radovan, Musical Director
Vocals

Christina Kerschner

Trumpets

Lothar Beyschlag, Markus Müller, Marius Auer, Jonathan Banholzer

Trombones

Benedikt Betzel, Konstantin Kümmelschuh, Theresa Bumberger, Andreas Kapellner (Bassposaune)

Saxophones

Michael Kneidinger - Alto, Patricia Manuela Krenn - Alto /

Klaus Trappl - Tenor, Andreas Holler - Tenor, Victoria Pfeil - Baritone

Piano

Tzu Min Lee

Keyboard

Leonard Roth

Guitar

Aron Hollinger

Vibraphone

Maximilian Kanzler

Upright bass

Thatiana Fonseca Gomes

Drums

Patrick Pillichshammer, Lukas Böhm

Percussion

Lukas Aignesberger Add event to calendar