Coat of Arms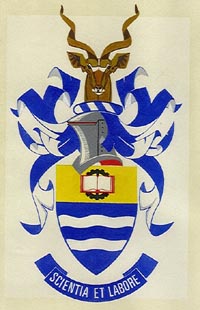 University coat of arms design as registered at the South African Bureau of Heraldry
Heraldic Description

Arms:
Azure, two bars wavy Argent; on chief Or, a cogwheel Sable surmounted by an open book Argent leathered Gules
Crest:
A Kudu s head affront?roper
Wreath and Mantling:
Argent and Azure
Motto:
Scientia et Labore

Interpretation
The present day coat of arms was re-designed by Professor G.E Pearse and re-drawn by Professor W.D Howie to correct certain heraldic inaccuracies before the design was accepted by the State Herald in 1972.

The design portrays the Witwatersrand gold fields in the upper part of the shield as a gold background with an open book representing learning or knowledge superimposed on a cogwheel representing industry. The wavy bars in silver in the lower part represent the Vaal and Limpopo rivers between which the Witwatersrand gold fields occur.

Above the shield is the head of a Kudu, one of South Africa's most powerful and typical antelopes.