Urban Land Reform Seminar 23 October 2019
Staff in the School have contributed actively over the last 18 months to significant deliberations on urban land reform, including CUBES & SA&CP hosting the 'Urban Land Reform Seminar' which was facilitated by Prof Sihlongonyane, with contributions from: Bulelwa Mabasa from Werksmans Attorneys; Professor Marie Huchzermeyer from CUBES; Lauren Royston from the Socio Economic Rights Institute; and Professor Ruth Hall from PLAAS. Prior to this Marie Huchzermeyer had presented on 'international lessons' at the Advisory Panel for the Land Reform Colloquium, held from the 5th to 7th of December 2018, and Sarah Charlton had also been invited to address the City Press/Rapport Land Indaba in October 2018. In February 2019, CUBES and SA&CP participated in a roundtable discussion and subsequent written submission to the Presidential Advisory Panel on Land Reform, and Sarah Charlton participated in the Reference Group on 'State Land, Land Reform and Redistribution' with the Minister of Public Works and Infrastructure in September 2019. Out of this work colleagues in the School published the following article: Huchzermeyer, M., Harrison, P., Charlton, S., Klug, N., Rubin, M., & Todes, A. (2019). Urban land reform in South Africa: Pointers for urban policy and planning. Town and Regional Planning, 75, 91-103.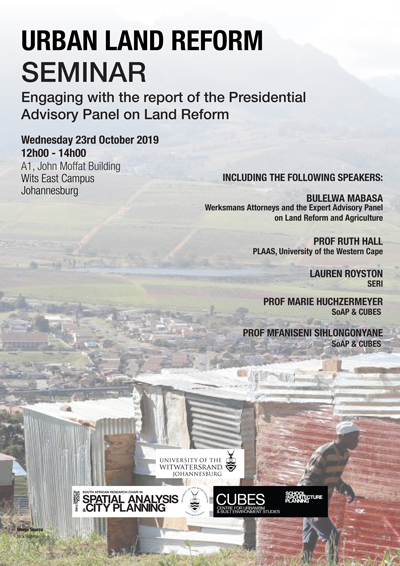 Just Urban Imaginaries Colloquium 15 and 16 August 2019
Co-convened by CUBES and SA&CP, the 'Just Urban Imaginaries Colloquium' was held over two days and hosted approximately 40 speakers. The participants were from different institutions and cities around the country, including academic partners, NGOs and local government attendees, and several speakers and facilitators from across SoAP. What was showcased and debated robustly were examples of neighbourhoods which are transforming into more inclusive and just (fair) places, either through planned and authorised initiatives, or despite these. The event provided a counterpoint to the many examples of more exclusionary and polarised urban processes underway in the country, seeking to understand what was driving alternative, more just processes: which institutions, actors, practices or policies. External participants included Johnny Millar and his 'Unequal Scenes' drone photography; City of Joburg officials on their 'Inclusionary Housing Policy'; the Slovo Park Community Development Forum; activists 'Reclaim the City' from Cape Town; and Sticky Situations on their work in Diepsloot. The event drew in a number of staff and PhD students in the School, working on housing, informal settlements, homelessness, the right to the city, urban resilience and spatial justice, amongst other things. The conceptual aspects of the work as well as documenting of specific case studies will be taken forward in 2020 through a grant received from the Southern Centre for Inequality Studies.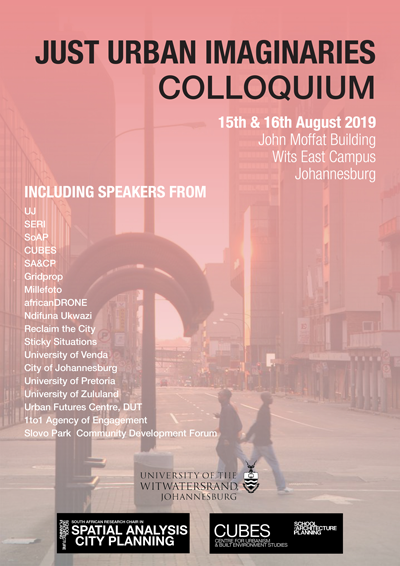 Share
Tweet