Wits lifetime and emerging research recognised
- Wits University
Four scientists in the Faculty of Health Sciences at Wits last night won South African Medical Research Council Scientific Merit Awards.
Professor Maureen Coetzee and Professor Charles Feldman each won the Platinum Medal for Scientific Achievement in recognition of the excellence of their research and their contribution to raising the profile of science in South Africa.
Professor Bavesh Kana and Professor Penny Moore won the Silver Medal for emerging researchers in recognition of their important scientific contributions made within 10 years of receiving their PhDs.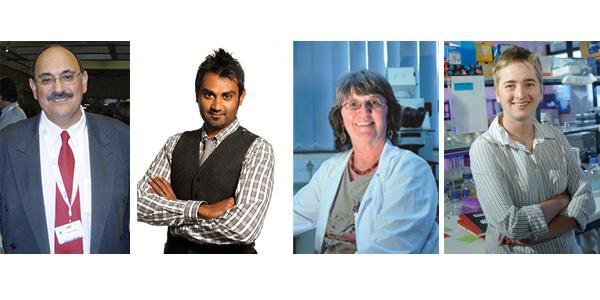 In addition, Wits alumna Professor Lucille Blumberg, Deputy Director of the National Institute for Communicable Diseases and of the National Health Laboratory Service, and head of the Public Health Surveillance and Response Division received the Special Award for contributions to public health surveillance and research. (Many researchers in the Faculty of Health Sciences at Wits work closely with the NICD and NHLS and hold joint-staff appointments with the University and the NICD and/or NHLS).
Platinum medal recognises lifetime achievement
The South African Medical Research Council (SAMRC) awards platinum medals annually to accomplished scientists for outstanding lifetime scientific achievement in the field of health.
Platinum medals are awarded to South African citizens who have made seminal scientific contributions and who have also made an impact on local and/or global health and/or science policy and/or clinical practice that affects the health of people, especially those living in developing countries.
The Platinum Medal is a Lifetime Achievement Award for an outstanding scientist who has raised the profile of South African science and helped build the foundations of health research in the country for future generations
The buzz around malaria
Professor Maureen Coetzee is medical entomologist in the field of malaria mosquito control. She is a Research Professor and DST/NRF Research Chair in Medical Entomology & Vector Control in the School of Pathology at Wits University, where she founded the Wits Research Institute for Malaria. A subgenus of the aedes mosquito, Coetzeemyia, was named after her.
Coetzee says that training and mentoring the next generation of medical entomologists is the only way to guarantee the eradication of malaria. To this end, she has trained and mentored 63 postgraduates from 13 African countries in the last 25 years, 65% of whom are black and 44% of whom are women. Many of her mentees have gone on to run their own research programmes and some work for the World Health Organization or various national malaria control programmes
Lessons from lungs
Professor Charles Feldman is a Specialist Physician and a Distinguished Professor of Pulmonology in the School of Clinical Medicine, Department of Internal Medicine at Wits. In 2009, Feldman won the Vice Chancellor's Research Award at Wits.
His research expertise is in the field of community-acquired pneumonia and pneumococcal pneumonia. His research is translational [applies findings from science to enhance human health and well-being] and includes both clinical and basic research activity mainly undertaken as part of multicentre, international collaborations with global experts in the field of community-acquired pneumonia.
Feldman is an NRF A-rated scientist and elected Fellow of the American Thoracic Society, and a Foundation Fellow of the European Respiratory Society.
Silver medal for possible "silver bullet" in healthcare in future
The SAMRC annually awards silver medals to up-and-coming scientists. The silver medal acknowledges these scientists' important research contributions made within 10 years of their having received their doctorate. Criteria for awarding silver medals include:
Research contributions that impact on the health of people, especially those living in developing
Acknowledgments at national and international level for meritorious scientific contributions and/or extending medical knowledge
At least one publication in a very high impact journal or a highly cited publication
TB or not TB?
Professor Bavesh Kana is Head of the Wits University node of the DST/NRF Centre of Excellence for Biomedical TB Research and an Associate Professor in the School of Pathology at Wits.
Kana studies tuberculosis (TB) with a focus on identifying new drug targets and biomarkers to monitor treatment responses and risk of TB disease recurrence. His work attempts to address fundamental questions regarding pathogenesis and clinical manifestation of TB, with an emphasis on studying bacteria that are difficult to treat using antibiotics.
In March 2018, Kana pioneered a process to detect TB bacteria by adding a molecule to the bacteria's own armour that lights up under fluorescent light.
He previously won the Wits Enterprise Innovators Award, the CEO Titan Award for South Africa and the SADC Region and the African Continent. He was appointed as a Howard Hughes Medical Institute International Early Career Scientist, and named one of the Top 200 Young South Africans by the Mail & Guardian.
The "arms race" and an HIV vaccine
Professor Penny Moore is a reader and DST/NRF SARChI Chair of Virus-Host Dynamics at Wits, a Senior Scientist at the National Institute for Communicable Diseases, and an Honorary Senior Scientist at the Centre for the Aids Programme of Research in South Africa (CAPRISA).
Her research over the past decade has provided a roadmap for the development of broadly neutralizing antibodies required for an HIV vaccine. She is internationally recognised for her research defining the immunological "arms race" that leads to such antibodies. Her research team showed, for the first time, how the evolving HIV swarm in infected donors play a major role in the evolution of these broadly neutralizing antibodies.
Moore's research, focused in areas most affected by the HIV epidemic, has thus significantly contributed to the vaccine field of HIV.
Tracking travelling bugs
Professor Lucille Blumberg is a Deputy Director of the National Institute for Communicable Diseases, of the National Health Laboratory Service, and head of the Public Health Surveillance and Response Division. She is a medical graduate of the University of the Witwatersrand and a member of the joint staff.
Blumberg has specialist qualifications in clinical microbiology, travel medicine, and infectious diseases. Her special interests are in tropical diseases, travel medicine, malaria, the viral haemorrhagic fevers, and rabies.
She is a Specialist Medical Microbiologist, a Fellow of the Faculty of Travel Medicine of the Royal College of Medicine of Glasgow, and registered – through peer review – as Infectious Diseases Specialist with the College of Medicine of South Africa.