Market Day showcases products by students
- Wits University
Campus bustling with customers and learning opportunities for student entrepreneurs.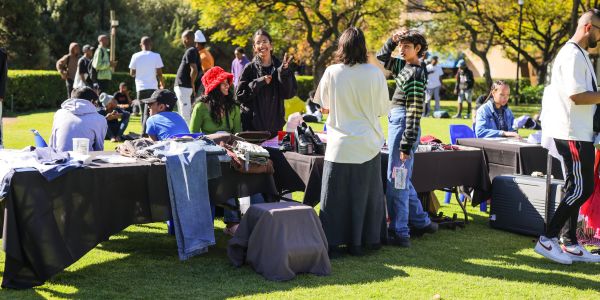 The Student Entrepreneurship and Education Development (SEED) programme hosted a Market Day on 19 May 2023, aimed at showcasing student entrepreneurship and innovation. The products on sale ranged from art, clothing, healthcare, gadgets, and more. Aside from creating a platform to sell goods, student entrepreneurs also had an opportunity to engage with current and prospective customers, receive feedback, and strengthen their products and services.
Market research is essential for business success and Kristan Sharpley from the Wits Development and Leadership Unit, whose team is responsible for the SEED programme, says Market Day facilitated this process.
"The event served as an experiential learning opportunity for student entrepreneurs. The feedback received prompted some entrepreneurs to rethink their marketing strategies and target audience. The exposure to different age groups, mindsets, opinions, and experiences of customers proved valuable for personal growth and business development," explains Sharpley.
Another cherry on top is that sales exceeded expectations as entrepreneurs made more sales than anticipated and discovered new customer markets. SEED administrators plan to provide more opportunities for students to showcase their businesses. Entrepreneurs and those interested in students products can look forward to another Market Day during the annual Student Entrepreneurship Week to be held August.
In addition to Market Days, the SEED Programme offers additional avenues for student entrepreneurs to enhance their skills and resilience. These include masterclasses and competitive exposure through the Entrepreneurship Development in Higher Education (EDHE) intervarsity competitions. These initiatives provide students with valuable knowledge and experiences to further develop their entrepreneurial ventures.
"Overall, the SEED Market Day was a successful event, it provided access to a campus market, fostered competition, networking opportunities, and contributed to the growth of the student entrepreneurship community," concludes Sharpley.
Related Articles
Students entrepreneurship on the rise
Young business minds took centre stage at the Student Entrepreneurship Week
Wits Entrepreneurship Clinic will enable youth to become the future job creators