Wits physicist awarded 2022 Sang Soo Lee Award
- Wits University
Professor Andrew Forbes recognised for his outstanding leadership in founding and growing an optics and photonics community in Africa.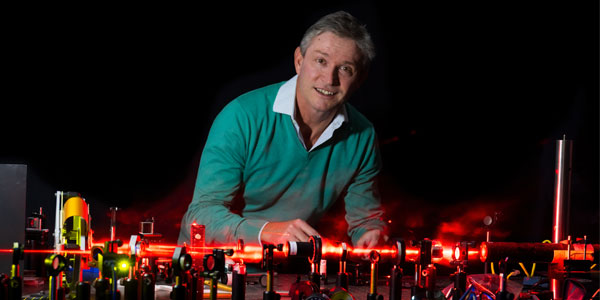 Forbes, a Distinguished Professor in the Wits School of Physics, has been awarded the 2022 Sang Soo Lee Award, jointly conferred by Optica, the world's leading optics and photonics organisation (formerly known as the Optical Society of America), and the Optical Society of Korea (OSK).
Forbes, Director of the Structured Light Laboratory which he established in 2015, is honoured for "advancing photonics in South Africa through strategic leadership in executing national photonics programmes, high-impact research and education, and mentorship of African researchers".
Forbes' leadership has transformed the advancement of photonics in Africa. A National Research Foundation A-rated scientist, he is a founding member of the Photonics Initiative of South Africa (PISA), which aims to accelerate and grow photonics research and impact in South Africa.
"It is a great honour to be recognised by these top international societies. Photonics in South Africa and Africa is still at a fledgling stage, but hopefully my small contributions have helped to creative an environment for the next generation to pick up the baton and flourish," says Forbes.
He is an active participant in the African Laser Centre, organising and hosting numerous training events in South Africa and Africa, and strives to increase the visibility of South African research initiatives internationally, coordinating events and programmes with global organisations such as Optica (formerly OSA), advancing optics and photonics worldwide.
Forbes is also the initiator of South Africa's Quantum Technology Initiative, coordinated by Wits to drive local quantum technology research and innovation. He also leads WitsQ, the University's vision to strategically promote and advance Quantum Technology at Wits, with a focus on the research, innovation, business, education and outreach, and ethics of quantum technologies.
He serves on many international advisory panels, conference committees, and journals, and is presently the Editor-in-Chief of the Journal of Optics.
His contributions to the field have been recognised through several national awards, as well as the Georg Forster Prize from the Alexander von Humboldt Foundation, and the South African Institute of Physics Gold Medal, the highest award for physics in South Africa, and in 2021 he won the Vice-Chancelllor's Research Award. He is a Fellow of Optica, the South African Institute of Physics, and SPIE, and an elected member of the Academy of Science of South Africa.
About the Sang Soo Lee Award
Established in 2013, the Sang Soo Lee Award recognises outstanding leadership in founding or growing an optics and photonics community in a specific population, anywhere in the world.
It honors Professor Sang Soo Lee for his pioneering role in establishing optics in the Republic of Korea. The award is jointly presented in even years by Optica and Optical Society of Korea (OSK), and is endowed by Optica, OSK, and the family of Sang Soo Lee.
About Optica
Optica (formerly OSA), Advancing Optics and Photonics Worldwide, is the society dedicated to promoting the generation, application, archiving and dissemination of knowledge in the field. Founded in 1916, it is the leading organization for scientists, engineers, business professionals, students and others interested in the science of light. Optica's renowned publications, meetings, online resources and in-person activities fuel discoveries, shape real-life applications and accelerate scientific, technical and educational achievement.
About the Optical Society of Korea
Founded in 1989, the Optical Society of Korea (OSK) is the leading academic society in the field of optics and photonics in Korea. OSK provides academic activities including domestic and international optics conferences, tutorials, seminars, workshops, and publishing services including journals, technical digests, monographs, and technical bulletins.