Africa app'tly rising
- Deborah Minors
There are over 300 tech hubs in Africa and maybe 52 or more in South Africa, one of which is the Wits Tshimologong Digital Innovation Precinct in Braamfontein.
Here South Africa's digerati develop radical tech to advance the continent.
Tshimologong incorporates the Joburg Centre for Software Engineering (JCSE) and the Learning Information Networking Knowledge (LINK) Centre, an academic research and training body that focuses on digital innovation, digital transformation, and information and communications technology (ICT) policy and regulation.
Techknowledgy factory
A partnership between Wits University, the JCSE, the LINK Centre, the City of Joburg and others, Tshimologong is an e-skills, software innovation and digital knowledge hub. It provides a venue in which it is possible to research and nurture tech hubs – those "digital incubators that design futures for people".
"In this way, tech hubs perfectly demonstrate the integration of tech and people. They are the veritable iHuman," says Dr Lucienne Abrahams, Director and Senior Lecturer at LINK and Corresponding Editor of The African Journal of Information and Communications, LINK's peer-reviewed journal.
"The people who inhabit Tshimologong are tech developers and tech entrepreneurs. The precinct offers facilities and training in coding and app design, mentorship, facilitating tech start-ups, a tech accelerator programme, and postgraduate degree programmes," she says.
Game on!
Abrahams conducts research on institutions and economic sectors in the digital knowledge economy. Her doctorate explored the positioning of universities in the 21st Century knowledge economy. Her thesis describes the evolution of Tshimologong and its research and development mission as:
"A quantum innovation game, with multiple players playing multiple games of significant levels of difficulty at the same time, in ways that constantly interweave with each other. The probability of losing … appears to be low, but the win occurs over the very long term. The probability of winning the objective over a quantum set of games appears to be high."
Neo Hutiri, a tech entrepreneur with a Master's in industrial engineering from Wits, knows this game well. Hutiri won the 2016 #Hack.Jozi Challenge, an annual competition that Tshimologong hosts to find digital solutions to challenges faced by Joburg citizens. Hutiri's Technovera innovation enables people with chronic conditions to collect their repeat medication quickly and efficiently.
"Africa has really interesting challenges and this makes it fertile for impactful social entrepreneurship. In my case, I was a patient who realised people lose time when collecting medication. My passion for the impact of technology keeps me hungry for innovation. An unmet need is the holy grail that entrepreneurs chase. It is that resolute belief in a problem that gets me out of bed every day – even when things are not going so well and the bank account is close to empty," says Hutiri.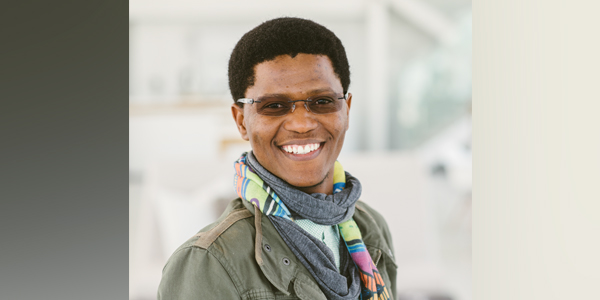 Disruption through innovation
Another player is Lehlonolo Ramongalo, MD of Figtory, a tech start-up incubated in Tshimologong. Figtory designs and builds intuitive business applications and business models that solve specific problems using creative approaches.
"Johannesburg and Africa are problem-ridden, providing an environment where problem-solvers can create value for themselves and their clients," says Ramongalo, who describes his entrepreneurial experience in Johannesburg as "a painful and rewarding process".
Figtory's business philosophy is disruption through innovation. "We do this through a process of empathy where we become the user or client. Through empathy we understand user pains and can start a process of taking the pain away," he says.
Such an analgesic is Figtory's innovation in agriculture. eGooma is a facilities management solution that enables any real estate asset type – an orchard of crops on a farm or a building – to be able to see, learn, measure different variables, and help its custodians make decisions using the web, mobile, cognitive computing and smart sensory technologies.
"One problem we are trying to address at scale with eGooma is to have real-time reporting of the amount of water and energy real estate asset types are using at runtime so that inefficiencies are identified quickly at the point of waste," says Ramongalo.
Crafters, hackers, tinkerers and makerspaces
Aside from incubating start-ups, Tshimologong is a makerspace. This refers to an environment where 'makers', including crafters, hackers and tinkerers, congregate to innovate.
Makers are "digitally sophisticated hobbyists…building all kinds of custom objects" according to a paper by Dr Chris Armstrong, who has a PhD in media studies from Wits and is a Visiting Fellow at LINK.
His paper, The Maker Movement in Gauteng Province, South Africa, co-published for Open African Innovation Research (a collaborative research network of 15 African countries and Canada) argues that:
"Makers who gather to tinker and hack in the maker collectives of SA display a wide range of innovation practices. Our study revealed innovation modes in tinkering, hacking, DIY and organic innovation; innovation from poverty/necessity; process, incremental, and repurposing innovation. We found that the default position among Gauteng makers who gather to tinker and hack in the maker collectives of SA display a wide range of innovation practices."
The rub of the tech hub
Tshimologong clearly now hosts a makerspace for crafters, hackers, and tinkerers while it simultaneously incubates innovation and continually investigates: 'What's next?' But it wasn't always so. This is Tshimologong today, but its evolution from a training centre in 2004 to an integrated research and development entity over a decade later proved as stimulating, yet as confounding, as tech itself. Those involved frequently locked horns as institutional agendas and resource priorities collided.
"The evolution of the vision of the JCSE, which was set up to promote the growth and development of the local software engineering sector, to the Tshimologong Precinct, has been an incredible journey. We have seen a great deal of success over the past 12 years, and are now working to increase the size of the impact that we will make," says Professor Barry Dwolatzky, Director of the JCSE and founder of the Tshimologong Precinct.
Research entanglement
In her PhD, Abrahams advances the theory of research entanglement. This is a metaphor for how researchers at universities engage in research activeness and transition towards research intensiveness, and how this transition influences the position of the University in an emerging knowledge economy.
"The theory of positioning universities for research activeness and research intensiveness is a theory that gives substance to the broad notions of complexity and adversity in building university research," says Abrahams, who argued that such adversity may have briefly inhibited those pushing for a new research direction in the digital knowledge sphere, now taking shape in the form of Tshimologong. However, research actors tend to push through these challenges as they are driven by "the attraction of complexity and adversity".
Abrahams suggests that there needs to be a balance between research activeness and research intensiveness so that research endeavour is sustained and research volume and quality increases. However, the absence or discouragement of research entanglement at universities limit the opportunities for moving from research activeness to intensiveness.
"Positioning universities for research activeness or research intensiveness requires active research entanglement of the actors and institutions in the games of adversity that are played out with respect to access to and competition for research resources; to contestation over research-oriented values; and to the possible trade-offs among academic, social or economic value created as outcomes of research," says Abrahams.
Hutiri is a case in point:
"Academia trained me to think critically about solving problems whilst my technical background helped me turn ideas into product. I continuously apply lessons from concepts I was exposed to at university. Your academic career is sometimes used to measure your ability to start and complete something. The networks one builds at University become so important when you start your business. These relationships open doors," he says.
Africa rising?
Ramongalo offers a caveat: "Africa is rising because there are so many problems to solve. There have been interesting developments out of Kenya, Rwanda and Nigeria but limited impact in my view. If African tech companies do not rise and engage problems head on, we will have companies from other parts of the world coming here to solve the problems."
Having incubated start-ups like Technovera and Figtory, Tshimologong is poised to research and nurture tech innovation that enhances and advances Africa – and Wits University – in the 21st Century digital knowledge economy.
Read more about digital innovation and the interface between humanity and tech in Wits' new research magazine, CURIOSITY, the iHuman edition.