The Wits Trio
When:
Sunday, 20 August 2017 - Sunday, 20 August 2017
Where:
Braamfontein Campus East
South West Engineering Building, The Atrium
Start time:
15:00
Enquiries:
RSVP:

Bookings: www.webtickets.co.za

Cost:
Online, full = R 80.00; discount (students/pensioners) = R 55.00 Box-office = R 85.00
The Wits Trio returns to the Atrium for another concert since the Trio's inauguration in 2012.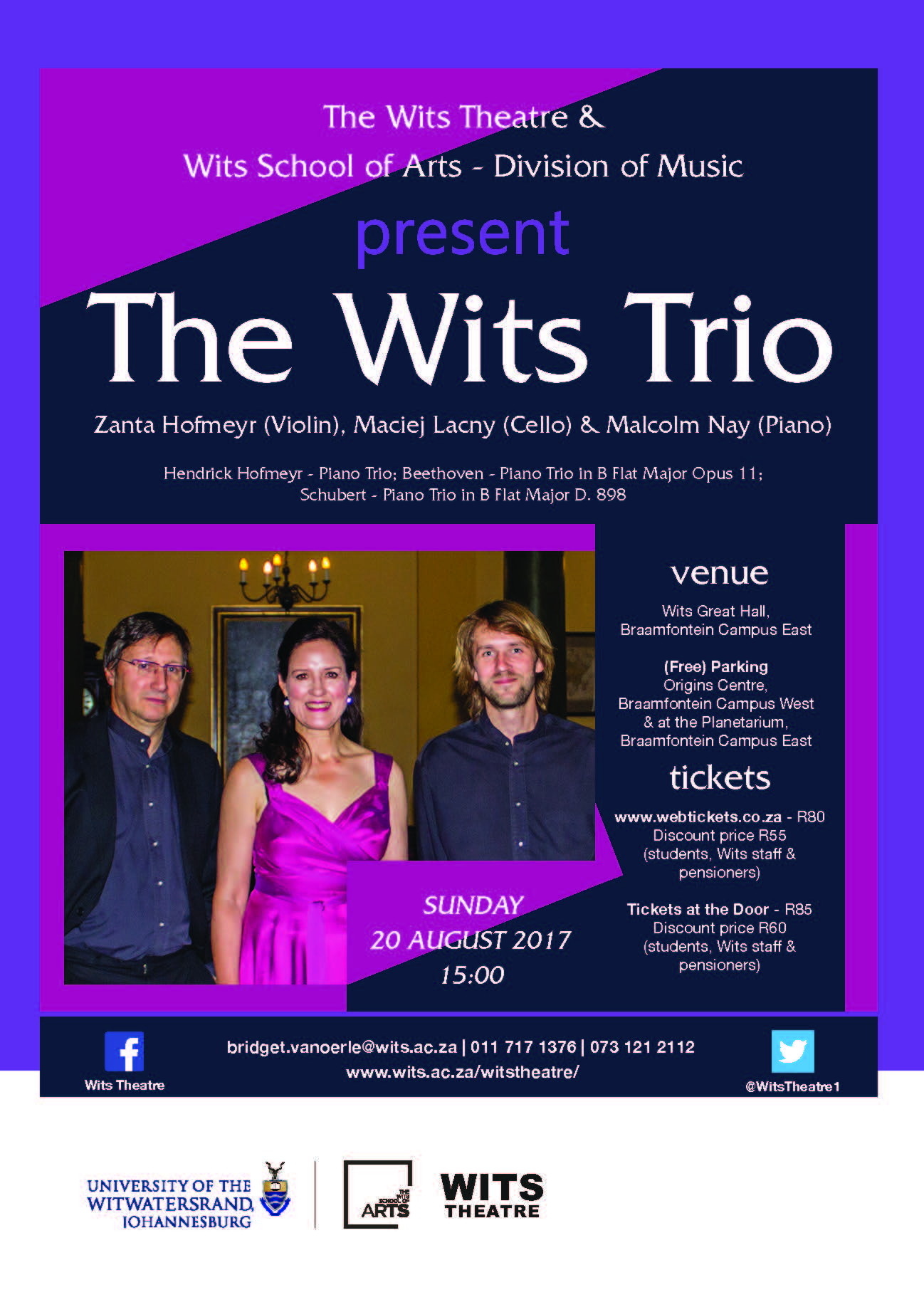 The hugely popular Wits Trio returns to the Atrium for its much anticipated concert that delivers an exceptional music experience with talented Zanta Hofmeyr (violin), Maciej Lacny (cello), and Malcolm Nay (piano). This popular Trio, which started their chamber music circuit in 2012 has become well-known throughout South Africa and receives requests to perform at venues all over the country.The concert will include Hendrick Hofmeyr's Piano Trio; Beethoven's Piano Trio in B Flat Major Opus 11, and Schubert's Piano Trio in B Flat Major D. 898.

One of South Africa's leading composers, Hendrick Hofmeyr is world renowned and is currently the head of composition at UCT. He is a composer of stage, orchestral, chamber, choral, vocal, and piano works that have been performed in Africa, Asia, Europe, and North America. This concert features his Piano Trio, composed in 2008.

Ludwig van Beethoven's Piano Trio in B-flat major, Op. 11, was composed in 1797 and published in Vienna the next year. It is one of a series of the composer's early chamber works and is scored for piano, clarinet (or violin), and cello (sometimes substituted by bassoon).

The Trio No. 1 in B-flat major for piano, violin, and cello, D. 898, was written by Franz Schubert in 1827. The composer finished the work in 1828 - the last year of his life. However, it was only published in 1836, eight years after the composer's death. Like the E-flat Major trio, it is an unusually large scale work for the piano trio format, taking around 40 minutes in total to perform.

Zanta Hofmeyr graduated from the Juilliard School of Music in New York where she was a student of Dorothy Delay and Hyo Kang. After her New York debut in Carnegie Recital Hall (now Weil Recital Hall), she returned to South Africa in 1985. Zanta teaches violin in Johannesburg and at the University of Pretoria. She often acts as string coach for youth orchestras and has been on the faculty of chamber music festivals in the USA and Stellenbosch, SA. She performs regularly as soloist with symphony orchestras in South Africa and was lauded for her performances of the Britten, Beethoven and Bruch concerti.
In 2016 she performed the 10 Beethoven sonatas with Bulgarian pianist Ilia Radoslavov touring SA and the US. She has several recordings with different artists and has just released new CD of French violin sonatas.

Maciej Lacny was born in Cracow (Poland) in 1977. He graduated from the F. Chopin High School (1995) and the Cracow Conservatory of Music (2001) in Prof. Z.Lapinski's cello class. He also obtained a pedagogical diploma from the Cracow conservatory of music.Between1995-1999 Maciej performed in many concerts around Europe with the Cracow Quartet in Switzerland, Belgium, Holland and Germany. He is married to a South African flautist and living in Johannesburg.

Maciej is currently co-principal cello of the Johannesburg Festival Orchestra and he has played in several recitals with acclaimed pianist, Malcolm Nay.

Malcolm Nay is widely regarded as one of the finest chamber pianists and accompanists in South Africa. After graduating with a BMus from Wits University where he studied with Pauline Nossel and Isabella Stengel, he travelled on scholarships to America, where he studied with Bela Siki. Malcolm was the recipient of numerous prizes at several international piano competitions, including the prize for the most talented South African pianist at the 1st Unisa International Piano Competition and 2nd prize at the Montevideo International Piano Competition. As a soloist, he has appeared with most of South Africa's major orchestras and is remembered especially for performances, in Gauteng, of the Mozart concertos, which he conducted from the keyboard.

He is also sought after adjudicator at prestigious music competitions throughout the country and he continues to perform extensively at the larger festivals in South Africa. He is currently Associate Professor at WitsMusic, Wits School of Arts (WSOA).

The Orbit restaurant in de Korte Street, Braamfontein has designed a menu specially for the Wits Trio Concert, with a selection of a two or three course meal at a package price. The restaurant will open at 12 noon on the 20th August to ensure that concert goers can enjoy a relaxing lunch before heading off the Wits for the concert. Booking is essential for the lunch. See the lunch menu here. Add event to calendar