So Solo Tracks
When:
Wednesday, 27 September 2017 - Sunday, 08 October 2017
Where:
Braamfontein Campus East
Wits Downstairs Theatre
Start time:
13:15
Enquiries:

Bridget van Oerle

Tel: 011 7171376

Email: bridget.vanoerle@wits.ac.za

Cost:
Full price online – R75.00
Maude Sandham presents her So Solo commissioned work Tracks at the Wits Theatre.
So Solo commissioned Tracks crosses the lines between personal and political family histories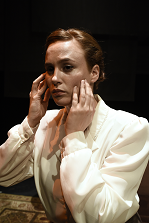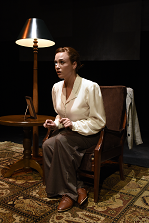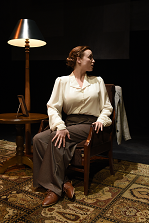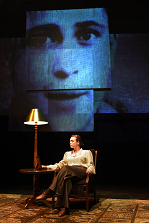 From the 27 September to 8 October Maude Sandham presents her So Solo commissioned work Tracks at the Wits Theatre. Drawn from her personal experience, this one-woman show, directed by Nicola Pilkington, is a poignant portrayal of a granddaughter's search for meaning in the unanswered questions and unexplained silences in her grandfather's life.
In her unhindered and raw style Sandham excavates the layers of myth and memory of Alan Sandham, tracking her grandfather's past through the fragments of her family's history. Alan grew up in pre-Apartheid Fordsburg and in his early 20's moved to Crosby, a suburb of predominantly White railway families. He was father of six and worked hard to provide for his family. He worked as a bricklayer at the South African railway, but at one point was doing three jobs to shape a better life for his family. Alan was considered a tough man, 'self-made' and proper, a man of poise with a strong sense of duty and obligation. Yet he was also a man with a secret – a secret he kept for more than 40 years.
Nineteen years after Alan's passing, the majority of his family learnt of this secret. After finding a photograph of Alan's mother and siblings, his children learnt that Alan was not a white man. He was a man that slipped through the cracks of the Apartheid architecture, and lived a life 'in the light', on the right side of the tracks.
Tracks paints a poignant picture of a man who led a dual existence. It pieces together a picture of a complex man, a man half in the shadows, a man of sacrifice, an absent husband, a lover of food, and a grandfather. In retelling the stories of her grandfather's past Sandham brings to light the paralleled personal and national effects of the Regime.
Tracks uncovers the familiar stories we tell to fill the gaps in the documentation printed in the South African history books. The reliability of memory and the retelling of others' memories is brought into question while the credibility of history books that prioritise certain narratives and icons, exploded through the scrutiny and investigation of document and photograph.
Sandham is a Johannesburg-based playwright, director and performer who specialises in physical and devised theatre. She studied directing under Janet Buckland at Rhodes University and later Devising Theatre and Performance under Thomas Prattki at The London International School of Performing Arts in Berlin. She has performed in several works for theatre, television and film and is cofounder of creative productions company Alt Eye Productions. In 2014 Sandham was one of five young women directors chosen to direct for the Olive Tree Theatre's Women's Theatre Festival.
Sandham's nuanced writing engages with the critical question: when we learn more about those we love: what do we choose to tell or ignore? While the story is a deeply personal narrative it deals with the complexities of being a young person in South Africa where personal histories are seldom a straightforward story.
Dates:
Wednesday 27 September @ 1.15pm
Thursday 28 September @ 7.30pm
Friday 29 September @ 6.30pm
Sunday 1 October @ 6.30pm
Wednesday 4 October @ 7.30pm
Thursday 5 October @ 1.15pm and 6pm
Friday 6 October @ 7.15pm
Saturday 7 October @ 4pm
Sunday 8 October @ 3pm
Venue: Downstairs Theatre
Running Time: 50 minutes
Age Restriction:10+
Tickets are available at www.webtickets.co.za or you can book online or through any Pick n Pay store. Even better, you can load your ticket on your Pick n Pay Smart Shopper card. Tickets can also be purchased at Wits Theatre's Box Office. Contact Yuhl on yuhl.headman@wits.ac.za/ Bridget bridget.vanoerle@wits.ac.za for block bookings.
Ticket prices are as follows:
Full price online – R75.00
Full price at Box office – R 80.00
Pensioner, Wits Staff and Student Discount online – R 60.00 on presentation of ID document or valid student card
Pensioner, Wits Staff and Student Discount Box office – R 65.00 (on presentation of ID document or valid student card
Wits Theatre Box office: 011 717 1381
Facebook: Wits Theatre
Twitter: @WisTheatre1
Instagram: witstheatre
http://www.wits.ac.za/witstheatre
Media Queries: Bridget van Oerle
011 717 1376
bridget.vanoerle@wits.ac.za Add event to calendar