Social Movement Struggles for Decolonisation and (re)Constitution from Below
When:
Thursday, 30 March 2023
Where:
Hybrid Event
Braamfontein Campus East
Humanities Grad Centre, South West Engineering Building
Start time:
12:00
Enquiries:
RSVP:
Join the SA UK Bilateral Chair in Political Theory at a SA Lunchtime Lecture with Professor Tshepo Madlingozi.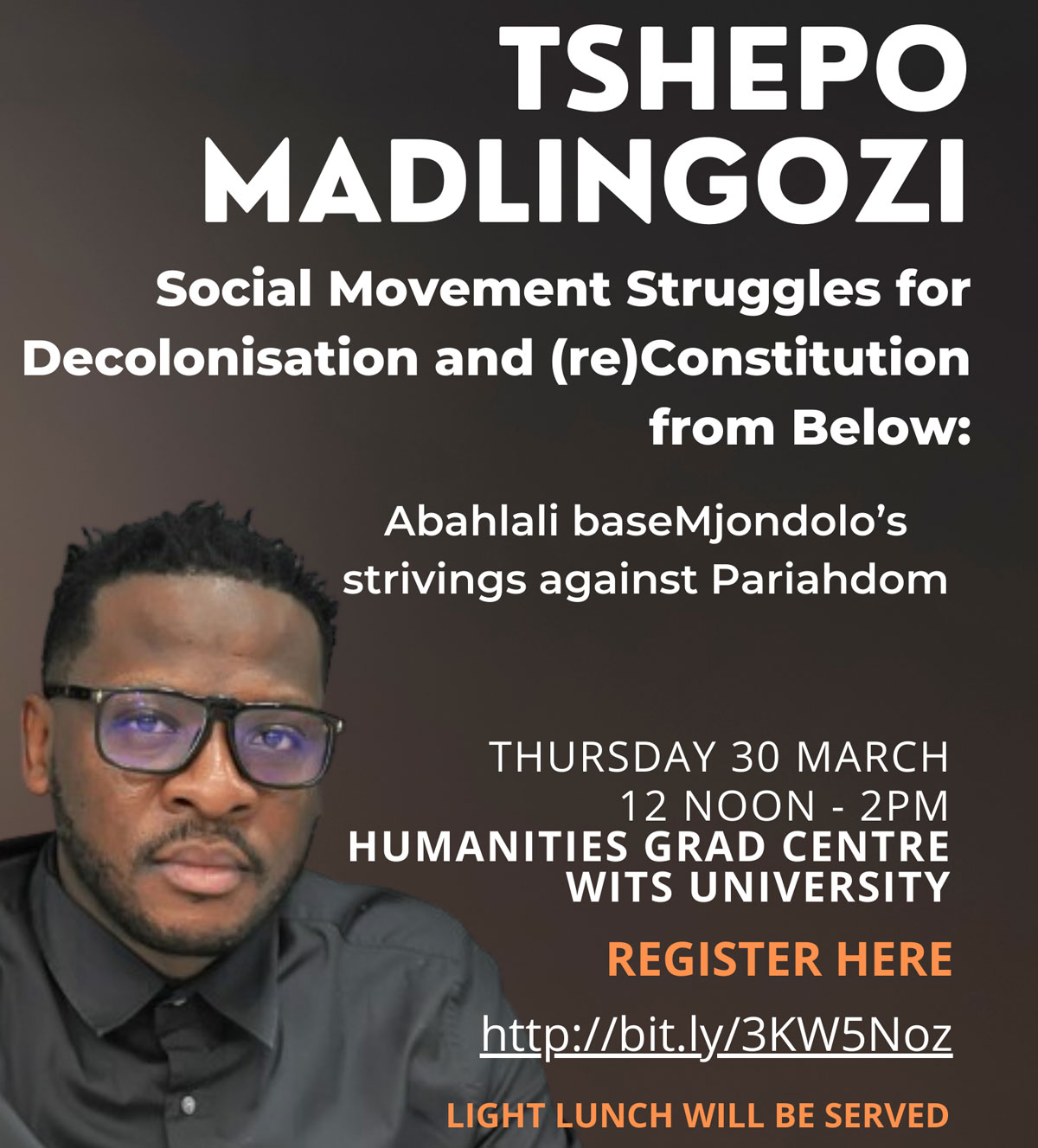 Social Movement Struggles for Decolonisation and (re)Constitution from Below: Abahlali base Mjondolo's strivings against Pariahdom
Pariahdom
Pariahdom is a constitutive and foundational settler colonial condition that confines indigenous people, historically enslaved people, and other oppressed people to lived experiences of unhomeliness, homelessness, rootlessness, namelessness, and ultimately worldlessness. Professor Madlingozi's talk is part of the global south contribution to social movement scholarship with the aim of demonstrating that in historically settler colonial settings beyond classic claims for recognition and/or distribution, many movements are engaged in everyday decolonization struggles against pariahdom. Abahlali base Mjondolo (the Shack-dwellers Movement of South Africa) serves as a case study.
BIO: Professor Tshepo Madlingozi is the Director of the Centre for Applied Legal Studies at WITS University, and an Associate Professor at the School of Law of the same University where he teaches Social Justice and Human Rights. He holds Master's degrees in both Law and Sociology, and he received his PhD degree from Birkbeck, University of London. He is a Research Associate at the Chair for Critical Studies in Higher Education at Nelson Mandela University, a Visiting Professor at the International Institute of Social Studies of Erasmus University Rotterdam, and a Faculty Member of the Vienna Master of Arts in Applied Human Rights.
You can join us for the talk in person at the Humanities Grad Centre's Seminar Room at 12 noon or you can attend virtually by registering through this link: http://bit.ly/3KW5Noz Add event to calendar