'Where does daddy live?'
- Noor Nieftagodien
To win the hearts of millions, Nelson Mandela paid dearly – with the hearts of those he loved most.
At the beginning of the 1940s Mandela was at a crossroads. Chief Jongintaba Dalindyebo, who became Mandela's guardian after his father's death, arranged wives for his son, Justice, and Mandela – whose studies at Fort Hare University had been derailed for supporting a boycott. Mandela and Justice fled to Johannesburg to escape customary restrictions.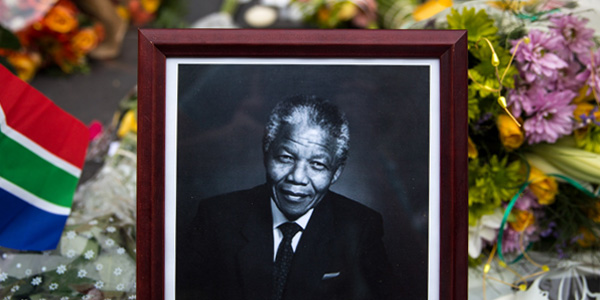 Johannesburg also offered Mandela new opportunities to pursue his dream of becoming a lawyer. He found employment as a clerk at a law firm, which allowed him to pay for his Unisa studies. In 1943, he enrolled at Wits for a law degree.
Mandela's academic career was then a primary objective. Although he moved around in political circles, he initially refused to join any political party. His free time was spent courting women.
Serious romance came his way when he met Evelyn Mase. He proposed within months, they were married in 1944 and qualified for a house in Soweto after the birth of their first son, Thembekile. Fatherhood excited Mandela: "I enjoyed domesticity, even though I had little time for it. I delighted in playing with Thembi, bathing him and feeding him and putting him to bed with a little story," he wrote in his autobiography.
Although he had previously stayed in Alexandra only briefly, he wrote: "I always regarded Alexandra Township as a home where I had no specific house, and Orlando as a place where I had a house but no home."
Mandela also had his first taste of an urban protest in Alexandra when he joined thousands in their defiant march to and from work in the 1943 bus boycott. Mandela felt he had moved from being an observer to becoming a participant and "to march with one's people was exhilarating and inspiring".
Johannesburg in the 1940s was at the heart of protest politics. This milieu of struggle and Mandela's association with key activists such as Walter Sisulu pushed him towards activism.
He was elected onto the first executive of the Youth League and to the Transvaal African Congress executive, co-opted onto the ANC executive, and in 1951 was elected Youth League president.
Makgatho, his second son, was born during the 1950 campaign. Although he was at the hospital for the birth, Mandela admits: "It was only a brief respite from my activities". Politics began to shape every aspect of the family. As a sign of his dedication, Mandela named his second son after the organisation's second president.
As his responsibilities in the ANC increased, he inevitably spent less time with his family. Thembi, who was old enough to notice his father's absence from home even asked his mother: "Where does Daddy live?". Mandela recalls the anguish he felt: "I did not relish being deprived of the company of my children. I missed them a great deal during those days", but also said: "A man involved in the struggle was a man without a home life".
Volunteer-in-Chief
At the ANC's national conference in December 1951, Secretary-General Walter Sisulu announced the Defiance Campaign against unjust laws such as the Group Areas Act. Mandela emerged as a lynchpin in the Campaign which catapulted him from being an emerging leader to being a leader of a 100 000-strong mass movement. He said: "I had come of age as a freedom fighter".
But the Campaign also introduced state persecution. Mandela was arrested and charged under the Suppression of Communism Act and sentenced to nine months prisonment, suspended for two years, and banned from attending gatherings for six months.
On 3 September 1953 under the same Act, his restrictions included being forced to resign from the ANC and being prohibited from attending meetings for two years. He lamented about being "isolated from people who think like me … I found myself treated as a criminal, an unconvicted criminal".
In 1952 he qualified as an attorney and, with Oliver Tambo, opened Johannesburg's first black law firm.
Separation at No. 8115 Orlando West, Soweto
Evelyn was a committed nurse who had become involved in the Nursing Union but her enthusiasm did not extend to formal politics. By the early 1950s she had become a dedicated Jehovah's Witness who spent much of her time distributing the church's magazine, The Watchtower. Evelyn and Mandela both disapproved of the other's life choices and when Mandela was arrested in 1956 on treason charges and then released on bail, he returned home to find she had left.
The children were upset. Mandela recalls visiting Makaziwe's crèche: "She did not know whether to run to me or retreat, to smile or frown. She had some conflict in her small heart… It was very painful."
Soon after his restrictions were lifted in 1955 Mandela visited his mother in the Transkei, and reflected later on the guilt he felt at seeing how she lived. "I wondered, not for the first time – whether one was ever justified in neglecting the welfare of one's own family in order to fight for the welfare of others."
Love in the time of treason
In 1957 he met Winnie Madikizela. A whirlwind romance commenced and on 14 June 1958 the couple married. "Though I was on trial for treason, Winnie gave me cause for hope," he wrote.
His dramatic, wide-smiled appearances with Winnie seemed to belong to showbiz rather than to politics, and his image acquired a new dimension: not just the lawyer and revolutionary, but the lover with the adoring partner.
Mandela converted part of the lounge into an office and the distinction between Mandela's private and public lives virtually disappeared.
Underground family
Mandela's arrest on 30 March 1960 under the State of Emergency marked the beginning of a three-year period during which the state's repression determined his political and personal life. Released in August, he was nominated to take charge of the ANC's underground operation. Winnie remembered the moment his life in the underground commenced. He had come home with ANC leaders and said: "Oh, darling, just pack a few things for me in a suitcase".
"That was the last I saw of my husband as a family man, legally at home. There had been no chance to sit down and discuss his decision to commit himself totally."
Over the next 17 months Mandela became "a creature of the night", mobilising support. "I welcomed the opportunity to be by myself, to plan, to think, to plot. But one can have too much solitude. I was terribly lonesome for my wife and family."
From October 1961 he moved to Lilliesleaf farm in Rivonia, where his family could visit. Winnie said: "So Zendzi [their youngest daughter] imagined that to be her home because it was the only place where her father had played with her". Here, Mandela said, they had more privacy than at home.
When he was arrested in August 1962, Mandela handled his own defence and spoke of his enforced underground life: "It has not been easy for me … living separated from those who are closest to me".