The unfinished business of apartheid
- Erna van Wyk
Can we finally see beyond the hashtags, clever memes, and witty commentary that #StateCapture, the #Guptas and #EdwardsFather elicit?
Are South Africans ready to deal honestly with the past?
State capture should come as no surprise to us. Its blueprint has been lurking in plain sight in apartheid state records that survived shredding in the early '90s, and which has been gathering dust since in countless public archives all over the country and abroad.
As Hennie van Vuuren's book, Apartheid Guns and Money – A tale of profit, clearly showed this year, public record-keeping and archives are vital for transparency, accountability, and openness in a democracy. An exposé of how white monopoly capital profiteered from the apartheid state and kept the regime in power, the book is also a tale of how those old and new roots of corruption found fertile ground in our disconnected democracy.
Connecting the dots by systematically working through 40 000 documents, some two million pages, from 25 public archives, Van Vuuren and his researchers connected the dots to show how those networks of state capture and the looting of state coffers were firmly cemented during apartheid and have continued to flourish in our young democracy.
Relationships of capital
Why did it take us so long to connect the dots? Was it because we needed the warm glow of the mid-'90s new South Africa and the strong get-on-with-life-injunction in the 2000s to suppress our pain, hide our complicities, and ignore our democracy's fragility?
"This urgency in the first two decades of post-apartheid South Africa to move beyond our past did not take into account the unfinished business of transformation between people and groups, as well as the ongoing effects of all those old relationships of capital that still exist today," says Garth Stevens, Deputy Dean in the Faculty of Humanities, Professor in the Department of Psychology, and a primary researcher in the Apartheid Archives Research Project.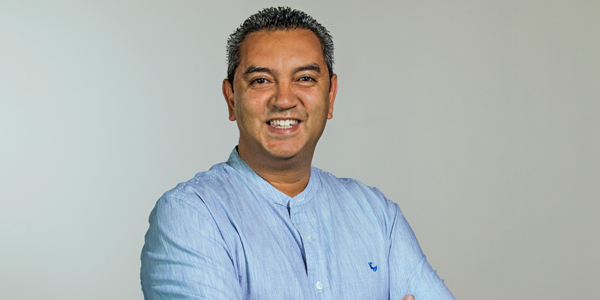 "While the Truth and Reconciliation Commission (TRC) focused on gross human rights violations, the sanctions-busting business practices of the time were left untouched. Crafted in the imagination of large parts of South African society today is this notion that these practices were not necessarily criminal but merely a response to an extremely hostile global climate at the time that slapped South Africa with sanctions."
He says that parastatals that still exist today, such as Transnet, Eskom and Denel (Armscor), were really forms of capital that were developed during apartheid and crafted in parts of the collective memory as 'necessary' in order for South Africa to be self-sufficient and self-sustaining. "But of course this belies the real consequences and knock-on effects (of their origins in criminality) that we still see today," says Stevens.
"Archives help us address the transgressions of our history in a more open and transparent way, whether it is through the grand documentation of apartheid that continues to gather dust in the National Archives or government departments, that needs to be declassified, or the 'everydayness of apartheid' that needs to be narrated," he says.
To fully understand our past and ensure future accountability in a democracy, academics from Wits University and their civil society partners are leading the call for apartheid state records to be declassified, and to promote open and transparent record-keeping of state records in South Africa today.
The currency of knowledge
Archives are a form of currency, and in particular, the 'archive of knowledge' is a central currency for a young democracy still reeling from centuries of oppressive colonial rule.
"Those who control the 'archive of knowledge' control what is taught, what people come to believe about the world, and how it is that we come to understand ourselves in the world," Stevens explains.
Calls for decolonisation, decoloniality, and decolonial theory and thought lie on a continuum of how students and citizens in general are trying to rethink the political, economic and social systems that have intensified in the aftermath of the 2008 global economic meltdown.
"It is very clear that even though capitalism had an elasticity that expanded beyond what the Marxists of the 20th Century could have imagined, many people feel that the system is broken," says Stevens.
Rethinking and liberating the 'archive of knowledge' gives us, as people in the Global South and on the African continent, a different currency that make us less reliant solely on the knowledge of the West, and helps us to consider a different way to be in the world, to think about the world, and to imagine what a different world would look like.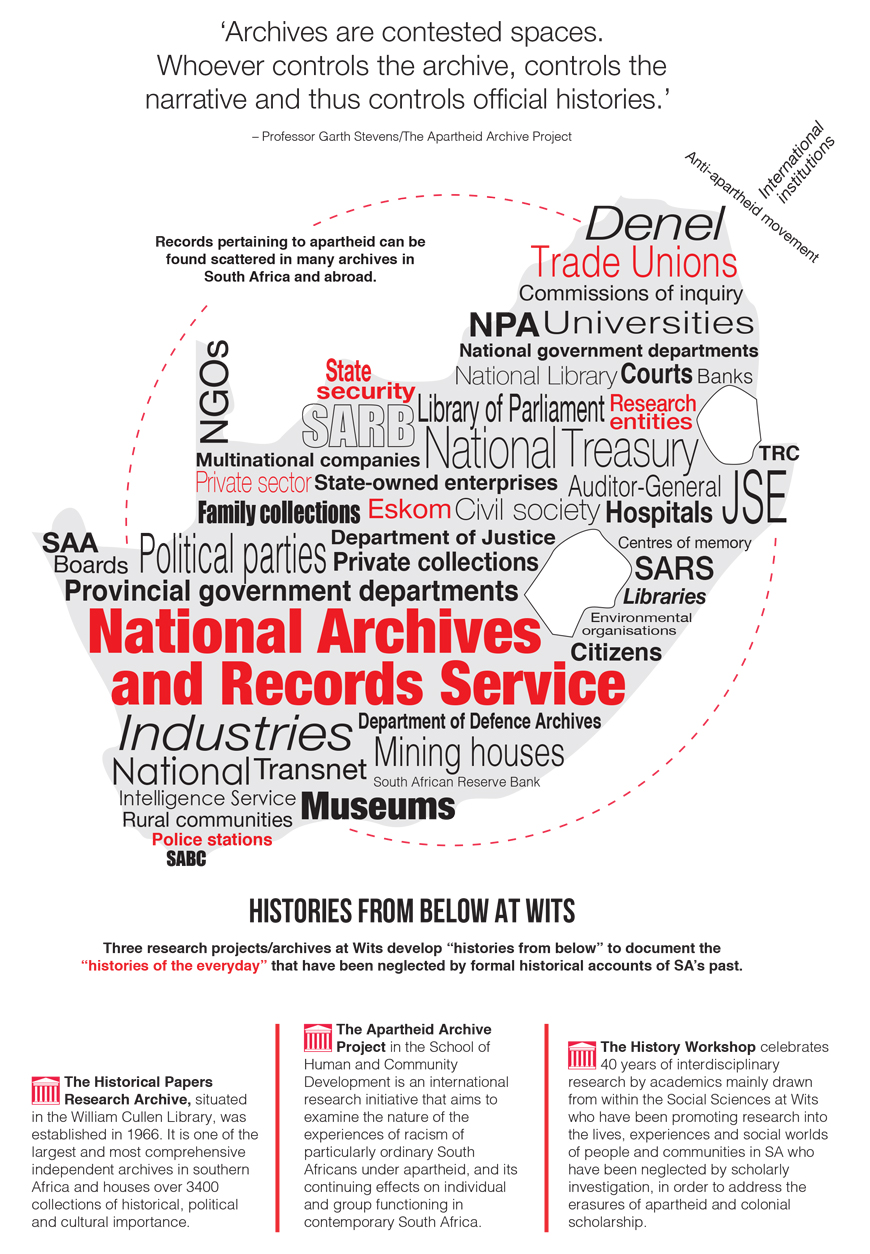 Lack of political will keeps apartheid archive in shackles
"Public recordkeeping is about accountability," says Gabriele Mohale, archivist at the Wits Historical Papers Research Archive.
Mohale convened the first Archives and Democracy Colloquium held at Wits University in September that brought together academics, civil society, activists, archivists, lawyers and others to create public awareness about the urgent need for open and transparent regulation of the apartheid era records, to declassify these records, and to promote initiatives for sound recordkeeping in a democratic South Africa.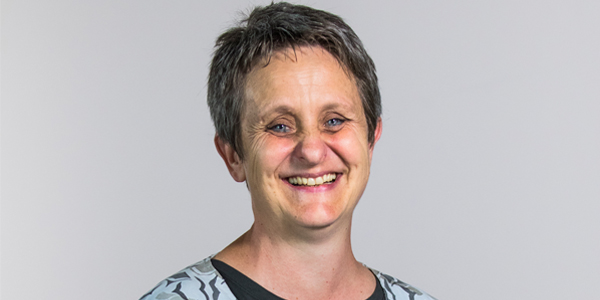 "The idea for the colloquium was this thread between archives and the level of democracy. Wherever one has accountability collapsing, you have democracy collapsing. And the question is: Why is it that, now that we have a new, democratic state, it still does not work for the citizen in the way it should in terms of public recordkeeping and transparency?" says Mohale.
The problem with apartheid era records is that they are spread across many institutions in South Africa; in national and provincial government departments, state security agencies, courts, police stations, businesses and corporations, among private citizens, and many other places.
"As much as there is a lot of secrecy and conspiracies around what these remaining records might unveil, the reasons why declassification has not happened 25 years after apartheid is because of inefficiency in our government departments, a huge backlog in getting these records to the National Archive and processing them, and a lack of money and manpower. Mostly it's a lack of political will," says Mohale.
The next step in their work to free the apartheid archive is firstly to conduct an oral history project to get a comprehensive understanding of the problems with the apartheid era records. This would consist of interviews with, among others, people in state archives; those involved in research and investigations for the Truth and Reconciliation Commission; civil society activists who have been working with archives; and researchers.
Following this, there would have to be a full audit detailing the issues with access regulations, the governance of these state records, who is responsible for overseeing them, and then to make substantial recommendations in terms of administration.
"Because public recordkeeping is about accountability, the South African National Archive is currently placed in the wrong department. It should be moved from the Department of Arts and Culture, the department of which the budget is always the first to be slashed, to the Department of Public Service and Administration, because administrative justice and accountability is reliant on proper public recordkeeping," says Mohale.
This project is a massive research undertaking that requires an extremely knowledgeable and dedicated researcher or research group. "We have the funding, but we now need to find the right person or group to take on this project," she says.
The Archives and Democracy Colloquium was jointly hosted by the History Workshop and Historical Papers Research Archive at Wits University, together with SECTION 27 and the Public Affairs Research Institute (PARI).
Read more about capital in the context of political economy, monopoly capital, corruption and ownership in the third issue of Wits' new research magazine, CURIOSITY.