The subtle art of breaking the silence
- Beth Amato
Underneath the smoke and concrete, artists invite us to respond to changing climates.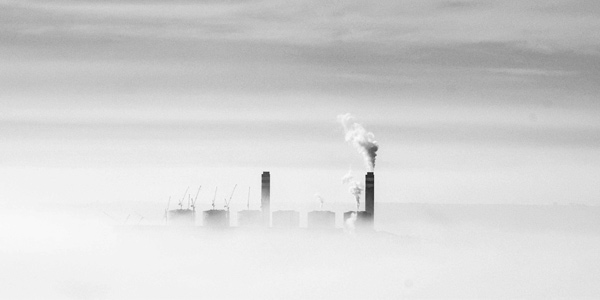 What is one to do when climate calamity is sure to break apart our ecological and social fabric? The overwhelming, even Sisyphean, task of halting rising global temperatures in the next decade is enough for even the bravest soul to succumb to inertia and apathy.
Instead of demanding headlines and doom-laden forecasts, the conversation could be reframed, allowing people to feel they can contribute to a solution. Wits-affiliated artists, Daylin Paul, Hannelie Coetzee, and Myer Taub show that art is not merely a vehicle to create awareness, but a means to ignite imagination and collaborative action.
Indeed their so-called "climate art" asks the public to co-create ways to respond to climate change, exercising meaningful agency. By involving the public, their art shows that the most pressing human questions can be dealt with communally and across disciplines.
H

yenas in the

G

reat

H

all
Hannelie Coetzee's hyena sculptures, part of the Synanthrope series, displayed at the Origins Museum in 2018, and a feature of the Watershed series of public engagements hosted by Wits University, aimed to draw people's attention to the "unseen" yet critical ecological realms of Johannesburg.
Coetzee is currently completing her MSc at Wits' Global Change Institute, and environmental engineer Chris Brooker first mapped the city's ancient watershed, much of which has been concreted over. Then, Coetzee took her hyena sculptures (repurposed from wooden items, like old tennis rackets and crutches) and made them "walk" the watershed. A stop-frame animation captured the hyena's path, which cuts through Wits' Great Hall.
As part of her practice, Coetzee invites the public to walk with her as an immersive experience. People, she says, are not viewers of art, but participants in it. "People are often disconnected from their environments. But when they realise they are walking on an actual watershed, their perspective changes. They are shocked at how such a critical piece of the city's ecology is cut off. The part of the watershed they walked is now a concrete path."
Coetzee also noticed that many of the walkers (67 people) assumed the watershed implied that rivers run underneath the surface of the city, which is not the case. "By walking, people became more aware of how water-scarce Johannesburg is, and the implications of hotter weather and droughts," she says.
However, Coetzee doesn't believe in explicitly telling people to enact change. "It's about creating conversation, and gently nudging people to think about their immediate environment."
In addition, hyenas are "synanthropes", creatures which survive in spite of, and because of, human encroachment. Hyenas have adapted to the human environment and can navigate the city's greenbelt in search of food and water – 60km a day.
"Hyenas teach us a lesson in resilience. Humans have to learn to adapt to a rapidly changing environment too," says Coetzee. One of the first steps is to "re-root" into the earth and to be aware of how humans have altered the land. Ultimately, it is we who must learn from nature's patterns and intelligence.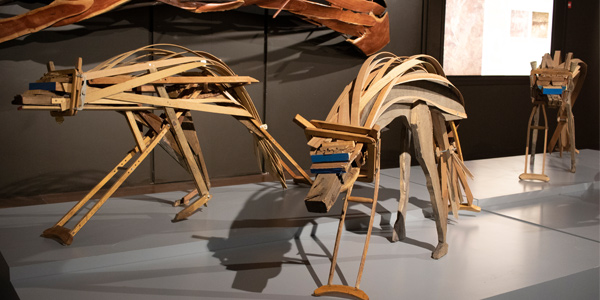 Walking the spruit
Johannesburg's vast road and highway networks, its poor spatial planning, its dilapidated pavements and the fear of crime has made the city hostile to walkers. Motorcars take precedence over people.
But artist Dr Myer Taub, lecturer in the Wits School of Arts, noticed quite serendipitously the "hidden" walking routes in the city: those along the spruits (streams). A few years ago, Taub decided to be car-free, but soon realised how unwalkable Johannesburg was, and how getting somewhere, even relatively close by, usually required transportation.
However, when he walked along the city's spruit routes (such as the one that runs between Patterson Park and Ethel Gray Park in north-east Johannesburg), he found that he reached his desired destinations relatively quickly and easily. Taub felt safe walking in these green belts.
"The spruits, indeed many of the city's water assets, are invisible. We have built around them; locked them away. In doing so, we have disconnected from nature and forgotten how we can design our lives in tandem with nature," he says.
In Traces of the Spruit, Taub's art intervention at the Wits Watershed festival in 2018, he invited the public to walk with him along the spruits. "Some people decided not to join after all, because of safety issues, which speaks volumes about the perception of open spaces in Johannesburg," he says.
Unfortunately, the spruits are highly polluted. As part of Traces of the Spruit, Taub dressed up as a river rat to retrieve "treasure". He submerged himself in the water. Some months later, when Taub got sick with another condition, medical investigations found that the exposure to polluted water had compromised his health.
"The pollution and toxicity of the spruit speaks to the utter disconnection from the meaning and importance of water. Through embodied practice (walking and submersion in the water), awareness is raised and change could occur, but I don't explicitly push for that," says Taub.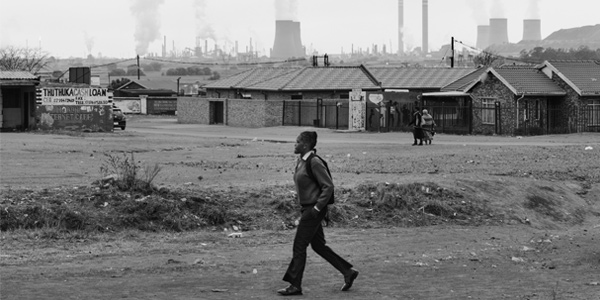 Broken land
Photojournalist Daylin Paul's black and white exhibition Broken Land, which was shown at Wits Art Museum (WAM), highlights the devastating effects of South Africa's coal-burning power stations on human beings. Paul is the Ernest Cole 2017 award winner for Broken Land.
The contentious power stations built in Mpumalanga have polluted the land, the water and compromised the health of communities. Yet the country soldiers on with its fossil fuel industry goals despite the growing viability of cleaner energy sources to power the flailing economy.
Paul's haunting photos show the human and cultural toll: there are remains of a Ndebele village destroyed by the building of coal mines; toxic rivers; and the poverty right outside the imposing mines and power stations.
"The people whose lives are most affected by the burning of coal for electricity, are often those who have no access to electricity themselves," says Paul. He adds that it's easy to forget the human beings whose stories are more "beautiful and tragic than the landscape that mirrors their lives".
Paul's exhibition was profoundly disturbing. People felt shaken to the core when, at the opening of the exhibition at WAM, guest speaker and journalist Sipho Kings, noted that just having lights in the venue cost someone their life.
Paul's work speaks to climate justice: those who pollute the least are most affected by climate change and indiscriminate ecological and cultural destruction. His work is an overt indictment of all those who "sleepwalk ever closer to climate catastrophe".