The Mandela-Obama effect
- Bob Wekesa
Nelson Mandela and Barack Obama are widely seen as two of the greatest leaders in the world in modern history. What are their legacies?
For many people in Africa, the US and around the world, the apex of the Mandela centennial celebrations was the delivery of the 16th annual Nelson Mandela Lecture on 17 July 2018 by former US president, Barack Obama. In a sense, the curtain-raiser event took on the semblance of the main event – Mandela's 100th birthday on 18 July 2018.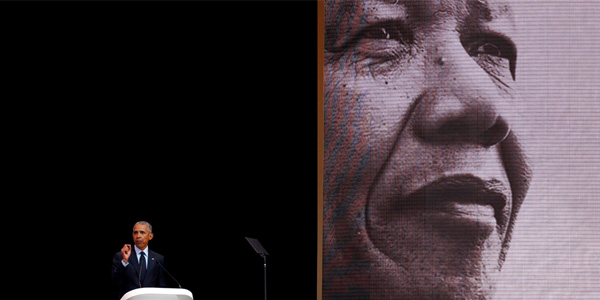 It should not come as a surprise that most news on the Mandela centennial captures Obama and conversely, news on Obama in recent weeks encompassed discussion on Mandela. A phenomenon that can be referred to as the Mandela-Obama effect has emerged, which fuses the personas of the two great men.
Beyond the starry-eyed comment and reportage before, during and after Obama's Mandela speech, there are deeper points of significance worth subjecting to incisive analysis.
Questions abound: What is the place of the two leaders in world politics? Are their legacies – separately and jointly – assured for posterity or are their contributions threatened by new realities? Beyond the often orchestrated adulation and occasionally blistering critique, what are their shortcomings? What are the points of intersection, convergence and divergence?
Similarities
Perhaps the most salient points of convergence is that both served as the first black president of their racially divided countries, earned global recognition, were awarded the Nobel Prize and emerged as the leading black figures of the 21st Century.
Both showed rebellious character traits in their youth. They were activists in their university days: Occidental, Columbia and Harvard for Obama; Fort Hare and Wits for Mandela. Coincidentally, one of Obama's early speeches was in support of the anti-apartheid movement, which he has attributed to Mandela's imprisonment. Trained as lawyers, their legal practices were focused on civil and human rights work.
Similarities can factor in their physical attributes. Both are lean and tall. Their athletic physiques perhaps inspired their involvement in sports: Obama as a basketballer-turned-golfer; Mandela a boxer-turned-rugby enthusiast.
Both had a down-to-earth touch in their public lives. Firm handshakes and the joy of being amongst crowds; these qualities of empathy served to endear them at a personal level to the people they encountered. Comfortable in their skins, they did not mind being self-deprecating, a trait that further enhanced their "soft power".
Obama endeared himself to both blacks and whites, thus inspiring the potential for a post-racial America. Mandela is credited for a reconciliatory approach that helped South Africa transition from apartheid to democracy. On the basis of their moderate dispositions, some have criticised them for being over-cautious, focusing more on racial harmony than justice for their black constituencies.
Differences
The obvious difference is that Mandela passed into history after his death in 2013 at the age of 95 while, at 56 in 2018 an assessment of Obama is a work in progress. Obama became president in 2009 at the age of 47 while Mandela became president in 1994 at the age of 77.
Mandela was already a global hero by the time he became president; Obama was virtually nondescript by the time he ran for the Illinois senate seat and eventually the US presidency in 2008. Mandela's popularity grew gradually during his 27 years of incarceration while Obama burst onto the global stage.
Although both are Nobel Peace Prize laureates, Mandela deserved his while Obama's was in some respects inspired by the euphoria of his election and announced only months into his presidency.
They lived in different epochs. One of the peaks in Mandela's political career was reached at the height of the Cold War when he and his comrades served life imprisonment in 1964; Obama's major peak was achieved in the post-Cold War era with election as US president in 2008.
From the social-cultural and identity perspective, Mandela was designated for a royal role in the AbaThembu royal court while Obama was a "commoner" raised by his mother, a stepfather and grandparents. Thus, Mandela's leadership style is much more "African" in orientation, while Obama's is much more "worldly".
Legacies
Mandela's and Obama's place is assured on the basis of the mere fact that they were not just presidents, but the first black presidents of their respective countries. The apex of their contributions lies in pursuing racial reconciliation.
Criticism has been levelled at both for putative "betrayal" in not challenging poverty and inequality in South Africa and the US robustly enough.
The interesting point to note is that criticism directed towards Mandela's successors (Thabo Mbeki, Jacob Zuma and Cyril Ramaphosa) invites nostalgia towards Mandela, thus propping up his legacy. Similarly, the blistering opposition to Obama's successor, Donald Trump's style of leadership, helps to bolster Obama's legacy.
Their legacies are being ramped-up by the work of their foundations: The Nelson Mandela Foundation and the Obama Foundation.