Sunny-side up as Wits goes green
- Buhle Zuma
Universities breaking new ground in climate research should be models of sustainability themselves.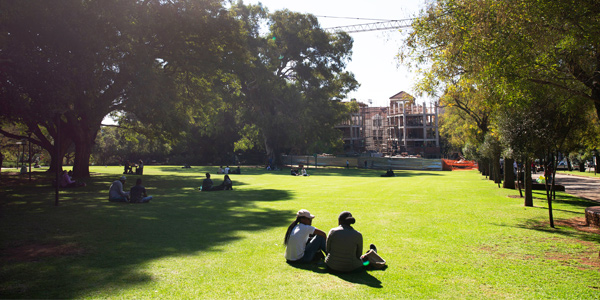 At Wits, initiatives to mitigate global change are taking root. The Greening Universities Toolkit by the United Nations Environment Programme notes that:
Worldwide, universities teach, conduct research, and contribute to the global knowledge base across every aspect of sustainability … Yet when it comes to the university's own fabric and operations, there is frequently a significant disconnect.
Indeed, the number of universities participating in the THE World University Rankings 2019 by Sustainable Development Goal (SDG): Climate Action is far fewer than those in global academic rankings. There's generally also less fanfare in the media about the SDG ranking and it is less scrutinised by alumni, students and the public.
Wits is taking a holistic approach to greening its operations in line with the 2030 SDGs, the agenda of which has 17 overlapping goals relevant to the University. Operationally, this includes infrastructure management (grounds and buildings), energy, waste, water and transport.
Lightbulb moments
An aerial photograph of campus reflects initiatives underway to manage the University's carbon footprint – many buildings on Braamfontein Campus West are equipped with solar technology systems that produce electricity and heat water. In 2017, Wits' first photovoltaic system (solar panels), which primarily supports office requirements such as lights, office and laboratory equipment, was installed. Many offices are now fitted with motion sensing lights, which prolong the working life of the light bulbs and thus reduce replacement costs.
"The energy efficiency programme and associated projects targeted at power generation and electricity savings began three years ago," says Jason Huang, Planning and Development Manager at Wits, whose long-term goal is to "take Wits properties off-grid" and be independent of Eskom or City Power.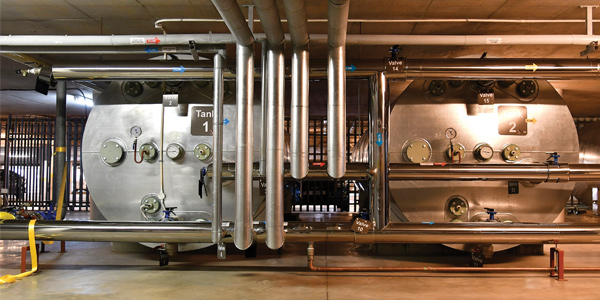 A
lternative energy Junction
An ambitious pilot project at Wits Junction aimed to install a system with enough power to meet the hot water demands of the residence complex, which houses 1 100 students in 14 buildings. However, there were constant interruptions to the hot water supply during the pilot. This prompted Wits to collaborate with the South African Solar Thermal Training and Demonstration Initiative (Soltrain).
The new system, introduced in 2018, combines solar, cogeneration and gas heating technologies and has proved to be more stable. It is the largest solar thermal hot water system in the southern hemisphere that combines various alternative energies for large residential areas, and a model for other institutions. Huang and his team won the Sustainability Award from the Higher Education Facilities Management Association for this innovation, which has since been rolled out in Wits' David Webster and Barnato Residences on Braamfontein Campus West.
"The system has sufficient hot water generation capacity. The next step for us is to address student consumption, which is approximately 80 to 100 litres per day. This is far higher than the 50 litres a day of the average South African," says Huang, highlighting the more challenging behavioural changes that must accompany sustainability initiatives.
Green operations

Head of Wits Services, Israel Mogomotsi, is looking at the entire value chain. Key divisions include Transport and Fleet Management; Cleaning and Hygiene; Wits' Rural Campus; Printing and Mailing; the Professional Development Hub; Retail Operations Management; and dining halls.

All these divisions are crucial to resource management and environmental sustainability:

Supplier contracts emphasise environmental sustainability from those who provide cleaning chemicals, to machine and catering suppliers.

Recycling on campus is set to be revived and colourful recycling bins have been distributed to promote separating at source.

The fully operational recycling station established early in the 2000s, which faltered in 2017 when external service providers were phased-out due to insourcing, will resume in 2020.

The new garden policy promotes the planting of indigenous flowers and plants. Wits has two major roof gardens – on the Hillman Building and the Oppenheimer Life Sciences building – which makes them energy efficient. The gardens insulate the building in winter and keep the heat out in summer.

Bicycle and carpooling strategies are being explored as alternatives to cars. Aside from the carbon emissions, there is a shortage of parking for cars and Wits' 3 000 parking bays consume land.

There are seven food gardens on campus supplying the

Wits Food Programme

, which provides a hot meal to students in need. Furthermore, members of the

Citizenship and Community Outreach Programme

have established a food garden at the

Yeoville

Community School, and another is on the cards for Trinity Church, which runs a soup kitchen for the homeless in Braamfontein.