Research by the books
- Shanthini Naidoo
Books based on research by Wits authors create a rare recording of history that tracks changes over time.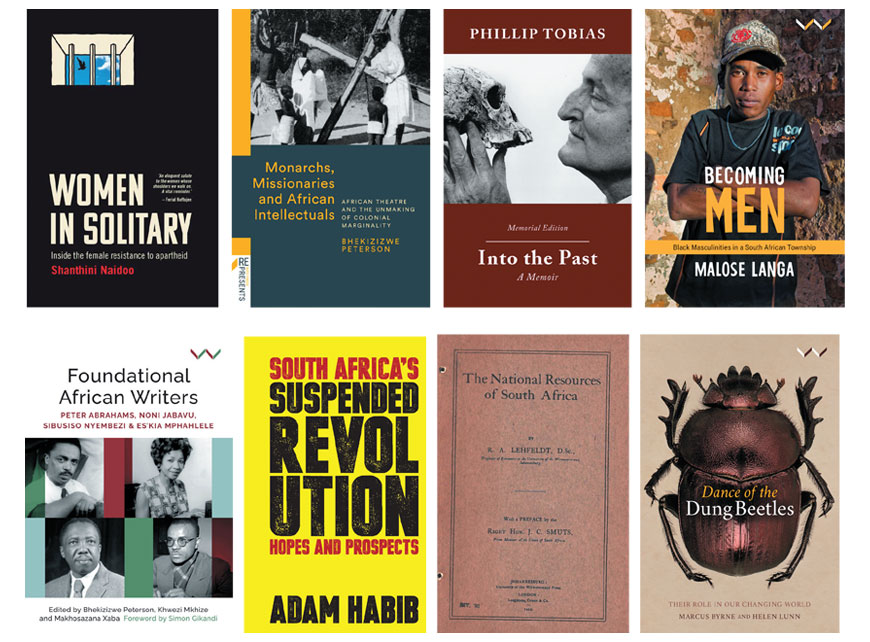 Research is a central steppingstone of an individual's academic journey, but it should also be viewed holistically, says Dr Nechama Brodie of the Wits Centre for Journalism. Brodie's doctoral research at Wits, which resulted in the book Femicide in South Africa, included creating a dataset that is available to other researchers and policymakers.
"What we learn through undertaking research is that a dissertation or thesis is necessary for completing a syllabus for academic purposes, but academic research also answers questions, or parts of a question," says Brodie. "When you combine this answer with those that came before yours, and which will come after, you start to answer bigger questions and contribute to a larger body of research. This is the interesting and meaningful nature of the research."
Women writing wrongs
The dataset upon which Brodie's research was based includes 400 murders linked to 3 200 unique media articles on femicide. Apart from her own publications, Brodie's data has supported the work of activists, organisations and government institutions tackling gender-based violence.
It shows that when the research supports criminology studies, science, medicine, history – or encourages timely discussions – it becomes a vehicle for societal change.
Similarly, the publication of Women in Solitary: Inside the female resistance to apartheid, which stems from my Master's in Journalism and Media Studies, highlights the narratives of female activists who were imprisoned with Winnie Mandela in 1969.
Fast-forward to 2022 and the research has brought an important piece of South African history back to life over 50 years later. The work was launched in London on International Women's Day on 8 March 2022, where anti-apartheid activists and living legends Joyce Sikhakhane-Rankin, Rita Ndzanga, Shanthivathie Naidoo, and Nondwe Mankahla were celebrated in praise-song.
Socially impactful scholarly stories
The Witwatersrand University Press (Wits Press) is the oldest university press in South Africa and was the first university press in the country to publish local scholarly material. Its first publication, The national resources of South Africa, was written by Economics Professor RA Lehfeldt, who spoke out against the inequities of the migrant labour system in mining.
Telling Wits stories not only spans 100 years, but an array of subjects. Among Wits Press' bestselling titles are Dr John Kani's globally acclaimed play, Nothing but the truth, which tells the story of exile and shaped narratives during apartheid.
A similarly well-regarded tome is Dance of the dung beetles: Their role in our changing world, by Wits Professor Marcus Byrne and Dr Helen Lunn, which is now the topic of a TED talk and audio book.
Veronica Klipp, publisher at Wits Press says: "Our research is of interest to academics and readers around the world. In 2021, we sold books in 31 countries and our books were downloaded in 185 countries. Black and female writers are a priority."
The focus on African languages led to the compilation of the English-isiZulu Dictionary by Clement Doke and BW Vilakazi in 1948, says Klipp, which has been expanded and revised many times since it was first published. It is still in print and is being digitised.
"This publication is considered the foundational dictionary in the isiZulu language and one of the most important books published by Wits Press in the last 100 years," explains Klipp, adding that scholarly works, such as Man's anatomy: A study in dissection, by the late Professor Phillip V Tobias, has also been frequently republished.
Boys to men
"The key is taking local research and trying to get it out into the wider world. A good recent example is Becoming Men by Malose Langa, which was reprinted three times in two years. We also license content from international publishers in the case of established intellectuals, such as Professor Achille Mbembe [Wits Institute for Social and Economic Research – WiSER] and Professor Isabel Hofmeyr [African Literature], for the local market."
Dr Malose Langa, Associate Professor in Psychology whose PhD evolved into a publication, followed 32 boys from Alexandra township over 12 years during which time they negotiated manhood and masculinity.
"My key interest was about the psychology of manhood and I did not expect a book out of it," says Langa. "But the impact means that I've received thousands of phone calls from across the country about how to make change in townships and among young men. While the research is complete, I continue to keep relationships with the men in the book and these will likely continue lifelong. So, this has made its contribution in knowledge-production, facilitating conversations. Hopefully, this way, we can make some change."
Intergenerational story transmission
Dr Khwezi Mkhize, Senior Lecturer in African Literature and protégé of the late Professor Bhekizizwe Peterson, is co-editing Foundational African writers, about four prolific writers born in South Africa in 1919 – Peter Abrahams, Noni Jabavu, Sibusiso Cyril Lincoln Nyembezi, and Es'kia Mphahlele.
"Before he passed on in 2021, Professor Peterson was the main driving force behind this project. This is something that he never shared with us – and I never asked him why – when he asked me to come on board as a co-editor," recalls Mkhize.
"Knowingly or not, it was an intergenerational conversation between Professor Peterson, co-writer, Prof. Makhosazana Xaba (WiSER), me and the subjects of our book. We are in an interesting moment in a particularly complicated time. There's a lot to think about what's happened in the last century. One cannot have done enough," he explains.
In putting pen to paper, academics and researchers reflect Wits' enduring values of research excellence, public engagement and social justice over 100 years. As Klipp says, books based on research "create a rare recording of history that tracks the changes through time".
Shanthini Naidoo is a freelance writer.
This article first appeared in Curiosity, a research magazine produced by Wits Communications and the Research Office. Read more in the 14th issue, themed: #Wits100 where we celebrate a century of research excellence that has shaped today and look forward to how our next-generation researchers will impact the next 100 years.