Professor Bheki Peterson - A forever man
- Wits University
"Bheki Peterson was a forever person, a forever teacher, a forever writer, a forever friend."
These are the words of Gabeba Baderoon, a South African poet and Professor at Penn State University, who joined friends, colleagues and students in bidding farewell to Professor Bhekizizwe Peterson, who passed away on 16 June 2021.
The virtual memorial service of Peterson, a Wits Professor of African Literature and an award-winning screenwriter, producer and literary critic, was a celebration of all that mattered to him.
Friends, students, communities and colleagues from the arts and the academy described Peterson as a gentle giant who gave so much to so many without calling attention to himself.
His influence was so far reaching that media publications have been awashed with tributes illuminating his impact across disciplines and social life. The weekly newspaper, Mail & Guardian, dressed its backpage with a portrait of Peterson and featured a series of tributes. (Read more tributes at the end of the article.)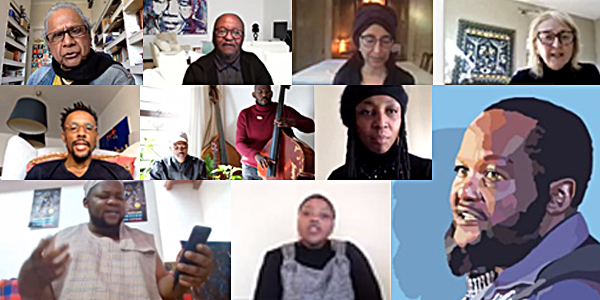 A glimpse into the personal
Benjy Francis, Artistic Director at Afrika Cultural Centre and longtime friend and mentor of Peterson credited his mum for the man he was.
"His mother was the soul of this man and she gave him the strength and courage to build his life the way he did because she was the one who brought him the books. She was the one who nurtured him in reading because she worked at a stationery shop," said Francis.
Peterson, according to Francis, was also shaped by his work with the Afrika Cultural Centre, his spirit home, and this made him a distinguished scholar. "He took the community into the University."
"It was his work in theatre and the community that makes him the incredible human being and incredible professor that he was."
Guests told of a younger Peterson who was a skilled in soccer and could have been a professional football player. In the early 1980s he founded the Burning Spears Football Club, whilst a student at the University of Cape Town pursuing a BA in Drama and African Studies.
In the end, it was his love for literature and the arts that won. Born in 1961 in Alexandra township, Peterson completed his B.A. Honours in African Literature at Wits in 1985 and earned his masters in Southern African Studies at York University, England, in 1988 before reading for his PhD in African Literature at Wits.
A boundless spirit
He was a towering intellectual who easily crisscrossed between academia, the arts and communities.
At the virtual celebration his communities sang from one hymn about his influence and shared their loss.
These include the Forte Secondary School which hosts the Youth of the South, a programme which provides psychosocial support in the area; the Greater Dobonsville Heritage Foundation and Nest (Narrative Enquiry for Social Transformation).
He left an archive of scholarship and creative work for generations.
His first film Fools received numerous official selections including the prestigious Lorcano International Film Festival, Switzerland, 1997.
Interested in telling Black stories, Peterson along with Ramadan Suleman founded a production company called Natives at large in 1997, whose name was inspired by Peterson's studies on Solomon Luckie, a black businessman in Atlanta, Georgia, during the American Civil War.
He wrote, co-produced and directed several feature films (Fools and Zulu Love Letter) and feature documentaries (Born into Struggle, Zwelidumile, The Battle for Johannesburg, and Miners Shot Down), many of which won local and international awards.
Bra Bheki, as he was affectionately known in his circles, held his students close to his heart.
Idorenyin Williams wrote: "All I have are memories of your intelligent teachings and fatherly care. These memories are treasures for me to hold for a lifetime."
Professor Isabel Hofmeyr wrote about An intellectual love letter to Bhekizizwe Peterson, a South African literary giant, Professor Pumla Gqola sketched Bheki Peterson and the art of hopeful futures and Professor Tawana Kupe described Bhekizizwe Peterson: A humble intellectual who quietly advanced our humanity and Dr Hugo Canham wrote The last professor has gone.
Wits Vice-Chancellor and Principal Professor Zeblon Vilakazi paid tribute to Peterson adding that Wits has not only lost an intellectual but also a 'polyman' who straddled all fields.
Vilakazi reflected on Peterson's contribution to Wits beyond teaching, which included serving in numerous committees. He noted his role during the #FeesMustFall student protests that shook higher education in 2015 to 2016.
"He was very stoic in is calmness in difficult times. He was a sage to all of us from the students to the senior of his University. I will miss that comforting demeanor and advice."
Former student Panashe Chigumadzi, a novelist and essayist, was part of the Wadada Warriors, who read excerpts of his readings. Others, who he has mentored performed tributes to the great master.
Hamba Ngoxolo Prof Peterson. You created community, always believed in & pushed us beyond what we thought we could do. To say the least if it weren't for you I wouldn't have even applied to do my PhD. Thank you @HugokaCanham for putting our loss into wordshttps://t.co/YzMzNC2Tif

— Panashe Chigumadzi (@PanasheChig) June 29, 2021
In the end, it is as poet Gabeba put it: "No one can sing Bhekisizwe's song to the end".