Notes on South Africa through a jazz lens
- Refilwe Mabula
A patriot at heart, Dr Lindelwa Dalamba is enchanted by South Africa's cultural history.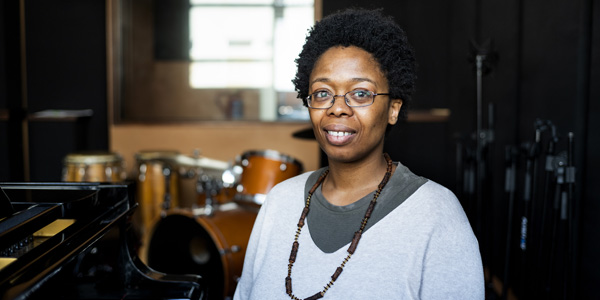 She is a musicologist and jazz historian in the Wits School of Arts with a particular interest in South African jazz history in exile. This, she says, is a lens for her to study the country's past.
"Looking at South African jazz history is one way to look at South African history. South African jazz history is a means to get into parts of our past. You can't get enough from the music itself in terms of South African jazz without looking at the history of this country and how it shapes the music and how other people imagined it," says Dalamba.
Her interest in South African history was sparked during her undergraduate studies at Rhodes University where she majored in music, history and English. At the time, the music stream of her degree did not teach South African jazz or South African music of any kind. She subsequently saw this as a gap, which she tapped into for her Master's degree at the University of KwaZulu-Natal, studying jazz legends, Miriam Makeba, Joe Mogotsi, and Hugh Masekela.
Her PhD from Cambridge University went beyond the borders of South Africa and focused on the social and musical dynamics of South African jazz in Britain.
Teenage jazz love
Dalamba's path in jazz was carved from an early age. Having grown up listening to jazz, it was almost obvious that she would play it as well when she learnt to play music. Her father, who was an avid jazz enthusiast, introduced her to the genre when he first brought home LPs of classic South African jazz.
The East London born music historian, started playing her first musical instrument – a recorder – in Grade 2, at the age of eight. By the time she got to Grade 7, Dalamba was playing so well that she decided to try playing the saxophone and the flute. But it was the saxophone that eventually won her heart and she would spend hours over weekends with her new-found love with a saxophone that she borrowed from school. Her father later gave her a saxophone – a gift she says was one of her best ever from her father.
"I will never forget that day. It was on my birthday and I was busy practicing when I saw my dad come out of the car, brandishing this thing and I could see it was a saxophone case – I immediately ran to him and hugged him. That saxophone was my passport to everything," she beams.
As a young trained instrumentalist who grew up in a female-centric family, Dalamba dispels the myth that jazz is only for males and older people.
"Patriarchy was never naturalised in my family. It is important to show that music does not 'naturally' belong to or is more comprehensible to a specific demographic."
SA jazz and history
The jazz fundi joined Wits in 2012, soon after her PhD and a year before the passing of former statesman, Nelson Mandela. The month of July saw the world celebrate the centennial birthday celebrations Mandela – an iconic global leader who was hailed in many songs such as Free Nelson Mandela, Asimbonanga, Black President and others.
Dalamba says Mandela inspired music across the globe.
"Mandela was a musical symbol. Many artists paid homage and tribute to him in their songs. He was one of the many struggle heroes that had an interesting relationship with musicians and also inspired their music. Songs about Madiba remind us about the history of South Africa," she says.
Born in the mid '80s during political upheavals in the country, Dalamba is fascinated by musical history and how jazz music tells the story of South Africa.
"Jazz music was a form of expression and communication about the challenges of the country during the apartheid era. Through jazz, we are reminded of the scars of the country's past." She uses the late jazz veteran, Hugh Masekela's music as an example to explain this hypothesis.
"Hugh's music reminded us of the townships, it reminded us of stories that actually gave birth to this jazz, the people who gave birth to this music and the spaces that gave birth to this music that we have now forgotten, because the music has moved to the urban spaces."
Most importantly, with his song, Thuma Mina, which President Cyril Ramaphosa quoted in his inaugural State of the Nation Address, "Hugh Masekela reminded all politicians what it means to be a committed politician," she says.
Bringing jazz to Wits
As a young jazz history lecturer who has been in academia only for a few years, Dalamba is proud of the growth of the study of South African jazz history in her School. Her blossoming career as a Wits academic is one of her greatest achievements, contributing to the University's research output.
"When I arrived at Wits, there were hardly any jazz history students. I would supervise people doing popular music only. Today I don't even have space, because every single student of mine is doing South African jazz history."
When it comes to her work, she is inspired by Wits alumnus, Professor Christopher Ballentine, who was her Master's supervisor. She tries to be similarly inspiring to her students and always lends a hand.
Her students, who are from the post-apartheid era, intrigue her as they have different perspectives than she who comes from the transitional generation.
She is always pleased to see her students progress.
"I love seeing an undergraduate student decide to pursue postgraduate studies in South African jazz."
Like her favourite jazz musician, Charles Mingus Jr. who was an American jazz double bassist, pianist, composer and bandleader, Dalamba wants her students to not only enjoy and play jazz music, but to become historically cognisant of it.