Never let a good crisis go to waste
- Ufrieda Ho
Although we are facing a global climate challenge, there are hidden benefits and opportunities if we respond to this challenge sooner rather than later.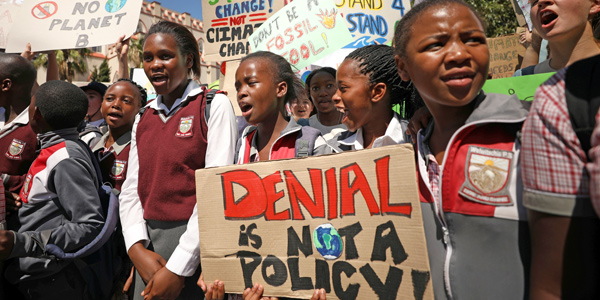 Climate change can't be sugar-coated. It is the crisis of our time. But a crisis need not mean certain doom. We have an opportunity to think, plan and act for a world that will be changed, but which perhaps can be saved from being burnt to a crisp.
Professor Ivor Sarakinsky in the Wits School of Governance says change starts with transforming governance. Governance in a time of climate change demands a shake-up, he says.
"The governance debate in an era of climate change is about the idea of custodianship and the idea of co-production."
Custodianship is less fixated on governance as a tick-box exercise for the likes of transparency, accountability and responsibility and more about facilitating learning, adapting and breaking down of bureaucracies and silos, so there are enabled environments for co-production.
Co-production brings more people into problem solving and leans on the other '3Cs' that are considered the essential skills of the 21st Century: creativity, communication and critical thinking.
Custodianship doesn't pander to "green orthodoxy, the gold rush of the green economy, fake news by denialists and even green political point scoring," he says.
Seeing the blind spots
In South Africa, Sarakinsky believes, we have a number of opportunities to find solutions, such as reviving rail infrastructure to help reduce our reliance on road freight with its huge demand for fossil fuels; incentivising petrochemical industries to look at carbon capture and storage as beneficiated businesses; and even recycling used cement – a carbon intense commodity – instead of dumping it on landfills.
New business potential could also be sparked by lowering tariffs on imported electric vehicles and developing local industry to service and assemble electric motor cars. The same could be done with supporting the introduction of a smart-grid system where every household is a potential energy supplier and trader from solar photo voltaic systems (PVs) on their roofs.
"Even Wits should be thinking about how we go off grid, at least during the day, and become an example of how to be a sustainable, eco-friendly university," he says. Interventions could include PVs on rooftops and carports; rain harvesting systems; urban food gardening; and greater awareness in our personal responsibility to change habits and behaviours.
Where it comes to climate change, transformed governance looks at context and nuance. Sarakinsky says the goal is not to challenge the clear evidence from the science, but to see the blind spots, weigh up the costs and benefits of risks and interventions better, and factor in environmental impact assessments.
For example, Sarakinsky says, while being a big win for producing clean electricity from a renewable resource, PV systems have a dirtier side too. They are energy and water-intensive to produce and are made with toxic chemicals. They also have a limited lifespan of around 20 years, meaning that in decades to come they could end up in landfills as a toxic burden if they are not properly recycled.
Wind turbines are another clean energy producer, but wind farms can result in habitat destruction and can disturb ecosystems as their rotor blades are known to kill birds and bats in large numbers.
Various policies and targets that are designed with the best intentions in mind can also turn out to be ineffective or poorly thought-through. Carbon tax, for example, has not gone far enough to penalise people for buying fossil-fuel guzzling cars or in curbing our reliance on air travel. "If you can afford it you'll just keep consuming or buying a big vehicle," says Sarakinsky.
Global carbon credit trading has also had limitations when these schemes are not set up as sustainable partnerships. Sarakinsky points to the case of some Spekboom farming initiatives in the Eastern Cape. The Spekboom is an indigenous succulent and is known to be excellent in sequestrating high amounts of carbon dioxide. They are water efficient and help to combat desertification.
Farming Spekboom for carbon credit trading held the promise of job creation, community upliftment and fighting greenhouse gases, but as carbon trading ended as per the Kyoto Protocol, these projects folded.
The tipping

point
It is going to be especially vital for the southern African region to think smart and act locally against climate change says Professor Francois Engelbrecht of Wits' Global Change Institute (GCI).
The region is at risk to reach what he refers to as a "tipping point" in the climate crisis. This will result in more multi-year droughts and intense heat waves that will manifest in issues such as food and water insecurity, deepening migration and displacement and economic strain in many sectors, according to Engelbrecht.
"Under the Paris Agreement [signed in 2016] it is clear that in order to avoid the most dangerous aspects of climate change, investments should be focused on the renewable forms of energy," says Engelbrecht.
"The country needs to formulate a clear plan of how it will systematically replace its coal-fired plants with alternative forms of energy, through a just transition process that does not leave anybody behind. Such a just transition will also imply significant international funding support and investments."
President Cyril Ramaphosa's submission to the United Nations Climate Action Summit this September got the thumbs up from Engelbrecht, who calls it "an important ray of hope". The submission outlines a vision of how South Africa can replace its dependency on coal with renewable forms of energy, through a US$11 billion just transition programme.
"If this vision can be realised, it would be the largest climate change mitigation project to be funded internationally," he says.
Engelbrecht, who contributed to a study led by a team of international scientists and published in Science, entitled: The human imperative of stabilising global climate change at 1.5°C, believes bold steps will be essential. In the Science study, the authors argue that prompt investment in the next few decades is vital to mitigate the costs of future damages.
"The investment required in the energy sector in order to make the transition from fossil fuels to alternative forms of energy, as required to restrict global warming to 1.5°C, is estimated to be in the order of US$100 trillion by 2050. Although this is a staggering number, the benefits from damages that may be avoided by 2200 are estimated to exceed this number by a factor of five."
Wavering agreements
However, the non-binding nature of international agreements on climate action make submissions such as Ramaphosa's too flimsy to hold real promise of action or change, says Professor Patrick Bond, in the Wits School of Governance.
"Ramaphosa's commitments to the UN came after South Africa was prevented from speaking in the main conference, due to the government's climate negligence," says Bond.
"That was a well-deserved name-and-shame, exposing Eskom's commitment to the corrupt, mal-designed Medupi and Kusile coal-fired power plants – the world's largest such generators under construction – as well as three new ones, including a 4600MW Chinese project at the Musina-Makhado Special Economic Zone, as well as intensifying offshore drilling for oil and gas from Durban to Hermanus, the KZN and Karoo fracking projects, and the planned export of 18 billion tonnes of coal through Richards Bay," says Bond.
He adds: "The Paris Agreement has no legally binding responsibilities or accountability mechanisms; inadequate stated aspirations for lowering global temperatures; no liabilities for past greenhouse gas emissions; renewed opportunities to game the emissions-reduction system through state-subsidised carbon trading and offsets; and a total neglect of emissions from military, maritime, and aviation sources."
He also warns that mainstream environmentalism is being co-opted by quick-fix fantasies, including biotechnology based on genetic modification, dangerous geo-engineering strategies (see page 42) and especially emissions trading, where South Africa's pioneer project at a Durban landfill collapsed financially, due to a decade-long world carbon market crash that began in 2008.
While emissions-trade supporters believe that a "market solution can solve a market problem", the carbon market is a "financial casino", and once Brexit kicks in, the European market at the heart of the system could again collapse, says Bond.
Unifying activism
In a country like South Africa, climate activists face severe contradictions. PhD candidate Mithika Mwenda and Bond write in their paper African climate justice: Articulations and activism that "while leftist trade unions increasingly propose radical versions of eco-socialism, they still defend carbon-intensive employment with an understandable desperation. A burgeoning youth and ecologically-aware middle-class feint towards climate justice, but their stamina has not been tested. The mainstream climate action scene remains predictably tame and unambitious".
Bond says NGO and civil society efforts remain fragmented and not enough international collaboration exists between these civil society bodies to exert the kind of pressure to disrupt the business-as-usual model. His ideal type of international movement that could U-turn states and corporates is the Treatment Action Campaign, which gained access to free HIV medicines and thus raised life expectancy in South Africa from 52 to 64 years over the past 15 years.
The intersection of complexities, contradictions and seemingly insurmountable challenges do make our climate crisis ever more explicit. And scary as it seems, now is not the moment to run; it is more the moment to act on former British Prime Minister Winston Churchill's words: "Never let a good crisis go to waste".