It's complicated … but let's talk about #Gender
- Wits Communications
Read the 13th issue of Curios.ty, themed: #Gender. We feature research across the gender spectrum that aims to ensure a more equitable and tolerant society.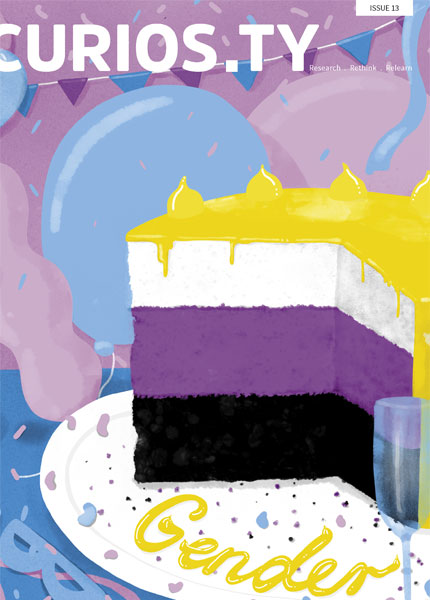 At Wits University, which celebrates 100 years of research excellence in 2022, we proudly advance knowledge that is responsive to a new generation – a world where non-binary and gender fluidity are increasingly prevalent, and people claim their unique identity as complex individuals who live and love across a spectrum.
In this issue of Curiosity, we feature research across disciplines that relates to gender, feminism, masculinity, sex, sexual identity and sexual health:
Beyond the binary (Page 8): "We need to see transgender people in our courts, at the police station, in the clinics, that is how we start to change society".
The politics of a woman's body (Page 12): The backsliding of women's rights happening right now should be the clarion call that gender rights are still everybody's business.
[Warning: Content in this article might be potentially disturbing] The knife between her thighs (Page 14): Female genital mutilation – the under-researched killer that is increasing at an alarming rate in South Africa.
Know your gender language: A South African lexicon of terms (Page 30-31): Qhawekhazi (isiXhosa); Ya sa tsotelleng bong (Sesotho); Basha (Swahili); Uthingo (isiZulu); Tshelabong (Setswana).
Being queer in Africa (Page 32): "In pre-colonial times, being queer (in Africa) was acceptable. We have queer ancestors all over the continent. That history has been demonised, erased and further oppressed by religion".
About Curios. ty
Curios.ty is a print and digital magazine that aims to make the research at Wits University accessible to multiple publics. Curios.ty is available on the Wits website here: http://www.wits.ac.za/curiosity/
Copyright and republication
© All material in this publication is copyright and all rights are reserved. Reproduction of any part of the publication is permitted only with the express written permission of the Head of Communications at the University of the Witwatersrand, Johannesburg. For permissions, send an email to curiosity@wits.ac.za.
To interview researchers featured in this issue of Curios.ty, send your requests to curiosity@wits.ac.za
Follow us on:
Twitter: @Wits_News | #Curiosity | #Gender / #WitsForGood / #Wits100
Facebook: @WitsUniversity / #WitsForGood / #Wits100
LinkedIn: University of the Witwatersrand / #WitsForGood
For the latest Wits research news, visit: http://www.wits.ac.za/news/latest-news/research-news/
Contact Wits Communications should you require more information or visit our media section for more on our experts and latest media releases.