Curios.ty 14 (#Wits100): A century of doing good
- Wits Communications
Wits' research magazine celebrates 100 years of changing the world for good.
The 14th issue of Wits University's research magazine, Curios.ty, themed: #Wits100, is available online now: http://www.wits.ac.za/curiosity/. (To republish articles, see guidelines below).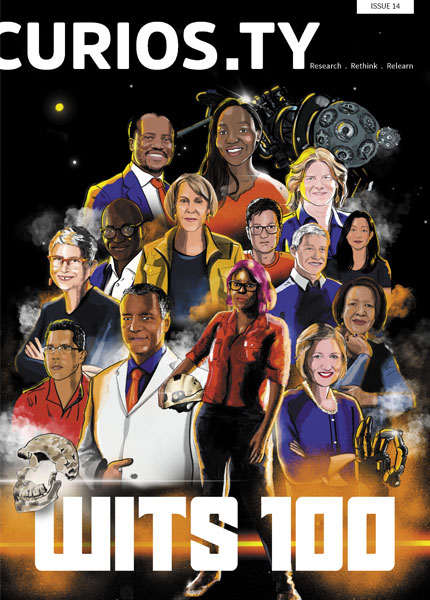 In this special issue to mark Wits University's centenary year, we look back over a 100 years during which Wits University, and Witsies, have undoubtedly changed the world for good, be it through research and innovation, teaching and learning, or civic action.
In a series of firsts, Wits developed and tested the first radar signals in South Africa in 1939 and was the first South African university to transmit data securely through light. Wits was also the first university to own a nuclear accelerator and a computer in South Africa, to confer the first PhD in isiZulu, and to successfully execute a living donor liver transplant from an HIV+ mother to her HIV- child.
In this issue we also look to the next 100 years, showcase Wits' world-class scientists and, importantly, a new generation of early career researchers actively advancing society for good.
"Today, we are confronted with a myriad of complex planetary problems including global change and inequality, erratic energy supply, crime, the lack of governance and ethics, and the threat of a number of communicable and non-communicable diseases and pandemics. It is at Wits where we can bring the best intellectual talent and resources to bear, across disciplines, institutions, sectors and geographic boundaries, to find solutions to these challenges, some of which are still unknown," writes Professor Zeblon Vilakazi, Vice-Chancellor and Principal of Wits University.
Highlights:
Meet the science superheroes whose research has saved countless

lives

(page 10):

Five Wits scientists weigh in on the University's proud legacy of public health activism and why standing up for social justice in an unequal world remains their fight.

Mapping African genetic diversity for better health

(page 14):

The contribution of the Sydney Brenner Institute for Molecular Bioscience to the field of human genomics is rewriting history on the African continent.

Thirty years of the lab in the bush

(page 18):

Agincourt in Mpumalanga is one of the longest-running research centres of its kind in sub-Saharan Africa with sophisticated infrastructure to track and understand health and wellbeing over the life course.

Wits Digital Dome to light up the sky

(page 32):

It is the end of an era for the Wits Planetarium, although reimagining it as a Digital Dome promises to be literally out of this world.

Facing climate change head-on

(page 34):

Climate change took nearly a century to become mainstream science. Wits is taking the lead in facing up to the challenge.
About Curios.ty
Curios.ty is a print and digital magazine that aims to make the research at Wits University accessible to multiple publics. Curios.ty is available on the Wits website here: http://www.wits.ac.za/curiosity/
Copyright and republication
© All material in this publication is copyright and all rights are reserved. Reproduction of any part of the publication is permitted only with the express written permission of the Head of Communications at the University of the Witwatersrand, Johannesburg. For permissions, send an email to curiosity@wits.ac.za.
Follow us on:
Twitter: @Wits_News | #Curiosity | #Wits100
Facebook: @WitsUniversity
LinkedIn: University of the Witwatersrand
For the latest Wits research news, visit: http://www.wits.ac.za/news/latest-news/research-news/
Contact Wits Communications should you require more information or visit our media section for more on our experts and latest media releases.