Curios.ty 12 (#Solutions): Advancing society for good
- Wits Communications
Our cutting-edge research offers #Solutions to some of the most challenging problems facing society today.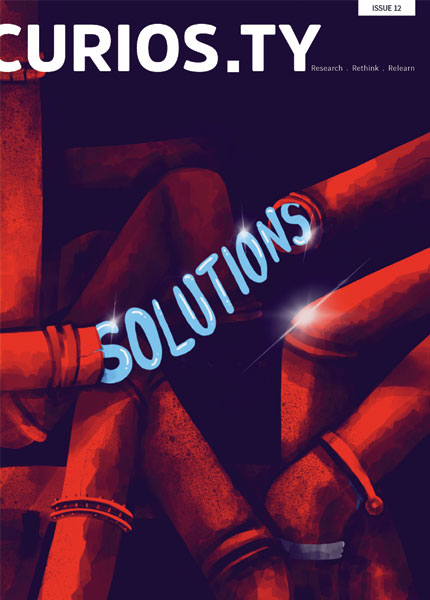 The 12th issue of Wits University's research magazine, Curios.ty, themed: #Solutions, is available online now: http://www.wits.ac.za/curiosity/. (To republish articles, see guidelines below).
Structural, political and socioeconomic challenges persist in South Africa. Yet the current situation also presents opportunities, and now is the time to galvanise our collective strengths towards finding #Solutions grounded in the values that Wits University exemplifies – research excellence, the commitment to social justice, and creating new knowledge that advances the public good. #WitsForGood
The stories in #Solutions offer novel research-based suggestions to addressing multiple challenges, as well as astounding 'moonshot moments' that advance science and give us hope and inspiration for the future.
In this issue:
No place for politics in bricks and mortar (Page 8): Energy, water, roads and buildings … South Africa's infrastructure seems to be falling apart at the seams. How do we save the country from further deterioration?
Photographing ghosts in space (Page 26): Set with the virtually impossible task of photographing a black hole in space, 55 million light years from Earth, a group of scientists went to unprecedented lengths to overcome this challenge.
Sense and sensuality in people with disabilities (Page 34): Researchers are creating space and support for people with disabilities to talk about sex.
What the world needs now (Page 46): As the world looks to COP26 in November 2021, it's clear that the time for sitting on the side-lines is over – and so is thinking that ill-conceptualised tradeoffs and compromises are going to cut it.
About Curios.ty
Curios.ty is a print and digital magazine that aims to make the research at Wits University accessible to multiple publics. Curios.ty is available on the Wits website here: http://www.wits.ac.za/curiosity/
Copyright and republication
© All material in this publication is copyright and all rights are reserved. Reproduction of any part of the publication is permitted only with the express written permission of the Head of Communications at the University of the Witwatersrand, Johannesburg. For permissions, send an email to curiosity@wits.ac.za.
Follow us on:
Twitter: @Wits_News | #Curiosity | #Solutions | #WitsForGood
Facebook: @WitsUniversity / #WitsForGood
LinkedIn: University of the Witwatersrand / #WitsForGood
For the latest Wits research news, visit: http://www.wits.ac.za/news/latest-news/research-news/
Contact Wits Communications should you require more information or visit our media section for more on our experts and latest media releases.
The University of the Witwatersrand adheres to the regulations of the Protection of Personal Information Act, 2013 (POPIA). In accordance with POPIA, we commit to keeping your personal information safe. Should you wish to unsubscribe from our mailing list, please email wits.news@wits.ac.za.