Can Wits go off the grid?
- Shoks Mnisi Mzolo
Cutting greenhouse gas emissions to almost zero is the next big thing on the global agenda, but academics agree it's not feasible in the medium term on campus.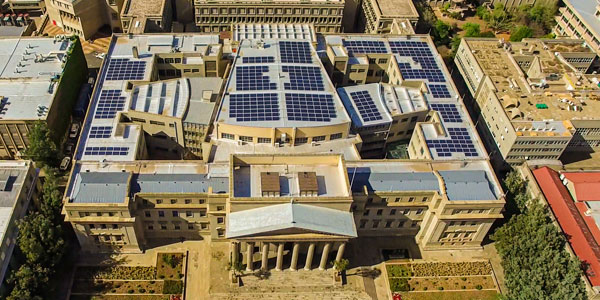 Wits' drive to reduce carbon emissions began in earnest in 2016 when the University implemented its Energy Efficiency Programme. The Programme, allocated around a tenth of the University's utilities annual expenditure and, began with several pilot projects, including replacing fluorescent light bulbs with more energy-efficient and cost-effective options.
Jason Huang, Planning and Development Manager at Wits, explains that the University has had to overcome a range of difficulties, from limited financial resources to constraints of usable space (such as rooftops), and an old property portfolio. But now, seven years later, Wits is poised to adopt an overall sustainability policy and strategy.
"We have demonstrated project results and we have the support of management to continue the implementation of these types of initiatives," explains Huang, referring to aspects of the Energy Efficiency Programme. "We've rolled out rooftop photovoltaic systems, converted hot water systems in all our large residences to more efficient gas and renewable technologies, and are switching to LED lighting."
Diversifying energy sources
While going off the Eskom grid or becoming a net zero University is a tall order, Wits has begun introducing alternative energy sources to not only gradually reduce reliance on Eskom but to also ensure that the University's operations are sustainable, explains Huang.
Although the benefits of solar power, one of the alternatives being introduced at the University, are obvious, blind spots remain. David Dorrell, Distinguished Professor of Electrical Engineering, suggests that solar power self-sufficiency "needs careful calculation and it is expensive. This [solar power] probably needs commercial partners and finance. Like all universities, the funding pockets are not that deep."
Dorrell notes that some investigation is required to determine whether sufficient space exists for independent photovoltaic (PV) generation, which refers to the mechanism to convert sunlight into electrical energy. "Battery storage is also needed," he says. "Though one of the advantages of commercial premises like a university – rather than domestic premises – is that energy tends to be used more in the day, when PV is generating, whereas for domestic applications, it tends to be more in the evening."
Lightning the loadshedding load
Although Wits' energy efficiency efforts are not a response to loadshedding specifically, they are well timed, as light at the end of the tunnel seems unlikely. "I fear that the loadshedding will continue and become the norm, and get worse," remarks Dorrell, who traces the collapse of the power system to government mismanagement and failure to follow through on new generation policy.
Wits University already has generators for loadshedding, but Dorrell favours a mix of energy sources: electricity from the national grid, solar power, and diesel. Although diesel, used by commercial premises (including university campuses, government buildings, office parks and the like), is expensive, it could be used as peak-load supply, to augment solar power, for instance, and not just as loadshedding back-up, he adds.
Galvanising Witsies towards net zero
While Huang is satisfied with the technological successes of Wits' Energy Efficiency Programme, he would like to see the Wits community playing more of a role too. "As much as we have rolled out renewables and more efficient technologies, and continue to work towards reducing our load, we need to get people to consume energy responsibly," he says.
In this regard, the University is accelerating awareness and education campaigns and the Office of the Pro Vice-Chancellor: Climate, Inequality and Sustainability, will roll out the Wits 2023-2030 Sustainability Strategy. Within this context, Wits University – and Witsies themselves – are poised to advance a just transition to an equitable, net zero carbon economy for the city, region, continent, and globally by 2050, in line with international protocols.
Top tips to survive loadshedding at home
General
Switch off the lights when they're not needed.
Only boil the water that you need, or keep excess hot water in a good, insulated flask for tea/coffee or baby bottles.
Switch off appliances if not is use, e.g., TVs, computers.
Switch lights to LED or get rechargeable globes.
Install a good geyser blanket to reduce heat loss.
Geysers can also be switched on 1-2 hours before you need to shower (this only really works if a household doesn't need hot water throughout the day).
Switch to lower-flow showerheads to reduce hot water consumption.
If you have mixer taps at home, use the cold-water side only unless you need hot water. By turning on the 'warm' or 'hot' setting, you are pulling water from the geyser into the water pipes and losing this heat.
Dress for the weather instead of using aircon/heaters/fans. Heat and cooling accounts for most of a typical household's electricity bill.
In winter, minimise the small holes/slits/windows where cold air can come in (windows, bottom slit on doors).
Fridge
Fill a few two-litre bottles with water and freeze them. When the power goes off, place some in your fridge and limit opening and closing the door. Keep the remaining frozen bottles in the deep freeze and only take them out once the others are down to about 25% ice. Rotate with more frozen ones if experiencing prolonged power outages.
Don't linger with fridge/freezer doors open for too long. This makes the chilled air escape and/or lets warmer air in. As a result, it takes more electricity for the fridge/freezer to reach the desired temperature.
Cooking
Invest in the South African solution, the Wonderbag. This non-electric heat insulated bag works as a slow cooker and continues cooking for up to eight hours.
A braai can save the day. Stock up on charcoal or wood.
Invest in a gas hob, the prices are increasing with demand.
Cell phone
Keep your power bank charged and only use it when the power is off.
Put your phone on low power mode to preserve battery life when expecting prolonged power outages.
A phone charger in your car is a lifesaver!
Other solutions
Invest in an inverter system, or generator. Even the most basic system will give you a few hours of the minimum: lights, chargers, TV, and maybe a fan.
A solar geyser, or a solar shower bag, kept full and in the sun, does a good job.
Shoks Mnisi Mzolo is a freelance writer.
This article first appeared in Curiosity, a research magazine produced by Wits Communications and the Office of the Deputy Vice-Chancellor: Research and Innovation.
Read more in the 15th issue, themed: #Energy. We explore energy research into finding solutions for SA's energy crisis, illuminate energy needs of people with disabilities, address the energy and digital divide in an unequal society, and investigate the origins of fire control.