Pullen Nature Reserve
Pullen Nature Reserve is a Wits facility that offers space for workshops, research, writing retreats, fieldwork and general recreation. It is open to members of staff, postdoctoral fellows, postgrads and alumni and colleagues from other universities. Situated a mere 35 km's from Nelspruit with views to Swaziland, Pullen offers a contained and unique world within which to do anything from lab work in the specially designed laboratory, to field work on the 250 hectares of land. Accommodation ranges from self-contained flatlets complete with kitchens and bathrooms for individuals and partners, to buildings with multiple bedrooms and bathrooms,a large communal kitchen and recreational spaces. It's a perfect place for anyone with a small budget and big dreams.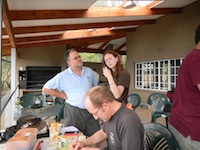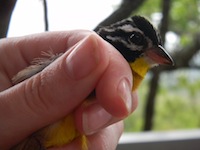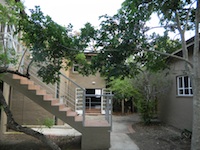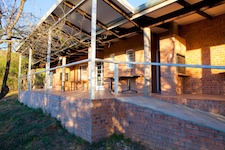 Recent research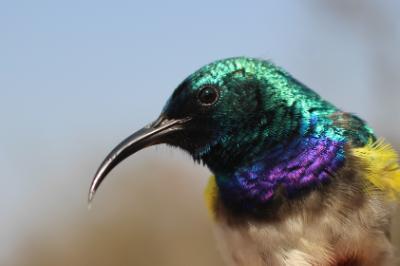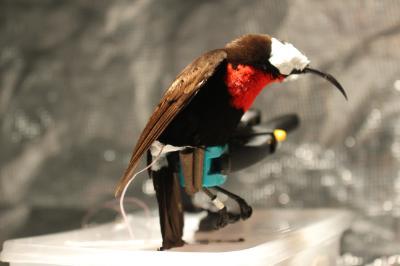 Svana Rogalla is doing a PhD study on sunbird colouration. This includes measuring how temparature of the body and surface are affected by the different feather colours. A captured bird is be placed in a box for 20 min in total. After 10 min of acclimatization a light bulb that emits radiation similar to that of the sun is turned on. Feather surface temperature is measured with a thermal camera and body temperature with a thermal couple inserted in the cloaka. Heating takes place in a secure distance of 30 cm to the light bulb. Measurements of body size (tarsus, wing length, weight) are taken and the birds are released immediately after the procedure. Birds are not harmed in this research.

Booking and Cost
To book, phone the School of AP&ES on +27 11 717 6403.
What does it cost?
R220 per person per night self catering.
Accommodation
Pullen can accommodate 48 people sharing bedrooms.
The main house has 34 beds in 8 rooms – (2 or 3 bunk beds per bedroom). There are three bedrooms with en suite bathrooms all the rest have shared bathrooms and lavatories. There are two large recreational rooms which convert into workshop space. An open plan adjoining kitchen has a gas stove, microwave, two fridges and two freezers. The kitchen is fully equipped with pots, pans, crockery and cutlery. There is a very large verandah with inbuilt braai, ideal for use in warm weather.
The cottage is three flats with a total of 14 beds. Each flat has two rooms separate from the main living area. Irene has one room with two single beds and one with two double bunks. Mick has two singles in each bedroom and Jackson has two singles in one room and a bunk bed in the study. Each flat has a fully equipped kitchen and dining room with private outside verandah and braai area. The flats are separate from the main house which is situated approx. 150 metres away. All accommodation has electricity and running water with solar powered geysers. Pullen is not serviced. It is cleaned prior to arrival.

Frequently Asked Questions
What is Pullen?
Pullen is a 250 hectare farm in the middleveld gifted to Wits by the Pullen family.
Who can go to Pullen?
Wits staff, postdoctoral fellows, postgrads, alumni and Friends of the Museum. Bona fide staff, postgraduates and post doctoral fellows of other universities, particularly if they have co-operative research or teaching programmes with Wits.
Why go to Pullen?
Research, workshops of any kind, ecological studies, projects on the flora and fauna of the region, birding, walking and recreation. Ideal for affordable weekend getaways.
Where is Pullen?
Pullen farm is 35 km south east of Nelspruit in the Krokodilpoortberge off the N4.
It is 400 km from Johannesburg.
It is a four and a half hour drive minimum from Johannesburg.
Accessible in 4x2s with high clearance but 4x4s are strongly recommended.
What you need to take
Food, bedding including pillows, towels, soap and clothing, loo paper. Food and drink, braai wood or charcoal
Clothing
Layers are recommended. Pullen is 300 metres (1,000 ft.) higher than Nelspruit and is cooler. Sturdy walking shoes, sunhats, fleece tops, t-shirts, cotton trousers, swimming costumes are all recommended.
Climate
Warm to hot in summer but cold enough in winter to require jerseys and warm clothes.
Facilities
Dedicated laboratory with microscopes and space for a number of people to work situated under verandah of main house.
Internet
Concrete dam situated above cottage that is used as a swimming pool.
Directions to Pullen
GPS Coordinates
25° 34' 19" S
31° 10' 53" E
Beware! Follow the text directions as well, your GPS will probably lead you to a locked gate!
Directions
Take N4 from Nelspruit towards Maputo.
Pass Nelspruit on the N4 and the R538 turnoff to White River/Ka-Nyamazane
Turn right to Mara, ca. 8.6 km from the R538 intersection
8km from N4 turnoff, turn right to Eagles Nest and Bonsberg. Pullen Farm is signposted too.
Continue on sand road for 2.7km to gate, punch in code and hash into gate control to open
Keep straight past the first right hand fork, then there is a Wits sign 0.5 km from gate
Continue for another 0.4km to left fork with concrete track going down the hill.
Follow the concrete track downhill to houses. Cottages are first on your right, main house is further down.
Share
Tweet