Mokale Koapeng - Musical Maestro
Mokale Koapeng (48) knew from the time his fingers first touched the piano keys at the age of 10 that he wanted to become a musical composer and conductor, but he had no idea that his passion would earn him international acclaim.
By Lana Jacobson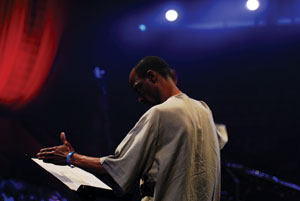 His talent has led him to compose music for the Consonances Festival in France, the Lufthansa Festival of Baroque Music in London and the Salisbury Community Choir, also in the UK. He has held workshops on South African vocal, choral and jazz styles at the University of Jyväskylä in Finland, and has toured the USA, Canada and Europe many times.
The Wits music graduate, now doing his Masters at Wits while teaching Music Literacy and Skills and Aural Studies, is the first composer in residence of the International Mozart Festival (JIMF), a highlight on the South African classical music calendar.
Koapeng was commissioned to compose a choral piece for the 2011 festival and Dipesalema tsa Dafita (Psalms of David), a classical piece for orchestra and choir, was sung by the Schleswig Holstein Festival Choir from Germany, the Johannesburg Chanticleer Singers and the Chamber Choir of South Africa. He says, "For me, this was an opportunity to make a contribution to the growing South African canon."
South Africa's history and current energy is clearly the source of his dedication and inspiration. He has served as a member of the board of trustees of the National Arts Festival, Grahamstown, since 1999, as well as being President of NewMusic SA, an affiliate of the International Society of Contemporary Music.
A career highlight for Koapeng was composing and conducting the world premiere of Cantus in Memoria 76, commemorating the 30th anniversary of the events of 16 June 1976. "The issues around the Soweto uprising are emotional for all South Africans, but particularly blacks," he says. "I was there at the time. For me it was not just an academic exercise or artistic enterprise. I had flashbacks of running from the cops and being in Uncle Tom's Hall in Orlando West, hearing gunshots and realising the struggle was a matter of life and death. "It all appeared like fun and games when it started, but the smell of teargas and the sight of police Casspirs and military vehicles called Hippos gave me a serious fright. Life was gravely disrupted. The landscape of Soweto (both physical and mental) was eternally altered. I just hope that the music did justice to the poetry of what happened that day."
Memories of Soweto are particularly poignant for Koapeng, for he was born and raised in the suburb of Orlando West, the youngest of seven children. His was a typical township upbringing, with street soccer and street fights, but "I always made time for practising piano and attending music classes," he smiles.
"I was predestined to be involved in music, born into a family of classical snobs, who played Bach and Handel at home. I guess I didn't choose music, music chose me," he smiles, quoting Leonard Bernstein. "I had a father who sang with the Union Music Society and the Seventh Day Adventist local choir.
"My father was the most refined and sophisticated general labourer and delivery boy ever, more so considering he had only two years' education. Yet his innate sense of wisdom was so profound that it transcended any form of higher education." He talks about his father's sense of fashion, wearing only powder blue, white and lemon shirts and never donning a pair of jeans in his lifetime. His mother, a domestic worker, was a powerful woman, playing a strong supportive role.
Apart from his strong family influence, he attributes his musical zeal partly to the Pedi dancers who danced on a small soccer field nearby on Sundays and played traditional music. "Their music got so etched in my mind, I can still hear it playing. This has stayed with me for life. Also, we lived near the Mzimhlophe male hostel, where the first so-called 'black-on-black' violence took place in 1977."
With such reverence for his formative background and his family it hardly surprises when he says, "I characterise my most defining moment in life as the time when I invited my eldest brother, two sisters, father and mother to my first performance with the Wits Chamber Choir. It was the proudest moment of my parents' lives." He laughs and says, "I guess I have remained a Witsie through and through since leaving secondary school, even while working with international musicians and groups like Sibongile Khumalo, Hugh Masekela and the British vocal group I Fagiolini, as well as composing music for festivals overseas."
So, what has been Koapeng's favourite performance? "A collaboration with I Fagiolini (an Italian name for small beans) which fused African, gospel and Western music. This toured Europe with standing ovations, and they started commissioning pieces after the collaboration was over. It was magic working with a group who specialised in Western music and embraced our indigenous music."
Koapeng keeps turning the conversation away from his achievements, pointing to the theme of his family. "My 11-year-old daughter is my creative partner and has provided me with lyrics for some of my works, while my son is the great hip hop fan. But my wife of 18 years, Noluthando, is my greatest friend and support in life."
Can he hope for even more out of life?
"Oh yes," he replies. "I need to keep reinventing myself. And I want to motivate people. Mostly, I would love to acquire my father's wisdom, but I doubt I ever will."